Disneyland Paris News: Place des Stars Stage in Walt Disney Studios to be Removed, but what will Replace it?
Earlier today Disney Central Plaza broke the news that a permit has been filed to remove the Place des Stars Stage in Walt Disney Studios, which can be found in the space outside Playhouse Disney, Stitch Live on Stage and CinéMagique. To be fair, it hasn't be used to its fullest potential for some years now, and in my experience it's main use has been for people to sit and each lunch on. Take it away and we are left with a very big open space, so what can Disneyland Paris fill it with?
Another Stage
It's removal is part of a bigger resurfacing project, so it could just be being removed out of necessity, and not because they don't want a stage there. Maybe there are plans to bring it back, but in a new and improved form. Rather than having the backdrop face one way, they could make it 360 degree stage, so that people from all sides could see the entertainment. Maybe it could come back a bit bigger, to facilitate a sort of backstage room in the middle, and thus allow the show or whatever entertainment is put on to have performers in there changing or just coming it for later parts in the act. They have this at the moment but it's one whole side of the stage, so limits who can see the stage as it only faces one way, and the room they have to perform on.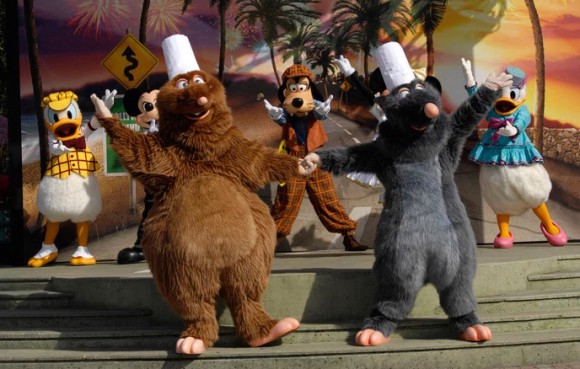 Meet and Greet
In recent years quite a few permanent and semi-permanent meet and greet locations have popped up in Disneyland Paris, from Meet Mickey Mouse in Fantasyland to Merida in Frontierland, and there's no denying the popularity of meeting character which seems to be at an all time high. Could it be the perfect place for a new meet and greet in Walt Disney Studios?
If they did go for a permanent one that it would have to have some kind of generic theming, unless they go for a Pixar theme, which would allow for many characters, from past, present and future films. It is a bit far from the rest pf the Pixar properties in Walt Disney Studios though, unless it becomes the next move Pixarating the whole Park! A seasonal meet and greet set would at least give them the opportunity to to capitalise on the latest craze, and put something else there in the future, should it prove a colossal disaster!
A Fountain
This was the first suggestion by quite a few people on social media but I'm not so sure. Relative to the costs of a meet and greet building with its constant flow of characters it would be on the cheaper side, but I'm just not convinced a fountain would suit that area. We already have one in La Place de Rémy, and that gets used as a place to sit and eat lunch, or as a climbing frame. I think this area needs something more lively, as it's a pretty dead part of Walt Disney Studios.
Show Area
You might remember the High School Musical on Tour show from 2007, which had a mobile set and was put on very near to the Place des Stars Stage. Rather than constructing some kind of set or building, maybe they could just leave the area free, but fill it with shows and entertainment that don't rely being static in one place. It does pose the problem of a big open area when shows are not on, but that's easily remedied by having a full schedule planned.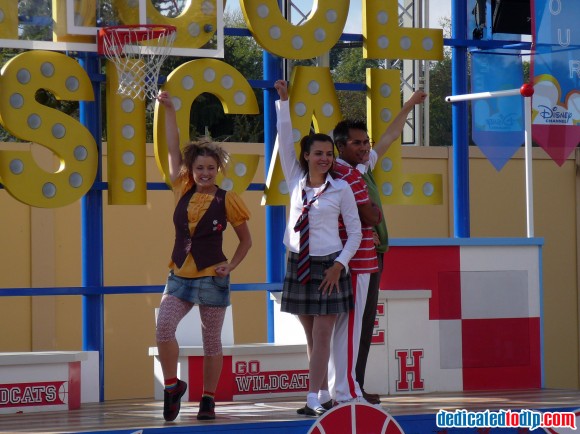 A Dole Whip Kiosk
One of the questions I see asked the most by those who have been to the American Parks but never to Disneyland Paris, is do they sell Dole Whips. I've never had one and from reading about them I don't understand the appeal that appears to send people into a drooling frenzy. So let's bring them to Paris and sell them in Walt Disney Studios. Far better than a stage, right?
Okay, so that last suggestion wasn't a serious one, honest. It will be interesting to see what does replace the stage, if anything, and I'd love too hear what you think, of my ideas and any you have of your own.