Do The Green Fences & Closures Affect The Magic in Disneyland Paris?
As many of you will already know, over the next year or so there are a large number of ride closures and refurbishments taking place in Disneyland Paris. Like most, when I heard this news I had conflicting views. Firstly of course I was happy, the parks are in need of some love and attention and I was looking forward to seeing the end result. In contrast though my second thought was that of disappointment. I didn't think I could justify spending money to visit a place with a large number of attractions closed. Disneyland Paris has been my regular escape now for over two years and the thought of not returning any time soon was upsetting, so I soon gave in and booked my next trip. Green fences or not I was returning home.
Honestly I was concerned that all the work going on would take over the parks and dampen the atmosphere, I prepared myself and decided to have a bit of a different Disneyland Paris holiday. Maybe I'd spend more time away from the parks exploring the surrounding areas like Val'd Europe and Paris. To my surprise this new plan lasted as long as it took me to walk from the Eurostar to Fantasia Gardens. Disneyland Paris was alive and well with magic, and like normal, nothing could pull me away.
The first refurbishment I encountered was on the right hand side of Fantasia Gardens, and yes the green fences were there, but the rest of the gardens and the statement of the pink Disneyland Hotel were as dramatic as ever. It was like there was a contrast, and the open areas stood out even brighter.
I found this to be the same throughout the parks. Even though there was work taking place in most areas, it had a positive effect on me. It created a busy feeling, of the park being looked after and this replaced that forgotten, quiet atmosphere I sometimes felt while walking through parts that, shall we say, needed work. Discoveryland was the main area being worked on while I was there, with both Space Mountain and Videopolis completely surrounded by green fences. This is not an area I usually spend a lot of time in anyway so this might be the main reason I did not find these refurbishments a big problem, but I did miss going into Videopolis for a burger and some cartoons.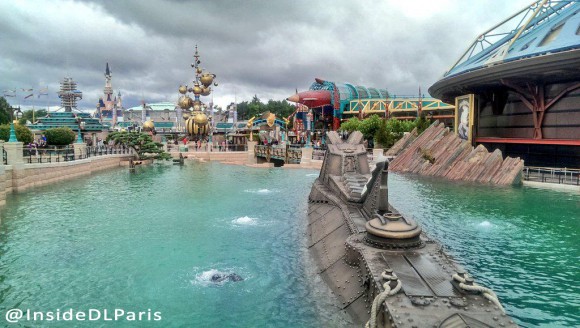 I was really expecting the green fences to be in my face and totally ruin the look and feel of the parks, but in truth they were blurred from my view. There was always something more interesting and beautiful round the corner. The rest of the park seemed to shine, Main Street was looking stunning and of course our beautiful castle was there in all its glory. Throughout, the overall atmosphere had not changed at all either, the magic was out in strong force with characters, the fountain shows and the parades of the season, I didn't have time to focus on green fences.
Of course there are downsides. Booking a holiday only to find your favourite attraction is closed can be a massive disappointment, but these days there are many reliable sources to find closure dates. Personally I find DLP Guide and the official Disneyland Paris website very useful, so with a little preparation any disappointment can hopefully be avoided. Another downside is the unsightly green fence line dominating the background of your perfect photograph. But I found most of the time you can easily cut them out, all you need is a little creative flare and maybe look at your subject matter from a different angle. Who wants the same photo of the castle from every trip they make anyway?
I understand first time and non frequent visitors may have different concerns and I can only express my experience from a returning guest point of view. But if you can go in with an open mind and accept the parks for what is open and in full view, the refurbishments shouldn't impact your holiday too much.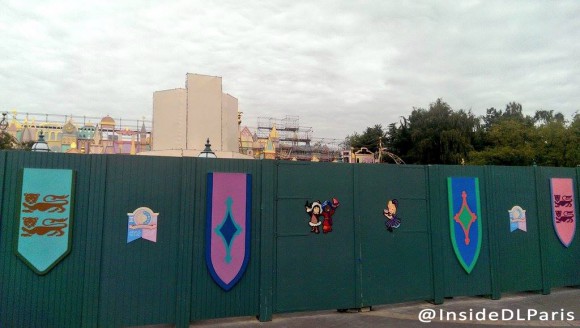 As each day passes refurbishments are finishing and starting all over the parks. Recently we have seen the standard to which areas and attractions like Videopolis and The Adventureland Bazaar have been completed to, and if this is the standard we can expect I am sure everyone will agree that the finished look is worth the wait. Personally I am looking forward to seeing the end results of the large refurbishments happening to Big Thunder Mountain (November 2nd 2015 until Nov/Dec 2016) and it's a small world (now until early January 2016) These are the two big attractions at each side of the main park, not only for the ride value but the overall look and atmosphere they create. These refurbishments include talk of a new colour scheme for it's a small world and the emptying and cleaning of the lake around Big Thunder Mountain. I think when both are finished they will bring back a bold statement to popular areas of the park.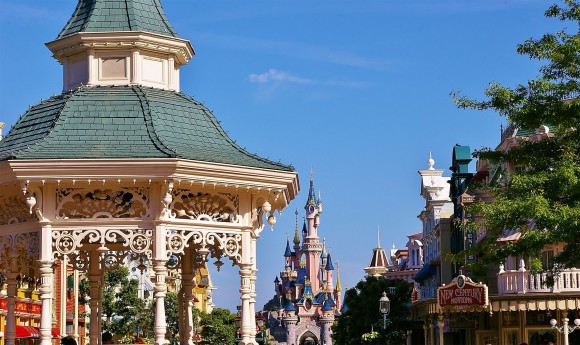 Disneyland Paris may be getting some serious work done, but it is still there, magic shining. If we are patient we will be rewarded with a bright like new resort, so stay strong Disneyland Paris fans. If you do get the chance to visit during these refurbishments, don't turn it down, the pixie dust is sparkling as strong as ever.