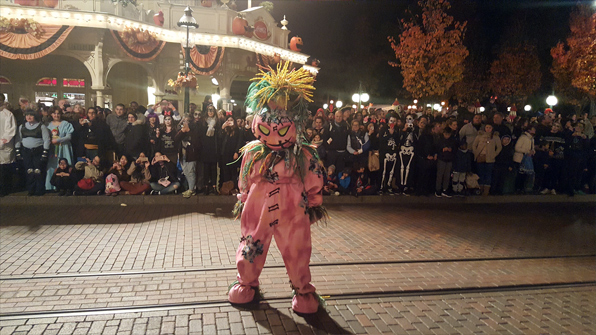 Disneyland Paris Review: Halloween Soiree Party 2016
Though I've experienced the Halloween season in Disneyland Paris a few times, I'd never before been there on the actual day of Halloween, and thus have never experienced the Halloween Soiree on the night of October 31st. That changed this year, and with ticket bought back in March, I had 6 months to decide on a costume. After many ideas, even delusions of grandeur about making my costume, I drove off to Jedi Robe to buy, well, a Jedi robe, and the rest of the outfit, including the almost knee high boots too. So after a break of 10 years I was off to see what Disneyland Paris had to offer during their Halloween season once again.
All my shows, characters, decorations and parade views can be found in this article, but right now let's talk specifically about what went on that evening and night of October 31st – Halloween. Before I got to the Soiree I picked my wristband up around midday, which was a painless affair, and meant I'd have no trouble getting in around Disneyland Park in the evening. Thanks to the clocks going back it started to get dark pretty quickly, so although things weren't due to kick off until around 7.30pm, the atmosphere was already feeling very spooky.
There wasn't much in the way of extra decoration down Main Street, but over in Fantasyland the Princess Pavilion sign had been changed to say Villains, as they were being hosted in there for this one night. It was obvious walking around before the non-Soiree guests had left that many didn't know such an event even existed, nor why all these people were walking around in costumes. By 7.30 the crowds thinned out and it was party time, which for me started in a queue for Chewbacca over near the closed for refurbishment Star Tours. However, after 20 minutes it was obvious that this was a mistake, as there was no atmosphere and I was set to spend about 2 hours queuing when I should be mingling and enjoying the entertainment, and that's what exactly what I did instead.
Leaving the line for Chewbacca would prove to be the best thing I did all night, as it meant I could watch the first of two times The Disney Villains' Halloween Celebration parade would run. Not knowing what to expect, but thinking it would be usual Halloween Cavalcade but with villains, to say I was blown away with what was presented would be a massive understatement. Yes, the floats were full of Disney Villains, some expected like Hook and Cruella, but others like Shan Yu from Mulan and Pain and Panic from Hercules are ones I have never seen before. The characters were great, but it was the performers in between the floats that made it for me, as we saw voodoo dolls, costumed brass band musicians and best of all, terrifying rat like creatures on stilts.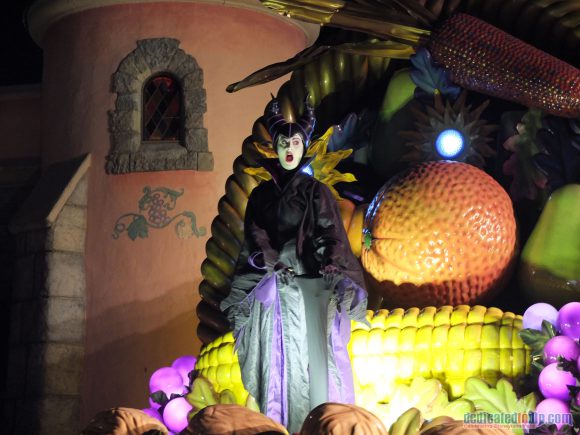 Though the last Dreams of Power float with the giant Ursula, Chernabog and Jafar in snake form are always fantastic visuals, a live character or two wouldn't have gone amiss. After watching it the second time and therefore able to see it from the other side, I declared it to be the greatest parade I have ever seen in Disneyland Paris, and that's something I stand by. Just an incredible mixture of music, visuals, characters and performances, with a splash of scariness that fits Halloween night perfectly.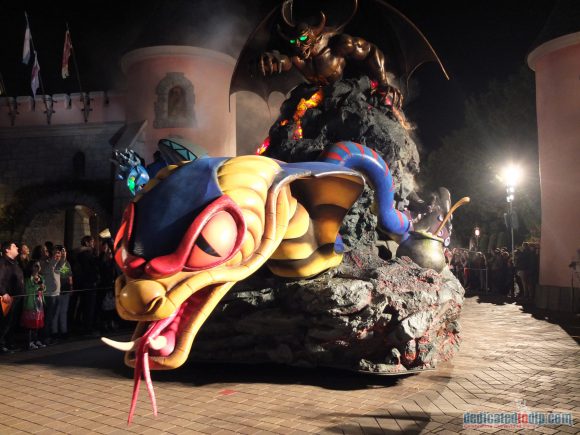 Next was Dr Facilier's Spooky Voodoo Party over in Frontierland, but before I get to that I must mention my lightsaber. As a Jedi, I obviously needed one and so had borrowed a plastic extending lightsaber that my son had given me to take to Disneyland Paris. It wasn't the best looking lightsaber, but I didn't want anything too elaborate for fear of not being allowed in the Park with it or it not getting through customs. Of course, within minutes of seeing young kids running around with cool looking light up ones, I had a serious case of lightsaber envy, and so off to Constellations in Discoveryland I went.
The Cast Members were a joy all night, joining in with the spirit of the Soiree and making sure everyone knew where to go, but coming out of Constellations with new lightsaber provided me with one of my trip highights. If you've been in Disneyland Paris when it's dark you'll have seen guest flow Cast Members guiding people with torch type devices in their hands. Well on seeing me they invited me to join in, and so for the next 5 minutes, using my lightsaber, I joined guest flow, showing people which way to go and lighting up the path as only a Jedi can. Not long after that I had a duel with 2 custodian Cast Members, which was a lot of fun too. I've always had great experiences with Disneyland Paris Cast Members and this was just another example of that.
Over with Dr Facilier the music was pumping – a mixture of Disney tunes he performed on stage with dancers, and some chart topping hits that had us all raving, with the aforementioned characters. It was loud, bouncy and a lot of fun, with the added bonus of lasers and bubbles! Having a light up lightsaber helped at a rave too, and not only to wave in the air is I jumped to the music, but also to have a duel with a young Sith on the dance floor as everyone looked on. Of course I had to let him win – had it been an adult I'd not have afforded him such leniency.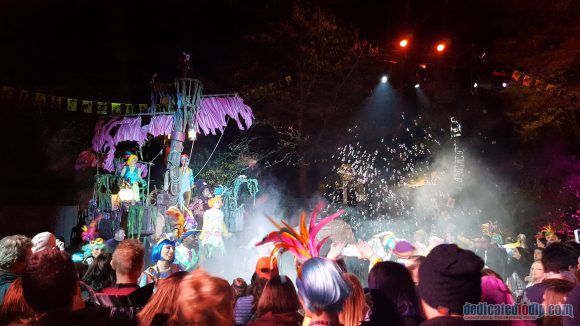 Then we were off to see some African drumming in Adventureland and that turned into some limbo dancing, under my lightsaber of course! Well, the leader of the drummers wasn't going to let us have all the fun, so he pulled our group one by one out to the front and made us dance. It didn't end there though, as next he made us go into the middle and dance, but this time on our own. As I was last and I'd watched my 4 friends do a variety of dance moves, I decided to go at it a little differently, like a Jedi.  I love those spontaneous moments that turn into something very special, and this was one of those, thanks to the game drummers and some really great friends.
Things took a different turn as we steered towards Adventure Isle, heard a loud bang and collectively jumped out of our skin. It was there that we saw an unadvertised and really quite spectacular laser and fire show around the pirate galleon and Skull Rock. Now what could make that better – the Pirates of the Caribbean music from Hans Zimmer maybe? Yes, and that's what we got. Over the night we watched this 3 times and each time I was captivated and left wondering why this wasn't an advertised feature of the night, and also why this isn't put on in Disneyland Paris more often. Maybe this was a test and will see it return – I can only hope, as it was one of the most moving and stunning showcases, visually and audibly, that I've seen there.
There was also an impromptu mini parade of lit up performers in Frontierland at some point, a photo shoot in the stunningly lit up caves of Skull Rock and most of all just a lot of fun. Considering I never met any of the characters, and was busy having fun right up until the party finished at 1am, I'd say there is more than enough to do, and what is on offer substantiates the price of admission (€45 with no discounts) many times over. I wouldn't hesitate in booking to do the Halloween Soiree again – it's a very different but fantastically enjoyable way to experience Disneyland Paris, and one that I can recommend to all.