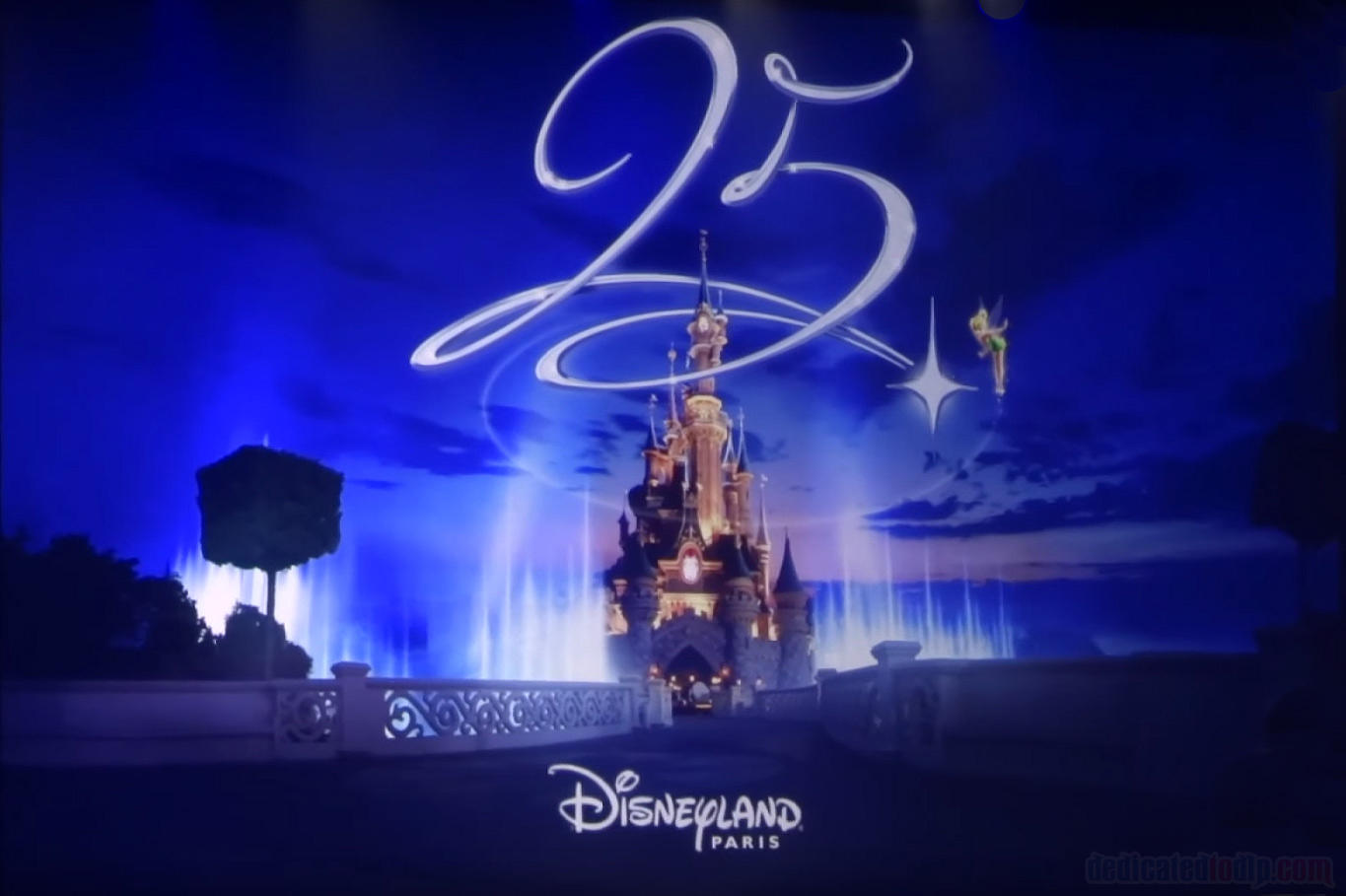 Disneyland Paris 25th Anniversary Logo, Anniversary Logo Rewind & What We Know So Far
It was during this past weekend's D23 Expo in Anaheim they announced that in 2017 Disneyland Paris would be celebrating its 25th Anniversary. No big land, attraction or show announcement, but then I don't realistically think there was ever any chance of that anyway. What we did get is a Disneyland Paris 25th Anniversary Logo, which at first seemed not to be the official logo but just made for the purposes of the presentation, but it was later supposedly confirmed by those close to the Mouse that it is the actual official Disneyland Paris 25th Anniversary Logo, or at least the first iteration. Even now there's still some confusion as to whether it's official or not, but either way, it's an interesting topic to talk about.
I think the final logo will have something in the way of Anniversary attached to it for one version, and Disneyland Paris alongside it for another. I'm thinking it will not have the Castle in the background, because as a logo, having a detailed scene behind it won't work for most intended uses. It's a very nice scene though, and with the lettering would make for a great postcard, fridge magnet, poster, mug and all other bits of merchandise they can think of to sell. It would also make a great advertising poster, with a catchy tag line added too. The font is nice though, and is silver, which ties into the 25 years nicely. Tinkerbell is present as she so often is with Disneyland Paris logos.
With this being the upcoming Anniversary logo, I thought it would be an opportune time to look back at some previous Disneyland Paris logos, starting with the one most recently used, the 20th Anniversary and 20th Anniversary extended.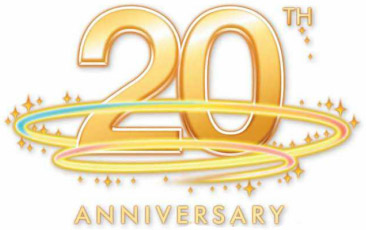 It's a similar idea to the 25th Anniversary logo, with the swirls, but they different enough whilst keeping with a certain style they seem to have adopted over the years. It's always interesting to see how they adapt the logo to be used with different seasons. In the case of the 20th Anniversary they changed the swirl to red and added holly and berries for the Christmas season.
As the 20th Anniversary was extended past the 12 month period, with it came an amended logo.
Next back is the Disneyland Paris 15th Anniversary, which has two like the 20th Anniversary. The first being the traditional Disneyland Resort Paris 15, but rather than having a 15th Anniversary logo like the 20th Anniversary, they went for an almost crest logo which featured the Castle, and of course Tink again. This appeared on a lot of the merchandise, plenty of which I have in my collection, and I'm sure some of you do to.
As with the 20th Anniversary, they had fun with the 15th Anniversary logo, in this example for Halloween.
2007 and the Disneyland Paris 15th Anniversary, was also the year of official desktop wallpapers, as can be seen in the two examples below and for Halloween, seen in this article.
2002 was the first year I visited Disneyland Paris and I don't remember the 10 being that prominent, which could just be because I wasn't such an obsessive back then, or it wasn't featured as much. Google hasn't helped me either, so time to head over to the bible of Disneyland Paris, that being the fantastic 20 Years of Dreams book, released to celebrate the 20th Anniversary.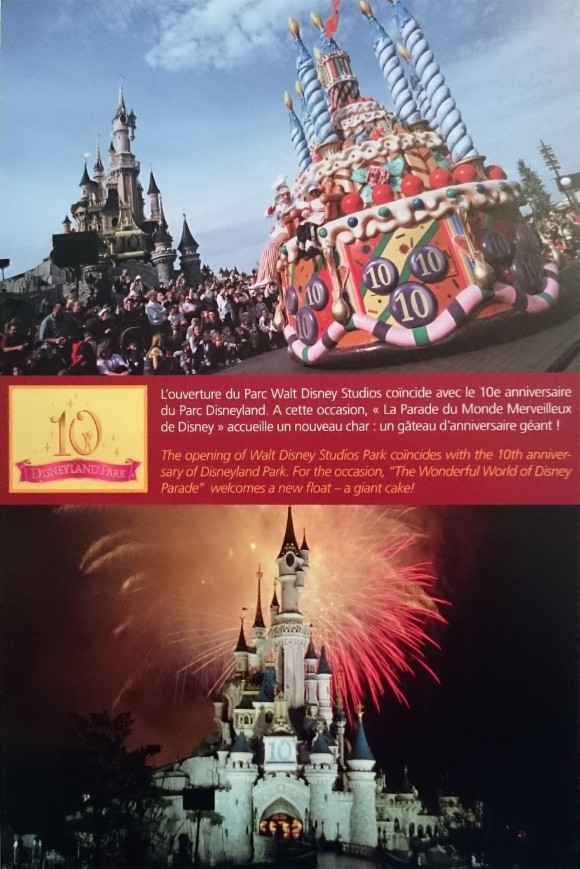 So there we can see a logo celebrating 10 years of Disneyland Park, which may explain why the branding wasn't as widespread, given that Walt Disney Studios was brand new, so they no doubt wanted to concentrate as much on that as celebrating 10 years of the resort. There's also some Castle decoration and a cake float with not so hidden Mickey 10 decorations.
1997 and the 5th Anniversary of Disneyland Paris was way before it was ever on my radar, and by the look of this photo and Cast Member badge, it was all about the big number 5 shield on front of the Castle, which looked to have received some extensive jester style party hat decor additions. 1997 was also apparently The Year To Be Here, as should be every year.
The 5th Anniversary of Disneyland Paris, looking at Google and 20 Years of Dreams, seems to be the only year that didn't get a text logo, so that must have been something they decided to start for the 10th Anniversary. If anyone knows differently, and has proof, then please send it my way.
This is only a selection of the different logos and branding that each Anniversary celebration gave us, but I think it's the main ones, that were seen in the most prominent and widespread places.
So, what do we know about the 25th Anniversary? Very little I'm afraid. If you look back at the big refurbishment announcements, you'll see that there are 10 big attraction changes on the way, with Star Tours II looking most likely to have a big 25th Anniversary launch. There's also my speculation of a big new show at Chaparral Theatre, which you can read about here.
On the rumours side of things, there are murmurings of a new parade that have cropped up on forums and special media, and I think they are warranted, considering we haven't had a big change in almost 10 years. With that will come a new parade song, and I'd imagine we can expect a big update to Disney Dreams! Could it be that the 25th Anniversary brings with it a whole new Dreams! show to Disneyland Paris, with every scene changed – maybe, and if so, that alone would make a visit worthwhile.
We are still 20 months away from the 25th Anniversary so much speculation to come, and lots of interesting developments happening in the meantime.