Review of Star Wars Jedi Training Academy in Disneyland Paris
This is an article that seemed to be doomed from the start, but I'm finally here, unlike the notes I took whilst watching the video, which seem lost forever. It was over a year ago in May 2014 that rumours of the Star Wars Jedi Training Academy began to surface, and after the press preview in May this year, it finally opened to the public on July 11th, in Videopolis, on the stage where The Lion King used to be. The video I saw was taken by ToonStudios and is here for your viewing pleasure, and so you'll know what on earth I'm talking about.
httpvh://www.youtube.com/watch?v=2j_ZHUhgmNk
Though you can see where the rocks from the Lion King set once made up the Pride Lands, they've been very clever in using them to create this stage for the Jedi Training Academy. It seems to be a mash-up of Dagogah and Endor, though more the latter, and that puts it in the Return of the Jedi time frame with R2-D2 being present. It's a big set which uses the full width of the stage, with lots going on and lots of props to keep it as interesting as possible.
Though there weren't always a huge amount of female protagonists in the Star Wars Universe, that is something that has changed in the last few years, especially with The Clone Wars and Star Wars Rebels, and from the look of things, Star Wars Episode VII: The Force Awakens. It's good to see Jedi Knights here in Disneyland Paris are both male and female, and in this video it's a female Jedi Knight training the kids. She projects very well and is putting on a show for the audience as much as the kids involved. The slight problem I have with that, is that some of the kids are finding it hard to follow, and especially as she goes through everything at quite a rapid pace. Whilst it wouldn't be as good entertainment for the crowds watching, it would be much easier for the kids to follow if she was facing them.
Vader's entrance with the Stormstoopers is very well done, and I like how the lighting changes from Jedi blue to Sith Red, and also that the blast doors open pretty quickly, as they should. His voice is only in English as presumably they will only allow an official voice actor audio track to be used for his parts, and as far as we know, Vader never spoke French. The Jedi Knight speaks both English and French so most people will be able to understand the instructions. I can't decide if I like the clutzy behaviour of the Stormtroopers – it's very unlike Stormtroopers in the films, but I have seen from other videos that Disney Parks like adding a bit of homour. Vader himself is also a little pantomime in his actions, but I guess given the situation and audience, then that can be forgiven. I have to stop myself from comparing this to the films and realise this is different medium and therefore the characters will be acting a little differently, or strangely, depending on your interpretation.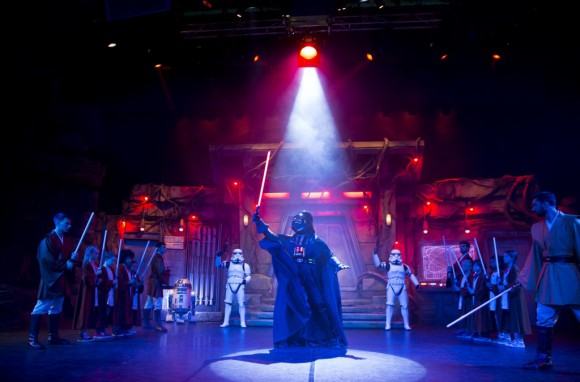 The fighting action between the Padawan learners and Vader is very good and I particularly like the stars that appear on the backdrop of the blast doors when lightsabers clash. Vader is very good in that when small children forget what to do or are very inactive, he compensates so that they feel they have done their job and been in a fight with the Dark Lord. Vanquishing Vader by a collective use of The Force is a nice way to end, but not nearly as cool as earlier in the session when they use the same trick to levitate R2-D2, which is possibly the highlight of the whole Jedi Training Academy, certainly as a spectator.
The training session ends with the Jedi Knight uttering the immortal words 'May the Force Be With You', before exiting stage left and a light show ensues. It looks like a lot of fun for both those involved and people watching, and hopefully there will be a rotation of bad guys, with the inclusion of characters like Darth Maul and Asajj Ventress. The big downfall for me is that it is for kids aged 7-12, as I would love to have a go. Come on, just one session a day for adults maybe, please?
Overall, I'd say Star Wars Jedi Training Academy in Disneyland Paris looks to be a very well designed and executed addition to Disoveryland, that with a few minor changes could be even better. With Star Tours II coming in 2017, we could be on the way to seeing the Star Wars Land that many have been whispering about for years, but until then the Jedi Training Academy makes great use of a mostly unused stage.