Disney FanDaze in Disneyland Paris – The Event, The Announcement, The Future
Though I had great fun experiencing Halloween this past weekend, that wasn't the main reason I was there, as the Disney FanDaze announcement event was what saw me take off to Disneyland Paris once again. Like everyone else I knew very little going in, but had guessed that it would be focused on characters based on the teases put out by Disneyland Paris on social media. I was to be at Walt Disney Studios at 8.30pm on Saturday September 30th and all would be revealed!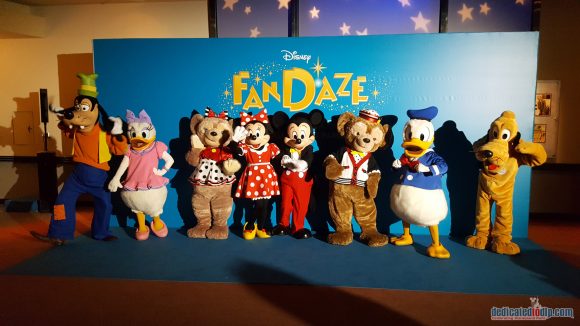 We had a pre presentation drink in The Art of Animation, but before any of us lifted a glass our attention was very much on the characters who were there to greet us. Lined up against a Disney FanDaze backdrop were Mickey, Minnie, Donald, Daisy, Goofy, Pluto, Duffy and ShellieMay, all waving as more photos were taken in a few minutes than I have ever witnessed before. Thoughts that Disney FanDaze would be character-centric were only heightened by this start to the night's proceedings.
We got selfies with the characters, and all lined behind them for one big bloggers and characters group photo. Picking up the word bloggers, this event was one specifically for that group of people, rather one that included mainstream media, or media of any other kind. In fact, the Disneyland Hotel reception had us down as the Summer Studios Bloggers! The cocktails did come after the many photos and came by the name of Crazy Blue. Crazy because it was green, maybe? This part was a great deal of fun and quite surreal at times. First time I've ever met Shellie May and she was having a great time.
After this, we walked over to Studio One where there were tables out on the main strip, something I've seen in photos of corporate events and always wanted to experience myself. I still want these events to happen, and not just as part of invite only invites such as this, but ticketed events for the fans that can be bought by anyone. It looked every bit as great as I'd always imagined and is the perfect setting for an after dark meal.
The presentation was taken on by Disneyland Paris Show Director Emmanuel and Disney FanDaze Director Marilyn Magness who between them have decades of experience at both Disneyland Paris and elsewhere at the highest level. It was obvious to all of us watching that they were incredibly proud and excited to be sharing all of this with us, at last. To save me from waffling on, here is the Disneyland Paris announcement which came out the day afterwards:
Disney FanDaze: The Ultimate Fan Event at Disneyland Paris
The inaugural festivities will take place during the first weekend in June 2018

Specially imagined for Disney fans everywhere, Disney FanDaze is launching its first ever event at Disneyland Paris for fans for one weekend only! The Disney FanDaze Inaugural Party will take place during the first weekend in June 2018 featuring one-of-a-kind shows, rare and never-seen-before Disney Character Encounters, live entertainment, iconic attractions, tasty treats, exclusive merchandise and the opportunity for fans to dress up and show their inner Disney to the world. It's an experience sure to excite all of our Guest and Disney fans!

Imagine…living a real-life Disney dream that's dazzling with delightful days, daring adventures, dancing and dressing up – all in an experience created to celebrate fans. This is the chance to catch a glimpse of Disney Characters around every corner – some for the first time ever at Disneyland Paris. Embark on a wild adventure with the stars of DuckTales, experience an extraordinary nighttime spectacular inspired by the 1995 classic A Goofy Movie and so much more. It's set to be an unbelievable event for fans from all over the world.

Here's a sneak peek of what's to come:

DANCE YOUR DUCKTALES PARADE
For the first time ever, fans will say hi to Duckburg's favourite residents and shake their duck tails during the "Dance Your DuckTales Parade," a special happening dreamed up just for the Disney FanDaze Inaugural Party. As usual, the stars of DuckTales are sure to create quite a hullabaloo all around Walt Disney Studios® Park.

MAX LIVE! GETTIN' GOOFY WITH IT
For his first-ever concert at Disneyland® Paris, Max is psyched and ready to rock! Anticipation will be in the air at Production Courtyard when Goofy's son and his talented Disney pals put on a madcap show complete with pop beats inspired by A Goofy Movie. Watch out for the hilarious hiccups during the live broadcast. Fans won't believe their eyes – or ears.

CHARACTER ENCOUNTERS
For fans, there is nothing more magical or exciting than meeting and greeting the Disney stars of their dreams, and the Disney FanDaze Inaugural Party is the place where those dreams come true. From the rarest to the fairest, more than 50 Disney Characters including favourites from TaleSpin, Who Framed Roger Rabbit, Bolt, and more will be on hand to delight their greatest fans! Fans can expect the unexpected never knowing who they might just encounter. From the classic Characters including Clarabelle Cow and Clarice, to new additions such as Joy and Sadness, one thing's for sure…Fans won't want to leave their camera at home!

ENCHANTING NEW OUTFITS
Mickey, Minnie, Duffy, ShellieMay, Donald, Daisy, Goofy, and Pluto will greet fans dressed in the most extravagant outfits – created specially for Disney FanDaze, the biggest fan event of the year! These colourful new outfits will be familiar…with a twist. Innovative both in design and material, they'll speak to the fans' inner fashionista and quickly become the latest in Character couture!!

NEW INTRODUCTIONS
Mickey is expanding his Disney FanDaze VIP (Very Important Pals) family to include two rare Disney Characters who have previously never appeared together in the history of Disney Parks. More information is still to come, but this is sure to be a popular Disney duo.

AN EVENING OF ATTRACTIONS OPEN FOR FANS ONLY Walt Disney Studios Park will open its gates exclusively for fans during the Disney FanDaze Inaugural Party. From an epic 13-floor plunge on the Twilight Zone Tower of Terror to being shrunk down to the size of a rat in Ratatouille: The Ride, this is a privatized evening no fan will ever forget.

TASTY TREATS AND EXCLUSIVE SOUVENIRS
Guests will be able to savour unique flavors with special menus created just for Disney FanDaze, while exclusive limited edition merchandise is sure to delight the most dedicated of Disney collectors.

SHOW YOUR INNER DISNEY!
Every fan has a unique Disney style they can't wait to show off, and Disney FanDaze Inaugural Party will invite fans to do just that! Disney pins, hats, ears and other accessories will bring the Disney fantasy to life, inspired by a favourite Character or even an unforgettable Disney attraction. Each DisneyBound original and eccentric look is sure to be one of the evening's major attractions!
Phew – that's a lot to take in, to say the least! At the presentation, the Dance Your DuckTales Parade got a great reaction, but I have a confession to make, I have never seen an episode of Duck Tales! However, my young son loves the series and the films, and I feel I need to check it out. The whole FanDaze event seems to be a Halloween Soiree type of affair, which when I was there last year was one of my absolute favourite times ever in Disneyland Paris.
The characters are the main part of Disney FanDaze, as we thought, and though Scrooge and Max came out during the presentation, we didn't get to take photo with them afterwards. I doubt anyone would complain though because at the end a plethora of characters came out, some of which were named in the press release, some who weren't. These are the ones I can remember: Mickey, Minnie, Donald, Daisy, Goofy, Pluto, Duffy, Shellie May, Hiro, Yokai, Bolt, Mittens, Sadness, Joy, Nick Wilde and Judy Hopps. The ones we saw earlier were in different outfits – could these be their Disney FanDaze outfits?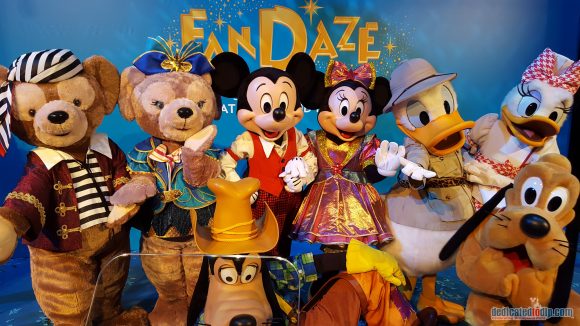 I have become more of a fan of meeting characters in recent years, and this was huge amounts of fun, and meeting characters such as Bolt, a film that I feel doesn't get the attention it deserves, was quite a thrill. Now, I'm not under any kind of illusion and realise how incredibly privileged I was to meet all this characters in this kind of situation, but if Disney FanDaze is anything like the atmosphere created Saturday evening, then it's going to something very special for anyone who attends. Maybe this kind of event is perfect for me, someone who is sometimes put off meeting characters, not because I don't love the experience, but because of queues, and Disney FanDaze will give me the chance to meet them a lot more freely, and a whole bunch of them too, to say the least!
Of course the biggest question coming away from the event, both from those in attendance and everyone following along on social media, is how much? That is something we still don't know and have no idea when will we find out. You can sign up for more information on the Disneyland Paris website here to receive information as and when it becomes available. I of course will also be revealing said information and talking about it when it is sent to me too.
I feel like the Halloween Soiree is actually too cheap and said so on the night, as at €31 after Annual Passport discount, what I experienced in 2016 was worth twice that price. So I'd be more than happy to pay €62 for Disney FanDaze if it gave me the same level of enjoyment I got from the Soiree. Queues for characters were pretty long there though, so I'd want them to be shorter at FanDaze, and with 50 on offer there's a good chance that could happen. I did make a request that the limited edition merchandise, though always a great idea, could do with being just a little less limited in number, after some of the 25th Anniversary items sold out even before the actual 25th Anniversary date.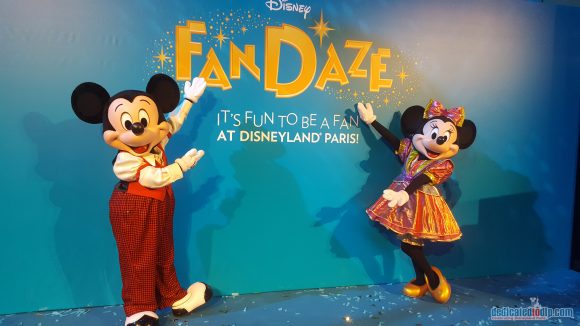 Until the final details are revealed, and in particular the price, it's hard to make a judgment. But if making someone like myself,who has never gotten overly giddy over characters, feel as happy as I was Saturday night is part of what Disney FanDaze is all about, then they are on to a winner. The group of people organising Disney FanDaze were all really positive and excited about the project, and I've never seen so many together at an event like this before, so it's obviously very important to Disneyland Paris. The coming weeks and months will no doubt lead to much discussion and speculation, but take it from someone who has experienced just a little of what Disney FanDaze has to offer, it's worth keeping that first weekend in June free.