Disneyland Paris Review: Halloween Season 2017
I was lucky enough to be in Disneyland Paris this past weekend, and though the trip had been booked for a few weeks it wasn't until a couple days before that it dawned on me that the Sunday being October 1st, I'd be there for the launch of the Halloween in Disneyland Paris. The 2017 Halloween season has been a hot topic for discussion in recent months, especially since it was revealed that there would be no Halloween Cavalcade, no Villains show on the Castle Stage and no Halloween decorations down Main Street. After a very warmly received Halloween of the past years, how could this year's spooky celebration possibly live up to that?
Decoration
As soon as you enter Frontierland it is obvious that this is the land where Halloween dwells in Disneyland Paris this year, and also where all the ghosts and pumpkins from Main Street have gone. They are sat on the wooden structures that greet you after you have walked under Fort Comstock and many of the pumpkins and pumpkin characters are around and on Cowboy Cookout too. They actually fit in perfectly, more so the pumpkins than the ghosts, but none look out of place. This isn't the best part of the Halloween decor in Frontierland, not by a long way, because once you are stood looking out at the Rivers of the Far West, and turn right, that's where Halloween really kicks it up a gear, or 5.
Día de los Muertos is the theme and there are skeleton characters and decorations everywhere, with glowing eyes and elaborately colourful costumes. There are paintings, banners, bunting and even multi colour cacti with their own decoration. It's all consuming, but at the same time the perfect partner to the gold mining area alongside Big Thunder Mountain. With so much to see it's a feast for the eyes, bringing the Mexican festival atmosphere to Frontierland. You will need to walk around that area a few times, as you are bound to miss things, and as it gets darker lights add a new dimension, so I've been told, as I had to leave before experiencing that pleasure. It looks very much like the style of upcoming film Coco, even though the concept for these decorations were conceived before anyone in Disneyland Paris knew what Coco would look like.
There are a few Halloween bits elsewhere in Disneyland Park, like the returning pirate pumpkin tree outside Pirates of the Caribbean, which always brings a smile to my face. The Maleficent dragon bramble is back in Fantasyland in the Castle courtyard, while over in Disney Village the Halloween photo facade is in place. Main Street is not dressed up for Halloween like in recent years, but it being the 25th Anniversary that's understandable, and Frontierland more than makes up for that. It's nice being able to celebrate both and once you set foot inside Frontierland you'll see that there is no need for Halloween elsewhere, the essence of Halloweenland is back, and better?
Entertainment
Goofy's Skeletoon Street Party
For me this is the star of the Halloween season in Disneyland Paris, only just edging out the incredible decorations. Running through Frontierland is a street festival party style mini cavalcade, with THE most infectious song we've had in Disneyland Paris in years. One that made me want to immediately become a resident of Halloween Street. The performers are in great costumes, bringing Maleficent's horses, scarecrows, and harvest theming. Skeleton Goofy is the main man, though José and Panchito from The Three Caballeros are a treat to see out and about too. Skeletons on poles are waggled with the music and also towards guests, whilst a Cinco de Mayo styled mini van blasts the music, with more of those thematically matches Skeletons on its roof. It goes all the way from Cottonwood Creek Ranch to the Shooting Gallery….and back! I must point out that the Cast Members put everything into this and were evidently having so much being a part of it. That always adds somethig extra to us guests watching, so thank you, and great job.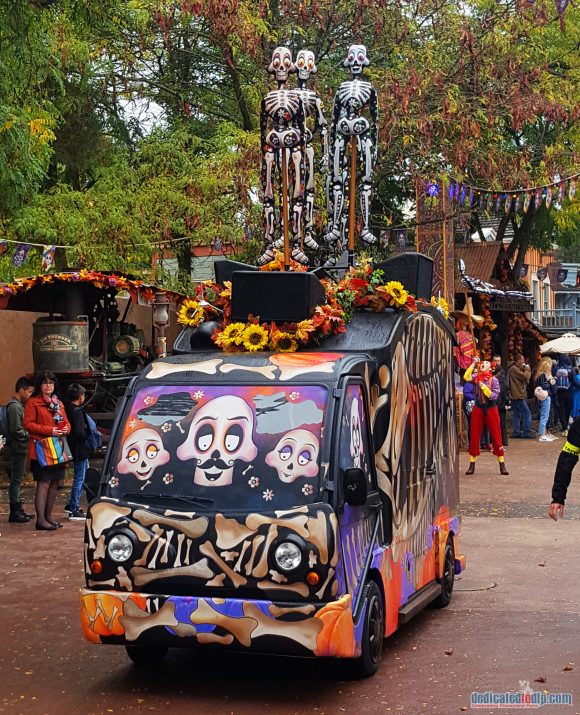 One thing I love about Goofy's Skeleton Street Party is that thanks to the narrow thoroughfares of Frontierland, there is not enough room for masses of people to wait hours beforehand, so you hear the music, stop where you are and watch it go by. The route is long enough for everyone to get the opportunity to see it, and the fact that it goes back on itself and is runs numerous times a day means there is a chance for everyone. There's enough queuing and waiting in Disneyland Paris already, this offers a great way to see a really fun piece of entertainment as it discovers you. The music seems to come from the car and a speaker outside Fuentes del Oro, which means there were times when it was hard to hear at the rear of the street party. However, Cast Members were on the scene to make subtle changes to the pace so hopefully this has now been improved. Goofy's Skeleton Street Party gets a huge thumbs up from me – I had no idea what to expect going in and was delighted with what I was given, as was ebeyone else watching it seemed.
Mickey's Halloween Tricycle Gang
The tricycle's from April 12th's Grand Celebration, characters in Halloween costumes and Disney Villans, plus a brand new song, running down Main Street, around Central Plaza and off. Sounds strange doesn't it? On paper it doesn't seem like it would work, but it's definitely one of those have to be there situations, because defying all logic and prejudgment, it does work, wonderfully well. The costumes are brilliant, especially Donald Duck in his Maleficent gear. Seeing the Villains being their villainous selves, and then stopping to clap along to the clapping bit (if there's a better name for that part let me know) is hilarious, and whilst this out of character interlude should be all kinds of wrong, it's oh so very right. And that song, it's another ear worm for you, and one you'll walk away singing, and clapping to, all day. Mickey's Halloween Tricycle Gang is the epitome of don't judge a book by its cover – I made sure to catch a repeat performance in the few hours I was in Disneyland Paris while it was running.
Mariachi Band
A 6 piece authentic Mariachi Band in Frontierland. I need say no more – when is live music ever not welcome in Disneyland Paris?
Characters
Characters are everywhere in Disneyland Paris this Halloween. There are so many meet and greet locations in Advetureland that you only have to go 20 yards to see a new one each time. Jafar, Dr Facilier, Aladdin, Peter and Wendy, Hook and more. I didn't queue for any of these as time was limited and my character targets were over in Frontierland, where the costumes were just brilliant. Mickey and Minnie were in fantastic Mariachi band outfits but the queue was too long for me (my buddy Geoff at DLP Town Square did queue to meet them, and it's his great photo below), with aspirations to do Star Tours before leaving, but with a short queue for Daisy I had the best character meet of the trip.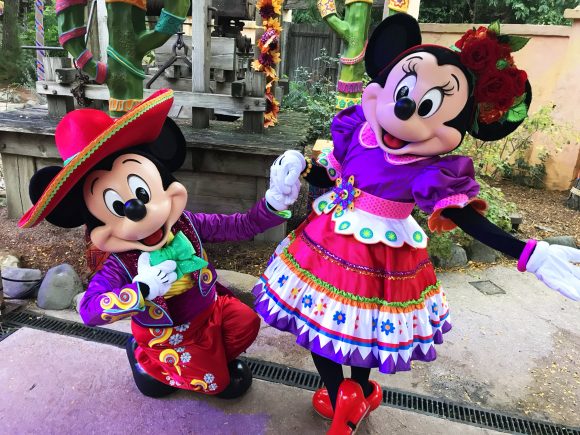 Not only was her dress spookily spectacular, but she was so much fun, and so was Caroline, the Cast Member with her. Maleficent greets people next to her brambles over in Fantasyland and there are characters up and down Main Street too. I also met Chip and Dale in their explorer outfits, which is not so common these days, so I am told. So if you want characters in Disneyland Paris then Halloween is the time for you (until Disney FanDaze, but that's another topic for another article another time) – just wear comfy shoes for the queues!
Verdict
I only experienced Halloween for 8 hours this past Sunday, but what I saw was fantastic. I love how the majority of it is concentrated in Frontierland as it makes for a really fun and lively atmosphere, not to mention the explosions of colours that bring unprecedented life to the area. The entertainment may not be as much as in recent years but it's such fun, and in the 25th Anniversary year it's no less than I'd expect for a 4 week long season. If this is the model for Halloween next year, not only do I fully encourage this, but I'd have to look at booking a trip over to experience it all properly, and especially after dark. Halloween in Disneyland Paris 2017 – sorted!