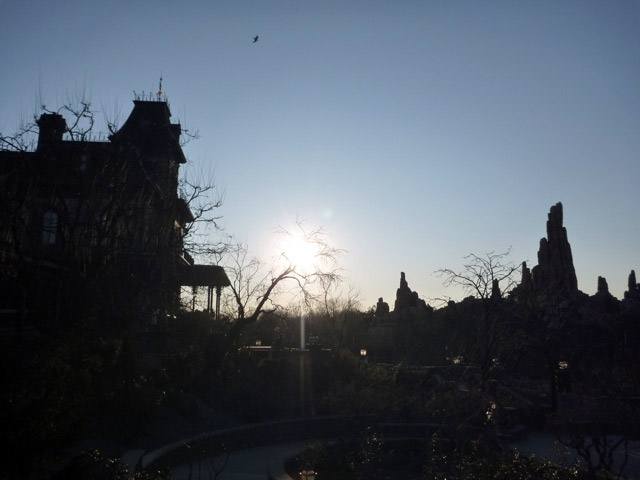 Disneyland Paris Trip Report: February 2012
The newest member of the Dedicated to DLP team, Sven Popelier, went visited Disneyland Paris earlier this month and he has written up a trip report, accompanied by some magnificent photos….and here it is!
Tuesday 7th February 2012
7am, the usual morning line up", my alarm clock song from Tangled! Unfortunately, it wasn't 7am but 7.30am! A quick shower, a delicious breakfast and my friend and I were ready to leave for Disneyland Paris! We were on a three day trip to Paris and day 2 were reserved for the magical theme park. We bought the metro/RER tickets on our arrival on Monday: 14,20 euro. We stayed at an Etap Hotel in the northeast of Paris, not far from 'Parc de Belleville'. We took the metro from 'Jaurès' to 'Nation' and there we had the RER A to take us to Marne-La-Vallée!
We arrived there at ten past ten, so it took us about an hour to get from our hotel to the parks. Surprisingly, I couldn't go via the usual entrance because there was construction. There wasn't a lot to see, but it had been a while since I'd seen the gates without the green tents.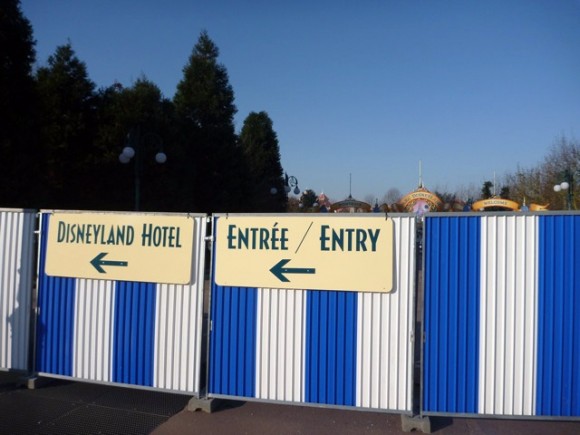 We had to go a little further and there I had a look at the development of the new World of Disney Store. They're still busy but it's already looking great!
For the first time ever, I entered the park right in front of the Disneyland Hotel. On the left and right side, they were checking our bags as usual. The middle however, was reserved as the exit of both parks. Here as well they were busy redoing the pavement.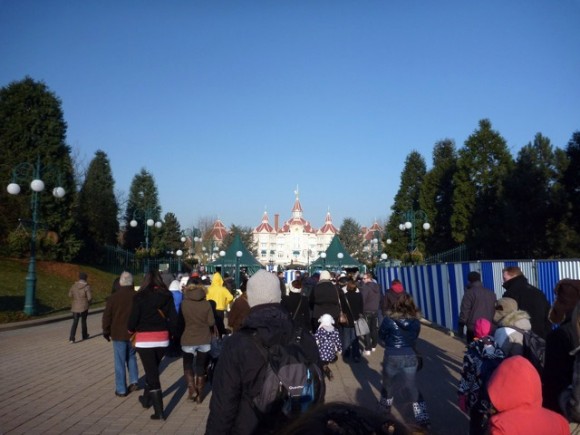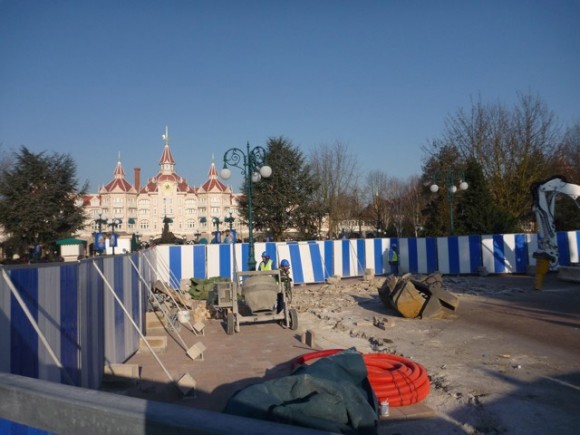 We started at the Walt Disney Studios, the sun was shining but it was freezing cold! I first went to a ticket booth to buy one for my friend. I'm an annual pass holder, so I was able to buy a ticket for her birthday for only 20 euro instead of 71. You can buy five tickets for that price every week until the second of March with your pass. A great opportunity to visit the park with some friends!
As we were walking in Studio 1, I found a hidden Mickey! It's very similar to the one found in the Rock 'n' Rollercoaster ride!
When we arrived at the information board, I was very surprised to see that a lot of rides were on a temporary break. We knew that Studio Tram Tour was closed, but Rock 'n' Rollercoaster, Crush's Coaster and Les Tapis Volants (Flying Carpets) were all broken down! I wanted Crush to be our first ride but because it was broken, we had to change our plans!. So instead we went to Toy Story Playland!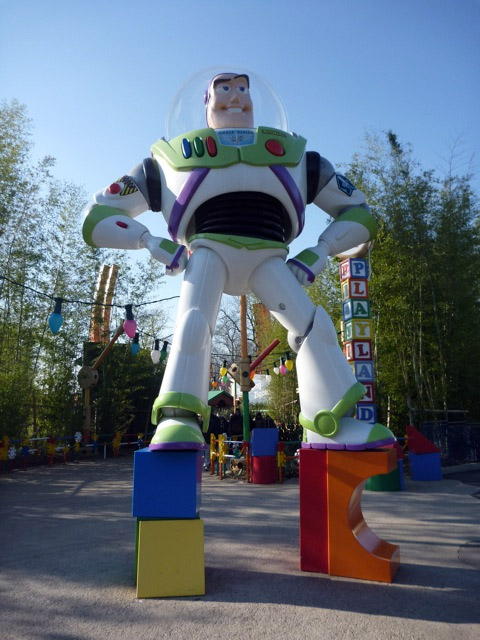 We first turned right to have a look at the construction of the Ratatouille ride! I never realised how much room they have when you see it up close without the trees. Can't wait to visit Remy and his friends there!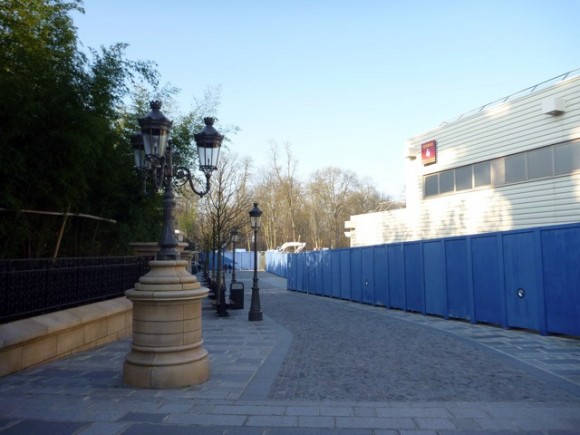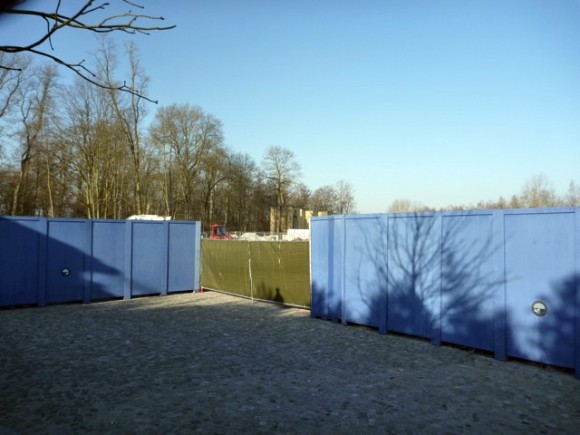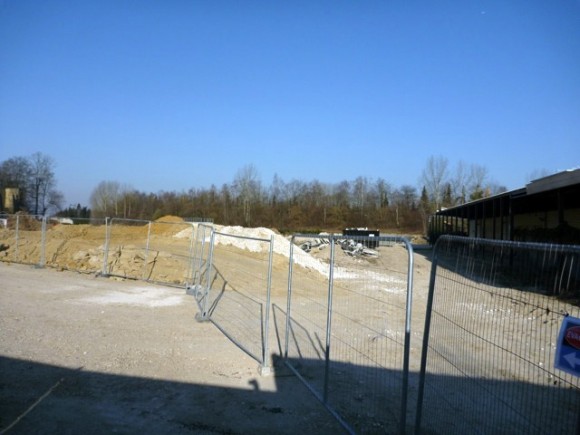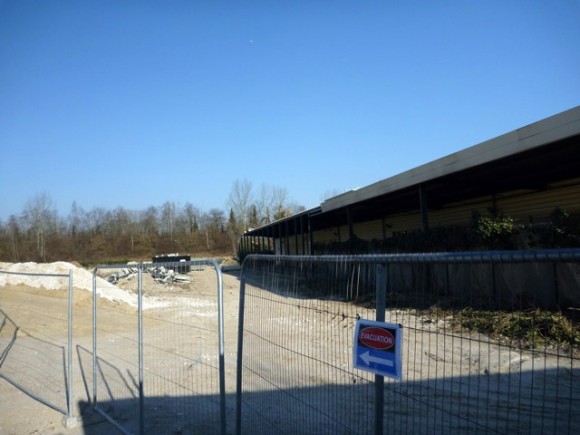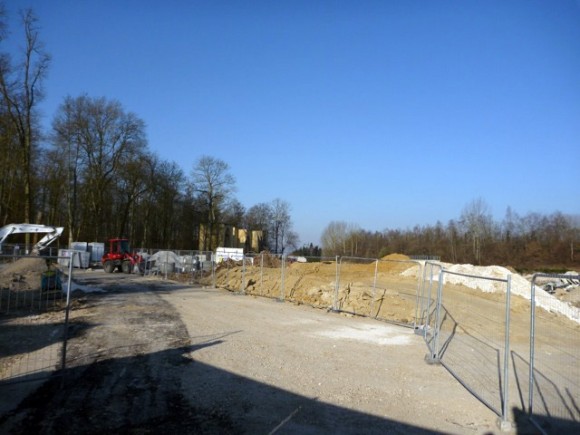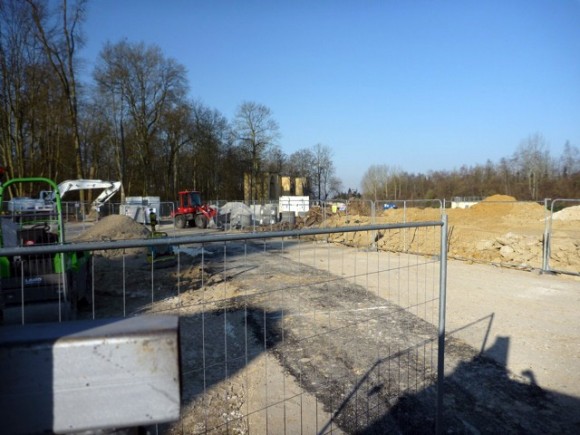 In Toy Story Playland, I first stuck my head into Rex's mouth! Then we had to wait 15 minutes for a thrilling but cold ride on RC Racer. Luckily we were sitting in the back seats so all in all, it wasn't that bad. The second ride was Slinky Dog's Zigzag Spin because there was no queue at all. Finally we went to the Parachute Drop and took the single riders queue. We had to go on it separately but while my friend was on it, I took some pics!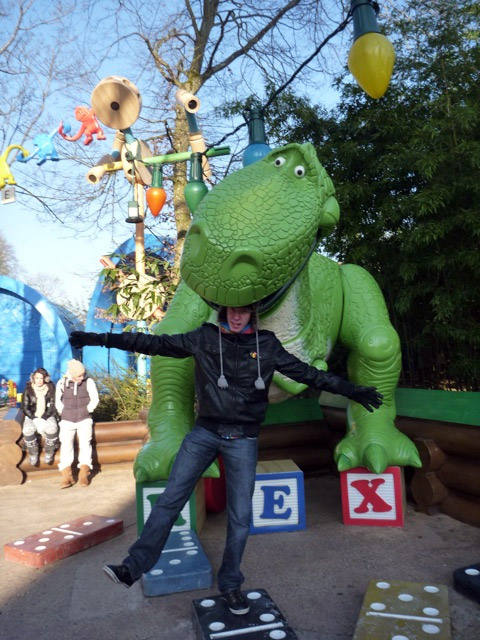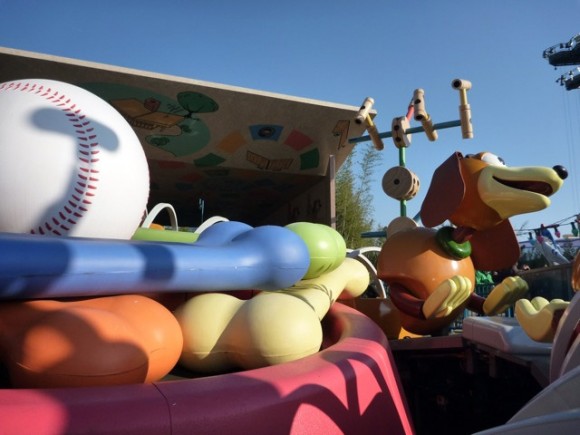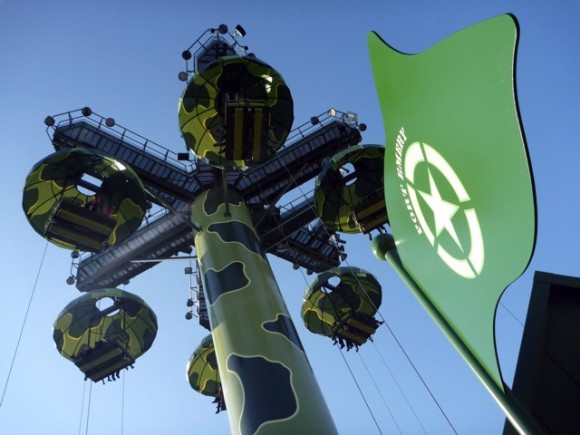 Toy Story Playland: check! Next up: The Twilight Zone! As we were walking towards the Hollywood Tower Hotel, I noticed and remembered the problems they had with the building. On the right side, there is still a net but the path next to it, was open for guests. I also spotted on the other end of Hollywood Boulevard, one of the very few characters I saw in the parks during that trip: Cruella De Vil. Unfortunately, she was too quick for me to take a snapshot!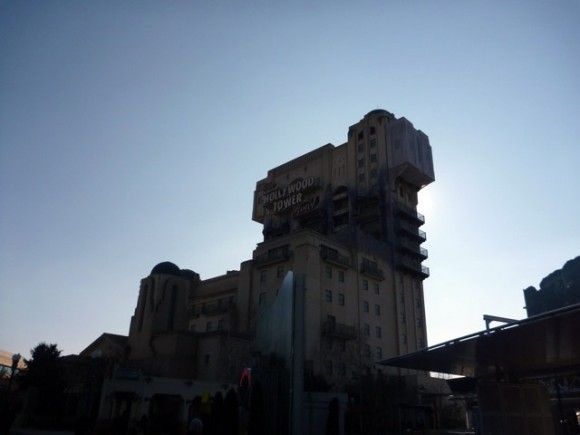 In the waiting line, I saw something that I had never noticed before: a doll sitting in the armchair of the lobby. It made us think of a Belgian singer called Selah Sue because of her hairstyle. The ride itself was quite funny, because the woman next to me kept on grabbing my arms and legs. After that excellent visit to another dimension, I bought my pin for this trip: The Donald Name Badge!
We continued and it was time for indoor coasters! Crush was open and we were not the only ones who noticed. Still, 35 minutes and we were ready to grab shell! (Longest queue of the day!). Really loved it, but the indoor fun wasn't over just yet. We were ready to rock in the Rock 'n' Roller. We had the multi-colour soundtrackeur, so the all colour lightshow. I did find him a bit slow, even in backseat. Our onride picture was hilarious but not very charismatic to buy it. When we came outside, they were already preparing for the Stars 'n' Cars parade!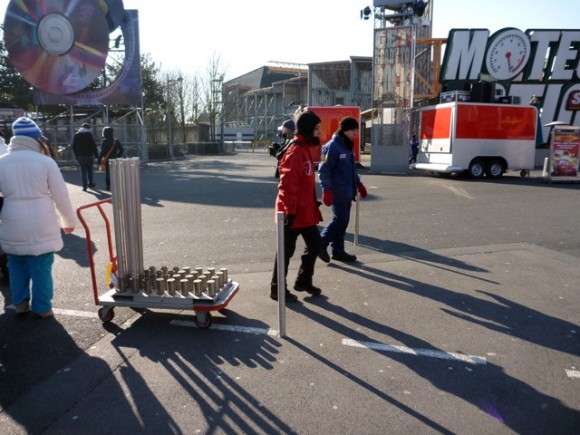 We did one last ride before going to the other park: Animagique! Don't you just adore that show? As I love the shops, we always pass through them and I saw something I had hoped for since I had seen it in Paris the day before: Sales! I ended up buying a small backpack (5 euro), a 2011 snowglobe (2 euro), a Happy B-day cake to put on your head (2 euro), Christmas decoration (3 times 2 euro), a Cars photo frame for my cousin (2 euro) and a keychain of Stitch with my horoscope: Gemini (1 euro)! Other stuff on sale were scarfs, hats, a Tiana cup, a few t-shirts, a few sweaters…
The sales started January 11th and ended February 14th, so be sure to remember that period! Another interesting fact is that with your annual pass, you still get 10 percent on the sale items as well!
It was time to go to Disneyland Park. In front of the Flower Mickey in Fantasia Gardens, they were laying new tiles. We entered the park and I had never seen Main Street so quiet. It was still very cold, so we walked through Discovery Arcade and bumped again into construction! We had to go via Central Plaza to Discoveryland and as we passed by the Dreams building, someone was busy with the wires. We walked further and saw the ugly tent in the middle of the plaza which blocked the view of Sleeping Beauty Castle…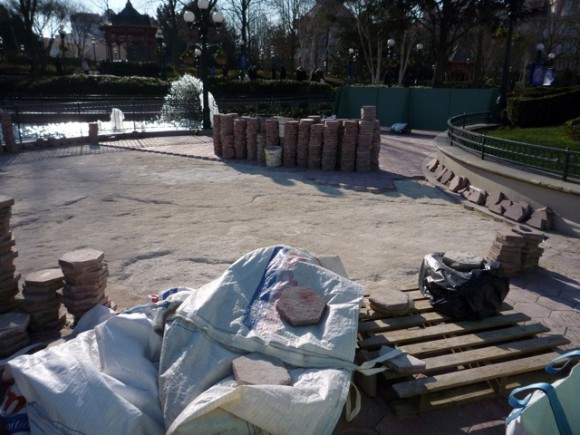 It was about 2pm, so it was time to eat our lunch. We brought something that we had bought in the store near out hotel and ate it at the Videopolis to get warm. We were in luck, because we had some entertainment brought by the Videopolis Orchestra. They played all kinds of jazzy music, including music from James Bond!
After we said hello to Wall-E and Eve, we were ready for some rides! First up was Buzz Lightyear and I got my highest score ever! 871.600, I was so close! Then it was time for a shot into space: Space Mountain! I'm not always a fan of the ride but this time, I was quite pleased. The music worked and it wasn't too shaky. We then walked towards Fantasyland and stopped at the Star Wars shop. When we entered, we were greeted by a very strange character. I still don't know if it was a visitor or a cast member, but I'm guessing the second since guests aren't allowed to dress up.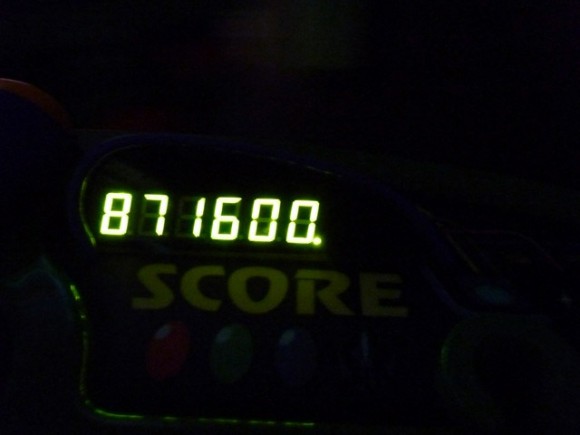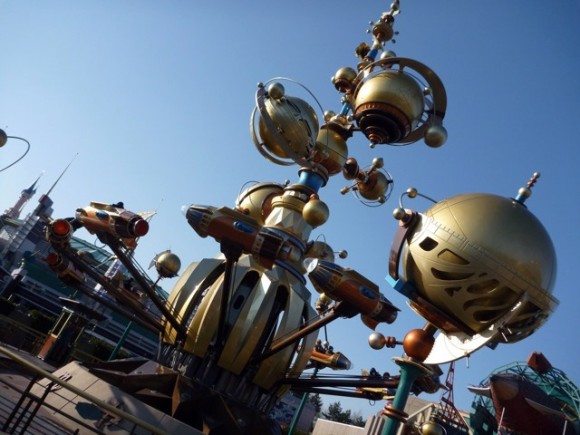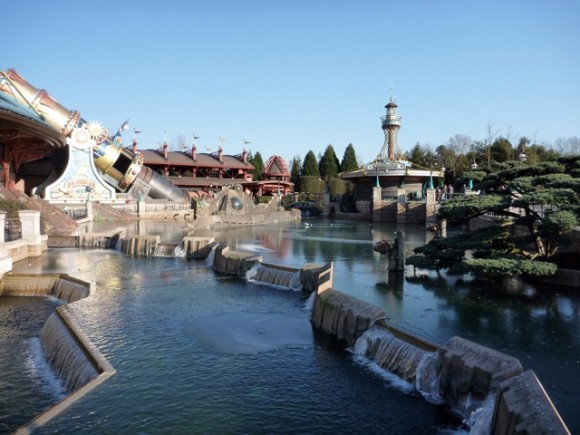 As we were walking towards Fantasyland, they had just closed the gates for the Once Upon A Dream parade which created a dead end… We first didn't see any CM's but luckily, he popped up from the left side and let us through.
Fantasyland was very quiet and with good reason. Most of the rides were closed except for It's A Small World, Mad Hatter Tea Cups, Snow White, Pinocchio and the Carousel. Loads of ice again everywhere! The new colours of the Fantasy Festival Stage by the way are looking great!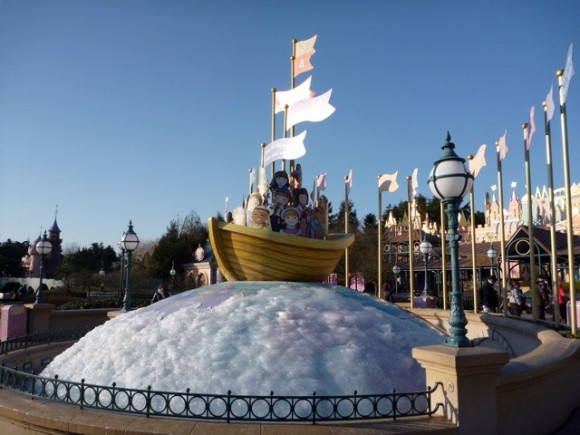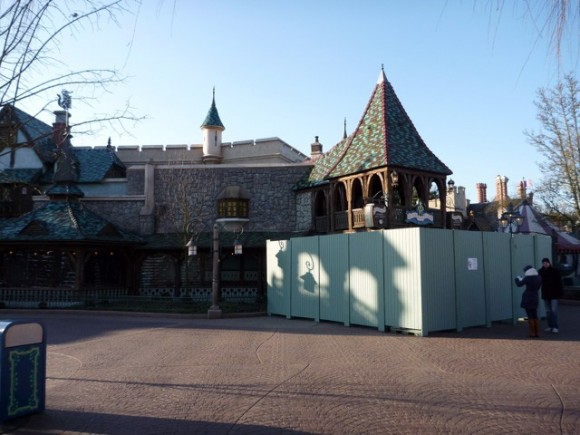 We arrived in Adventureland and enjoyed the warmth of Pirates of the Caribbean. In less then 5 minutes, we were ready to go! I did see something very interesting. A while ago, the fighting pirates scene was removed and now, it was all covered up. Maybe because they are preparing to put a Jack Sparrow there? The Pirate Ship still isn't finished and you could hear that they were very busy. One more ride remained in this area: Indiana Jones et le Temple de Pèril! One of my favourites but this time, it was the coldest ride on it I had ever done!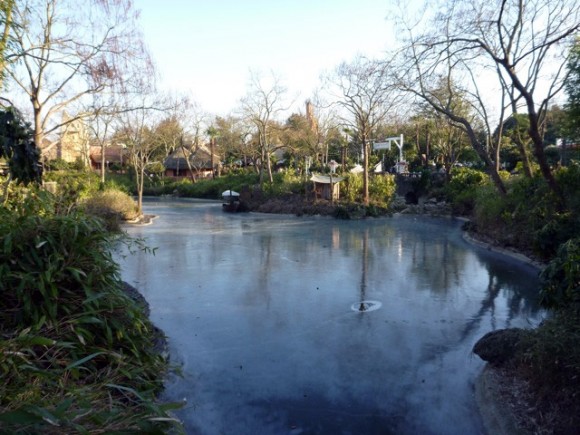 There were two more must do's on my list: Big Thunder Mountain and Phantom Manor. However when we arrived at BTM, it was closed! Fortunately, one of the Cast Members assured us that it would reopen before closing time. So we first went to the beautiful Phantom Manor! On our way to the Manor, we saw that they are still busy with the loading platform of the Riverboat Landing. Respect for those construction workers to work in such a cold!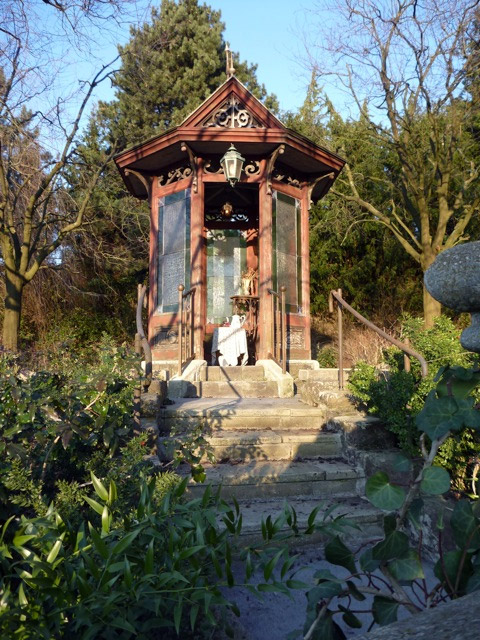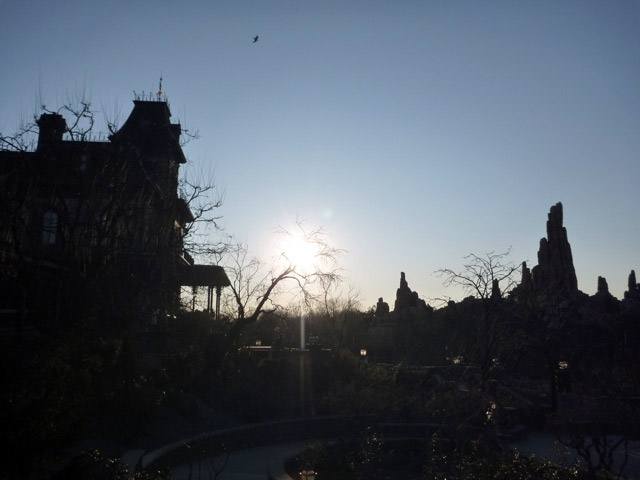 BTM was still a no go, so we went towards Sleeping Beauty Castle to see the start of the Once Upon A Dream Parade. I was very curious to see the Tree Lighting Ceremony float. I thought that it would be quite disappointing but it was better than I expected. Especially since you can see all the characters together and that they don't have to walk next to the float. I was again pissed at the ugly tent that ruined my pictures!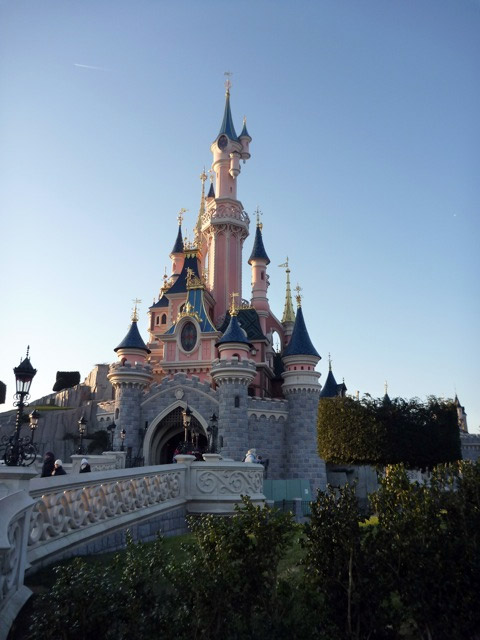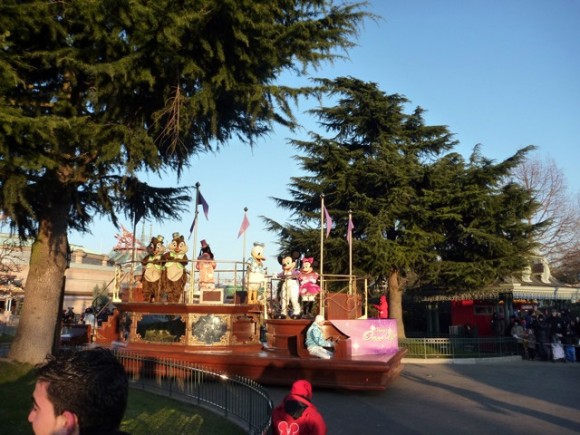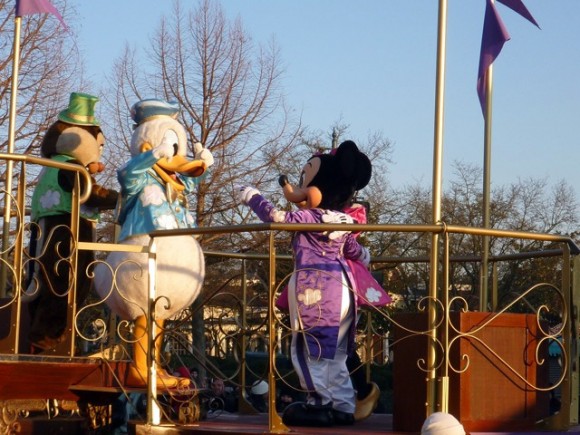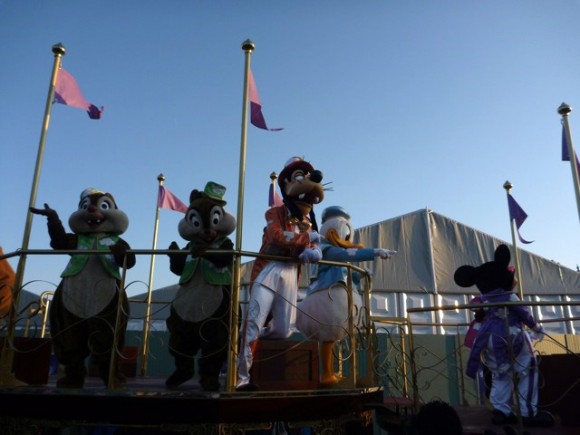 I didn't stay for the entire parade since it was too cold! But before we went to some place warm, I took some pictures of the Dreams fountains! Some of them really seem powerful and others were covered for the cold.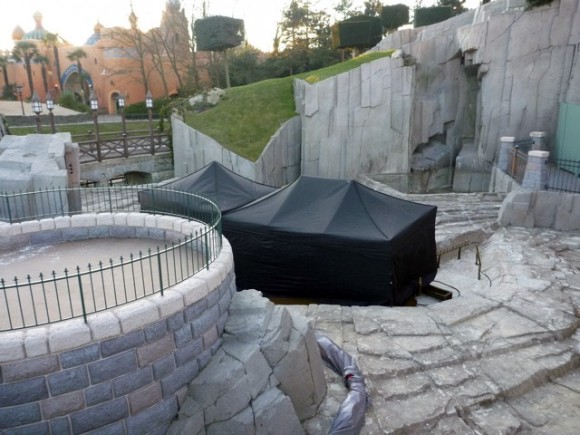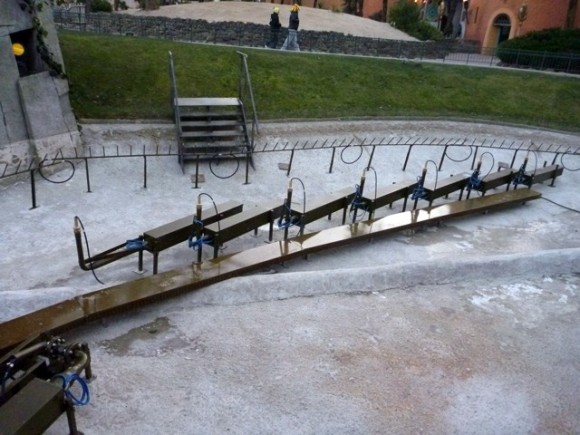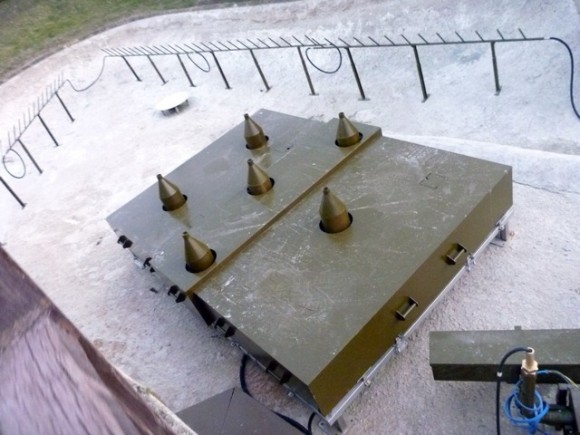 We hadn't done any rides yet in Fantasyland and there was no queue at all for both of the 'scary' dark rides! So first Pinocchio, followed by Snow White and then a quick visit to the dragon's lair. The final ride of the day was back in Frontierland: an ice cold ride on the marvelous mine train of Thunder Mesa.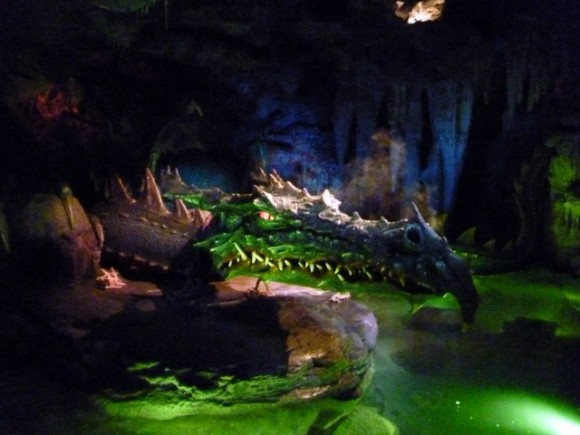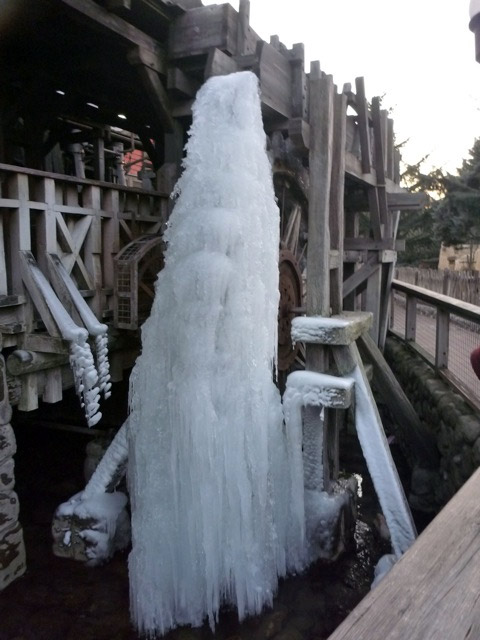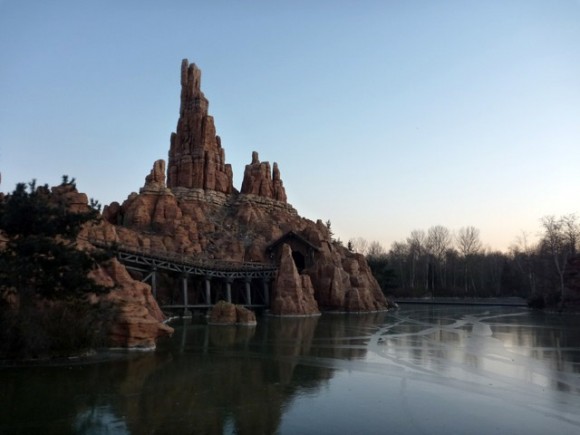 6pm, time was up! We finished by strolling through all the shops of Main Street in search of interesting sales! Then we went to the Mc Donalds in Disney Village as I do traditionally and ended the day with a final walk through all the stores.
Overall, it was a quiet and cold trip. I was very pleased with the short waiting times, the sun & ice for some nice pics and of course: the sales! What I didn't like was the cold and that there were almost no characters, this due to the temperature of course. I was also hoping for snow, but we didn't get any… My 14th trip to Disneyland Paris described in one word: cool!