Disneyland Paris Fan Survey Results Analysis
You may remember that back in November/December 2011 Disneyland Paris ran a big survey asking us fans what we thought about Disneyland Paris and what we would want to see changed and added. Well the results have finally been released and to look at the huge infographic of those results then click here. What I am going to do now is look at each section and discuss the results, and how my answers fit in.
What we have to remember is that this survey was distributed online, via Disneyland Paris fan websites and their own social media channels. This means we are getting the view of the most hardcore fans and not the average family that visits Disneyland Paris for their once a year holiday trip.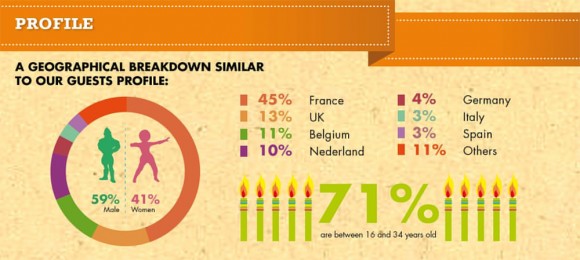 While it's not surprising that more males then females filled in the survey, as recent office for national statistics back this up, the difference between the two groups is. I'd have expected more like a 53/47 split, maybe 55/45 at most. I do like the silhouettes used to represent males and females – can you tell what characters they are? The countries that people are from is very much what I'd expect, and so is this age. While older people like myself frequent the resort, it's always going to be the younger demographic that respond to online surveys like this.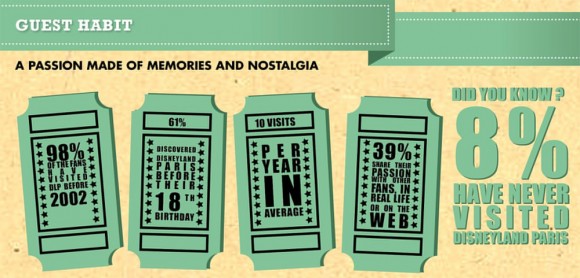 This set of results surprised the hell out of me, to put it mildly. I find it almost unbelievable that 98% of people that filled in the survey visited Disneyland Paris before 2002. Perhaps because it didn't register on my radar until 2002, the year of my first visit, I find it hard to comprehend that such a huge percentage of people did go earlier than that. I was 28 when I first visited, so I'm in the 39% people who discovered Disneyland Paris after they were 18. I wonder if those 61% people knew about Disneyland Paris before they were 18, or actually visited too. The next figure, to someone living in the UK who struggles to go twice a year, is just staggering. The average amount of visits per person who answered this survey is 10! Though that may blow my mind I need to bear in mind that a large number of people live in France, and those that don't, lots live in mainland Europe with far easier and cheaper access. I wonder how many times I'd go if I lived much nearer and without a body of water in the way? I'm guessing at least once a month. That only 39% of people share their passion for Disneyland Paris is far lower than I'd have guessed. We've already established these are very passionate fans who go often and have been for years. I'd have expected that figure to be in the 80s and 90s.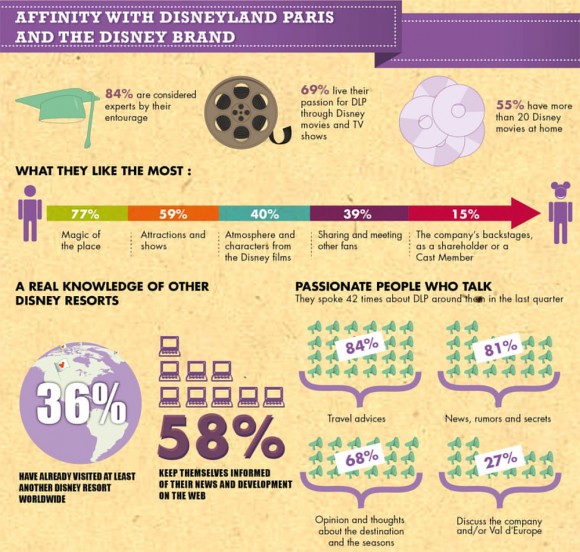 I can't remember the exact format of the survey but I'm guessing we had the opportunity to choose multiple options for what we like the most, as those answers total way more than 100%! I'm definitely in the 77% who selected the magic of the place as it's definitely the atmosphere and wonderful imagineering that takes my breath away every time I set foot in Disneyland Paris. I wonder if this survey was done again now would the people choosing characters increase? I've certainly noticed more people talking about meet and greets in the last year, this no doubt fueled by the addition of the Princess Pavilion and Meet Mickey Mouse, and maybe to some smaller extent the introduction of Duffy too. I'm a little surprised that the most popular discussion point is travel advice, as I'd expect these kind of fans to know everything there is to know about travel, from their long standing love of Disneyland Paris and their multiple trips a year. I'm not one of the 58% of people that keeps abreast of happenings at the other Disney resorts around the world, aside from what I hear on other Disney podcasts. Occasionally something does pique my interest, like Cars Land, the new Fantasyland and Star Wars weekends, but I don't look for news on a regular basis.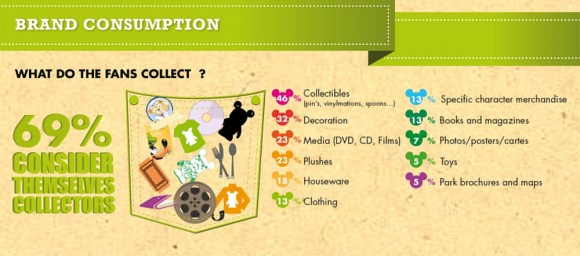 Pins and Vinylmations were always going to top this section as they are marketed as collectible pieces of merchandise, though I'm not sure spoons belong in the same category! I just wish Disney Stores in the UK were as serious about Vinylmations as Disneyland Paris are. Clothing, at 13%, rates relatively low and I'm hoping that this result will encourage the merchandising department to revert back to quality items of clothing rather than gaudy in your face t-shirts, or at least offer them alongside their current ranges. It's obvious that the fans who visit time after time, and have been for years, are not that impressed with the clothing on offer at Disneyland Paris currently. At least that's what this survey indicates. I proudly count myself in that 5% who collects park maps…and tickets, menus, coasters and even receipts – anything to do with Disneyland Paris really. I'm not sure what I intend to do with it all – there's only so much you can display without turning your house into a Disneyland Paris version of Hoarders. Just today I received my Euro Disney Opening Day cast member commemorative coin from America!
I, and every fan of Disneyland Paris, are very lucky that we have a love for something which are so dedicated to servicing fans via their social media channels. Whether it be fantastic videos on YouTube, fun questions on Facebook or facts and answers on Twitter, Disneyland Paris evidently put aside a lot of time and thought into how to interact with their fans. That's not to say they couldn't do more – I for one would love to see a live stream from Main St and I'd love more communication about new attractions such as Ratatouille. All of those satisfaction rates are pretty high so nothing to complain about there.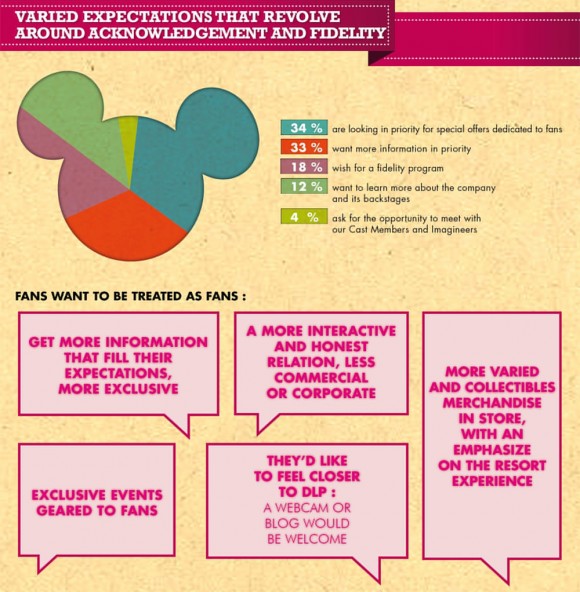 Fan events, webcam/blog and more varied merchandise are just three of things I asked for when filling out this survey – it's nice to see other people thinking the same. The natural next step has to be a dedicated Disneyland Paris blog, the Disney Parks Blog seems to focus mainly on the US parks. It would be a great way to go a little bit deeper into the running and development of the parks, and it allows us fans to experience the resort from afar and at a level we desire.
I was one of the people who requested a dedicated fan event, but now I'm wondering in form this would take and what would be involved? Would it be a themed event, and who would be invited, or would it just be open to everyone? I think when I answered this I was thinking of D23 and I'd like something along those lines for Disneyland Paris. I'd love to go to a Disneyland Paris Fan Club Expo where there would be presentations, behind the scenes access, special merchandise opportunities and I'd absolutely love a special Disneyland Paris club magazine. I've been lucky enough to get some issues of the Backstage cast member magazine for Disneyland Paris, which is a great read even for someone who is not a cast member. The Expo would be a great opportunity to be among like minded fans, who may have interacted online or maybe we are meeting for the very first time. The online Disneyland Paris community, many of whom would have answered this survey, are a very active and friendly bunch – it would be great opportunity if Disneyland Paris were to bring to market something for us all. Hey, if you need help co-ordinating such a project, you only have to ask me 😉
I enjoyed completing the survey at the time and it's nice to see the results. I'm a sucker for a good infographic so I was delighted to see the results presented in that way. I've actually been developing my own infographic about Disneyland Paris over the past few weeks, more on that at a later date. Hats off to Disneyland Paris for caring enough to ask, but now we have to wait and see what comes of the answers they have received and let's hope some affirmative action follows.