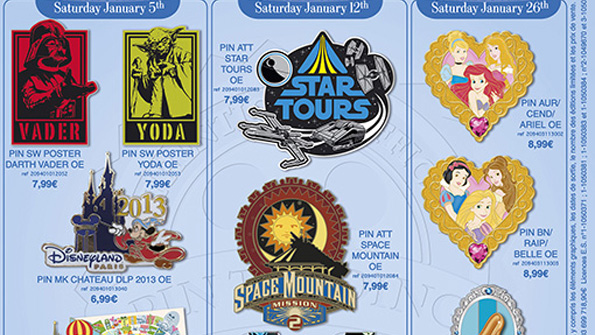 Disneyland Paris Pins for January 2013 – Sith, Jedi, Princesses & Pumpkins
Is it really 2013 already? The answer to that is yes, and with the new year comes a whole set of new pin releases in Disneyland Paris.
We start off on January 5th with a couple of rather generic looking Yoda and Darth Vader pins, which has me wondering if these were always planned or whether the recent acquisition of LucasFilm by Disney has something to do with these pins being brought out. If I can skip ahead to the following week's releases, we also have a Star Tours pin. This Star Tours pin is really nice and far superior to the old one which featured just the logo. I guess now they have access to a lot more images, including X-Wings and Tie Fighters that can be seen here, along with the Starspeeder 3000 from Star Tours itself.
Back to this coming Saturday and we see a pretty standard Mickey/Castle/2013 pin, the like of which we see pretty much every January. As expected as it it, I like it, I always have liked this design. There's also the last pin in the pin game series. Now that this and the 20th Anniversary series have both finished, this leaves room for a new series to start – my vote goes to a Disney Dreams! series.
Joining the Star Tours pin on January 12th is an equally nice looking Space Mountain 2 pin. If these two pins are anything to go by then we could see a whole lot of really nice attraction pins being released, and so maybe this is the series of pins I was hoping for? There's also strangely a Nightmare Before Christmas lanyard being released, which is really quite bizarre in January.
There are no new pins on January 19th but a trio of Princess pins coming on Saturday 26th. The heart pins are ok but really not for me, and while the images on the Cinderella pin aren't to my taste, I really like the locket design and I can imagine all 600 of this limited run going very quickly.
In the latter half of 2012 there seemed to be a lot of pin releases every month, and the nine being released in January seems to be a bit of step down. That said, the Star Tours and Space Mountain 2 oins are an absolute must for me, and I'd like the Cinderella pin too, just for it's unique qualities.