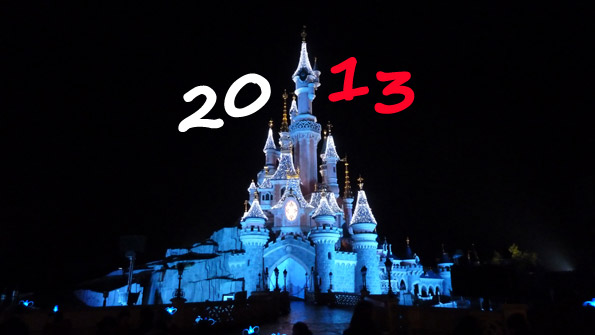 The Dedicated to DLP 2013 Wish List for Disneyland Paris
2012 was a landmark year for Disneyland Paris, as I wrote about in this article and talked about on episode 6 of the podcast, as we enter 2013; what can we expect and what do we want to see? We could get carried away and ask for a 3rd park, Splash Mountain or even a monorail! However, I wanted to keep this realistic and focus on things that could and in some cases should be achieved in 2013.
Continued Refurbishments and Maintenance
While some effort has been made in 2012, with particular emphasis on Main St, U.S.A., the majority of Parc Disneyland is in need of some love and attention. I keep on about it but Discoveryland really does need a good clean up. For a land that is supposed to celebrate the future it's the one that looks most like it's been forgotten and left in the past. There needs to be a team of people whose job it is to fix things that break, clean things that look dirty, paint things where paint has peeled & chipped and keep every part of the resort looking like new. I know this is a big task but it's an important one. As much as I like riding attractions such as Pirates of the Caribbean, I also like (maybe even more than the attractions) walking around and taking in the atmosphere, and part of that is how everything looks. I want to be wowed at every point as I explore Disneyland Paris and proud that my parks look so great.
I also want to see ALL animatronics and effects working. There is absolutely no excuse for the swinging pirates not to swing, the duelling pirates not to fight or the ghosts be missing in Phantom Manor. The latter did eventually get fixed but it took months, and they removed the Mayor at that point. These are e-ticket attractions that fans new and old flock to, they need to be in full working order for as many days as possible, no expense spared.
Ratatouille Opening Date and Updates
The new Ratatouille ride, and whole dining shopping area is one of the biggest things to come to Disneyland Paris, and I'd like to see them getting as excited about it as we all are. For some time now we've been studying construction photos, digging for information and waiting expectantly for any news. However, at this time we have no official word from Disneyland Paris as to what it will be called, when it will be open and what exactly will be on offer.
I'd like a launch date announced and an official countdown to start. If they are nervous about hitting a deadline then make it a generous one and fit it in with a date when they can get coverage and crowds. During this countdown I'd like to see regular updates from the construction along with interviews with imagineers involved. I'd like to see the name Ratatouille Kitchen Calamity confirmed, or if not the actual name announced. Let's start talking about this new attraction by using its actual name rather than the upcoming Ratatouille ride.

Ratatouille Kitchen Calamity by CreativeAlan
Call me a crazy but a bit of hype about the upcoming Ratatouille ride may actually build public interest – it did wonders for Cars Land over in Disneyland California.
Better Merchandise
While some obviously do, not all of want pieces of clothing that are covered in multi-coloured logos and giant Mickey heads. There used to be a time some years ago when you could buy nice quality shirts with very subtle Disney branding; some of which I still wear to work, such are their suitability. I'd like to see a return to producing apparel and other merchandise items aimed at those of us with more classic tastes. From reading forums I'm not a lone voice in wanting this, so there is a market for it.
20 Years of Dreams is a truly brilliant book, and should be owned by any fan of Disneyland Paris or Disney anywhere in the world. However, this should just be the start. I want to see more books and DVDs focusing on the history, development and running of the resort. Disneyland Paris Les Artisans du Rêve is a really nice DVD, but it's less than hour long and not even sold in Disneyland Paris. While the 20 Years of Dreams book is great, an accompanying DVD set to bring the events described to life would be tremendous.
I'd also like to see an attractions CD. While the parades are great and an integral part of the resort, they always seem to monopolise CD releases in Disneyland Paris. Imagine how great it would be to have a 2 CD set which brought together the usual suspects such as Yo Ho, Yo Ho! A Pirates Life For Me and Grim Grinning Ghosts, but also gave us the theme to Cinemagique and Captain EO, for example.
Disney Village Improvements
When I visited Disneyland Paris in November I went into the World of Disney store but it was only when I got back that I realised I'd forgotten to visit any of the other shops in the Village. This did mean that apart from the build your own lightsaber I didn't have any reason to go into any of the other Disney Village shops. When you leave the parks you are herded towards and almost into World of Disney, and with a shop that big do we really need even more shops, most selling the same merchandise sold in World of Disney? No, but we do need are a wider variety of restaurants and something to do.
I'd like to see some sort of entertainment offered in Disney Village, because other than Buffalo Bills which nobody does more than once than a holiday, there is nothing to do except eat and shop. I realise Disney Village exists to make money, so I have no problem paying for this entertainment, just have some on offer, please.
One of the top things on my wish list is a Disneyland Paris museum which would showcase the many concept models and pieces of artwork that have been produced over the years. It would be a wonderful celebration of Disneyland Paris and how far it has come, and could be added to regularly to keep it up to date and ever changing. The museum could stand alone one of the smaller building or in one part of one of the bigger shops, next to the selection of classier mcrehcandise offerings and new CDs/DVDs mentioned earlier.
As for the food, I'd like to see some diversity in what's on offer. There are only so many pizza, burgers, steaks and hot dogs than someone can eat in one week. I'd like to see some food from around the world better represented, such as Chinese, Indian and Thai, to name but a few.
Star Wars
A pretty vague heading but now Disney owns LucasFilm I want to see more Star Wars characters in and around the Star Tours area of Discoveryland, with maybe a semi-permanent meet and greet like the one they have for Rapunzel in Fantasyland. Ideally I want the much rumoured Star Wars Land to be given the go ahead, but in the mean time I'll accept this small improvement.
As far as Star Wars characters, what I'd really like would be to see are the Disney characters in Star Wars costumes. They have lines of merchandise featuring these, but I want it to go one step further so we get photos with Darth Goofy and Mickey Skywalker. Introduce these and I'd bet more boys would want photos with characters, myself included. These exist over in America, time to bring them to Paris.
Better Crowd Management for Characters
This isn't so much for me as I'm not one for character photos, unless they introduce the Star Wars/Disney crossover characters as I have just mentioned. However, when there are character meets in and around the parks they tend to be a bit of a scrum. It's about time two cast members were present; one to handle the flow of people directly next to the character and a second to make sure people queue in an orderly fashion and to stop people barging in front of others.
I've noticed the demand for people wanting to meet characters on the rise in the recent years and the extra money needed to employ more cast members in this role is needed. It will make the experience much more pleasurable for both the guests and the cast members involved.
I love Disneyland Paris, and have done since the first time I set foot in Disneyland Park in July 2002. With that passion comes a desire to see the resort functioning and looking even better. While perfection may be a step too far, the effort put forward in trying to achieve that will have Disneyland Paris reaching new heights.