Disneyland Paris Photo Friday: Sleeping Beauty's Castle

It was after seeing an image this morning on Twitter from @DisneyBot of Sleeping Beauty's Castle in Disneyland Paris I was inspired to have a look around the internet, in a quest to find some more fantastic photos of the world's most beautiful castle. For reference, this is the photo that was posted on Twitter earlier:
パリのディズニーランドのお城がピンクで可愛い!東京ディズニーランドのシンボルは「シンデレラ」城だが、パリのディズニーランドは「眠れる森の美女」がシンボル。 pic.twitter.com/1C6iGssMGw

— ディズニーランド裏技・豆知識bot (@DisneyBot) February 6, 2014
This first one is from stylecity.in and given both the nature of the website and the style of the photo, I'm going to go out on a limb and say this is a publicity shot from Disneyland Paris themselves. The Castle is lit up perfectly against a darkening sky, and that sky – wow, fantastic colours.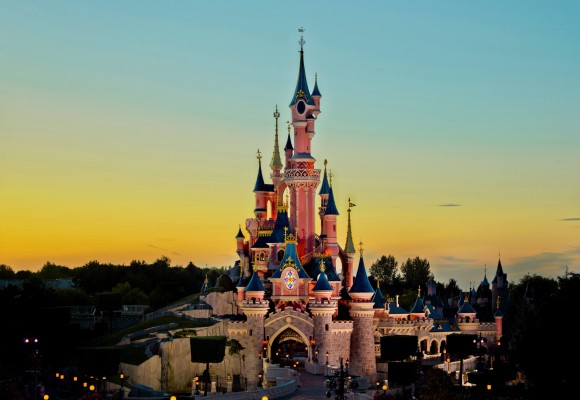 This second photo is from manversusworld.com and is of the Castle back during the 15th Anniversary, which seems like a lifetime ago now. I like the golden hue that covers the Castle, a combination of the light and the actual amount of golden decoration on the castle. You can also see some birds hovering above, as if they are stalking their prey. Maybe they are falcons brought in by Disneyland Paris to keep the gulls under control, as they did just this past week, or maybe they are the gulls that needed culling.
Next we have an image from the Manchester Evening News, which shows a wonderful snowy scene, with our beloved Castle front and centre. The whole area looks like a different world with a covering of the white stuff, and as pretty as it looks in photos, I'm not a fan of being in the actual snow, so I'm thankful to have never been in Disneyland Paris during these weather conditions. Still, pretty picture though, right?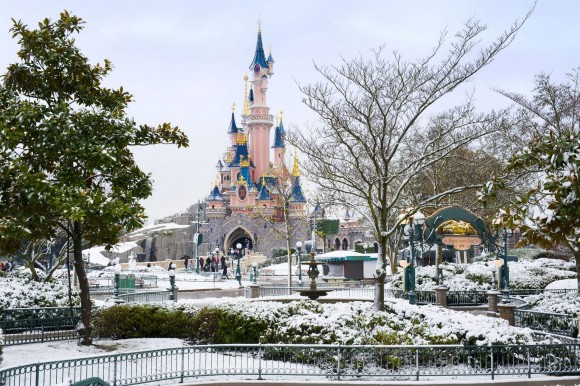 This last photo was posted over at Broke Hoedown and shows a darkening silhouette of Sleeping Beauty's Castle in front of a stunning sunset. The angle of the shot makes it look like the Castle could actually be in the neighbouring Adventureland, which would be an interesting change of location for Disneyland Paris' most iconic structure.
If you've ever been to Disneyland Paris you'll have many photos of Sleeping Beauty's Castle too, it's one of those landmarks that you can't resist the urge to snap as you walk by. Have a favourite photo of the Castle that you want to share with the world? Email me steve@dedicatedtodlp.com and I'll feature them on Dedicated to DLP. See you in a quarter of a February.