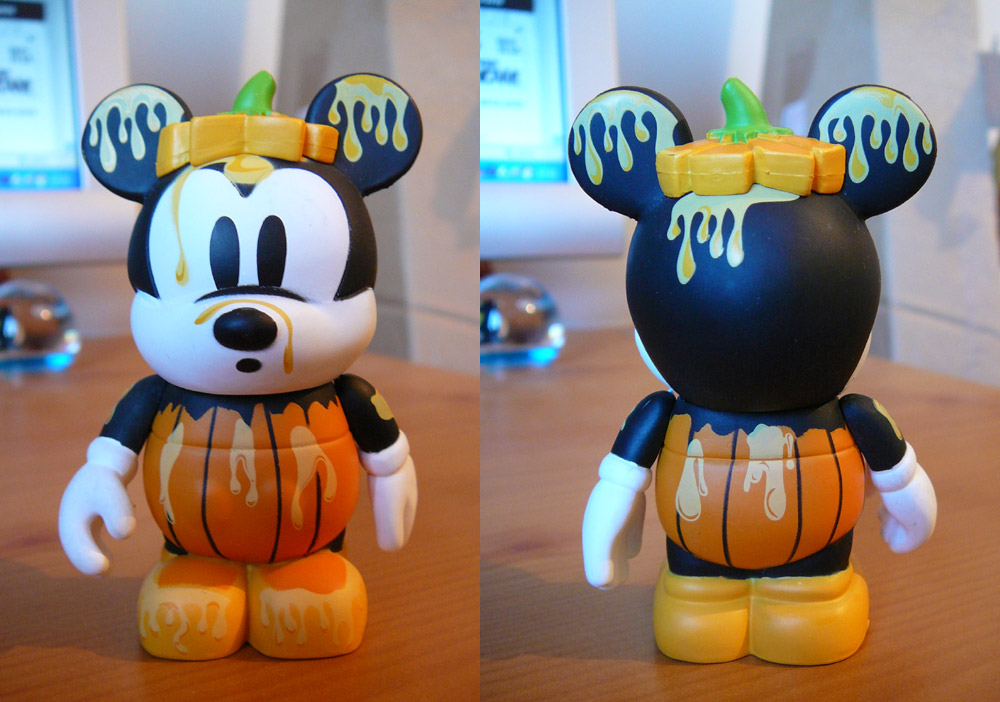 My first Vinylmation & Superior Disneyland Paris Shareholder Treatment
So when I was in Disneyland Paris last month I saw a display in one of the shops of these small Disney characters, all with Mickey ears but depicting different characters from the world of Disney. I didn't give it much thought until I saw the word Vinylmation mentioned somewhere last week and decided to investigate.
Seems there's a whole world of these little vinyl figures and the Disney ones have been branded Vinylmation. It just so happens we were at the brand new Disney store in Milton Keynes today, which apart from being the best UK Disney Store I've ever been in, had these Vinylmations for sale. There were 3 types; Nightmare Before Christmas in boxes where you could see which one you were buying and then in boxes that were all identical and gave no indication of what was inside, there were Toy Story or Have A Laugh Disney Park Vinyl – the latter of which I went for.
Before I continue with the Vinylmation story I must comment on the service I received. The guy who served me was very friendly, but when it came to getting a manager to approve my Disneyland Paris shareholder's discount, well she didn't acknowledge me. In the shops in Disneyland Paris the same process was needed to get my shareholder discount, but the manager would always say hello to me before continuing. Just goes to show that they do go that extra mile in Disneyland Paris. That and I'm a shareholder of the place they work!
Now, on with the Vinylmation! The box got a little squashed because my wife forgot it was in the bottom of my son's buggy when she folded it up and put it in the car! This is the box they come in.
On the back, or the front as I'm not really sure which is which, it shows you the whole collection – minus the mysterious 12th which we don't know the identity of, until we Google it!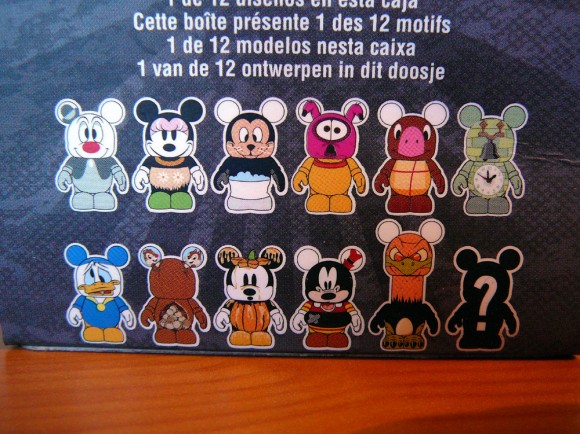 Once inside it's all top secret foil packaging.
I tore into the foil wrapper and revealed my Vinylmation – Pumpkin Mickey. Being my favourite character I'm glad I got Mr M Mouse himself.
Everyone wants to see the detail underneath, don't they?
They also come with a collector's card, which will no doubt become as collectible as the Vinylmation itself in years to come.
At £8 they are not cheap, and even with a shareholder discount bringing it down to £7.20 I don't think I'll be buying them by the bucket load. I do however think they are charming enough that I'd like to get some more – they do make perfect gifts, and with Christmas coming up – hey, I'm just saying! No doubt I'm way behind and the world of Disney Vinylmations has been going on for years – do you collect them?