Disneyland Paris 20th Anniversary Artwork, Logos and Events
In the last few days a lot of the new 20th Anniversary artwork has been doing the rounds. This is no doubt since the new brochure was released and you can actually see it on the official Disneyland Paris website here, though you will need Flash, so you'll have no luck on your iPad. We know there are 2 big additions coming in 2012, those being Dreams the night time laser and fountain show, and Disney Magic on Parade, which is the new parade. Let's get started with the front cover of the electronic Disneyland Paris brochure:
In isolation, here is the 20th Anniversary logo that appears throughout the brochure: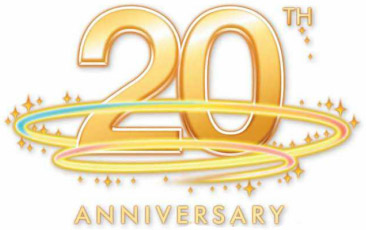 Here also is a full version of the Disneyland Paris 20th Anniversary logo with Tinkerbell included too:

It would seem from the appearance of Mickey Mouse and Goofy that they are in uniform and seem to be taking on school of magic type personas – sound familiar? Could it be that Disney are taking inspiration from the spectacularly successful Harry Potter franchise? The characters are a nice mix of new and old with Nemo no doubt making an appearance due to the water based Dreams show, and probably the same for Aerial from The Little Mermaid too. All of the characters seem to be in water, apart from Mickey who is maybe conducting the action, just like he did in The Sorcerer's Apprentice, at least until things got out of control. The tag line of 'The Year No One Should Miss' is simple but very effective and works for me, I want to be there!
The next couple of pictures are of the artwork used to publicise the all new Dreams show.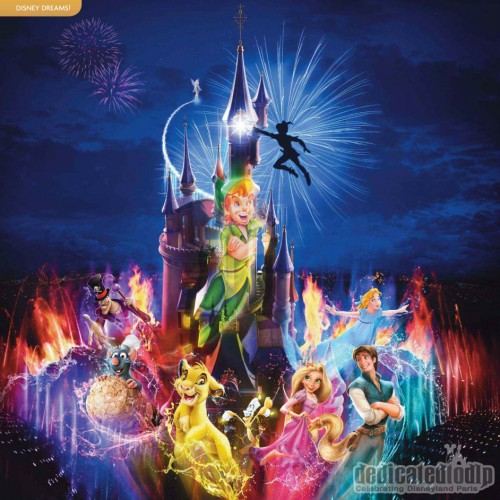 You have to wonder if this artwork was created before it was decided to stop development on the Ratatouille dark ride or whether this is an indication that the development will go ahead as previously planned. I'm thinking the former is more likely to be true as these brochures would have been designed a while ago and news of the development being stopped is very recent. Interesting to see the Lion King being featured. Is this anything more than capitalising on the release of the film in 3D or could The Legend of The Lion King be returning to Disneyland Paris? Once again I'm inclined to think it's the former, but I can always hope that they do bring it back and make proper use of the Videopolois stage once again.
This next piece of artwork has just been tweeted by @InsideDLParis and is the first we have seen for the new Disneyland Magic on Parade, also debuting next year for the 20th Anniversary celebrations.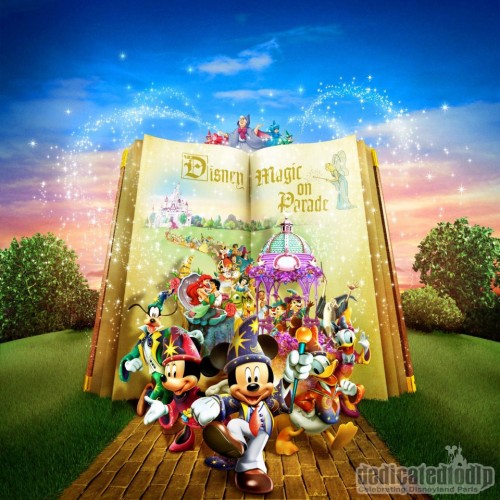 It's more of the magical uniforms that we have just seen on the front cover of the brochure. It's a fantastic bit of artwork with the parade characters coming from the Castle and out of a storybook. I have heard that this will have new music, which will be the first change since Just Like We Dreamed It was introduced in 2007 for the 15th Anniversary.
The brochure also mentions that there will also be what they call 20th Anniversary Extended Hours which I had heard means the parks will be open until 10pm every day! Would be great if that is the case but we'll know more when the first set of opening hours is released.
The 20th Anniversary events are listed as follows:
Disney Dreams
Sleeping Beauty Castle (that should really be Sleeping Beauty's Castle) will see spectacular flights of fancy wrapped around it as Peter Pan's shadow escapes to bring you the rainbow reality of 'Dreams' – our unmissable new nighttime-spectacular show. This world premiere follows his adventure as he weaves his way between timeless Disney Stories, dashing through the incredible lasers, fantastic fountains and peaking in an extraordinary finale.
I've been reading that some people are expecting it to be like Disney's World of Color in Disneyland California. That really is an amazing show, and anything like that would be more than welcome in Disneyland Park. Here is that show in Disneyland so you can taste of what Disney can do with a bit of water and a lot of imagination.
httpv://www.youtube.com/watch?v=7o0Icz6ExiM
Disney Magic on Parade
Disney Magic on Parade casts Disney Characters in a fantastic new carnival especially fr our 20th Anniversary. Flying out from their unforgettable stories trailing light, colour, music & magic, they glide through the Park's party atmosphere, before Mickey and friends shine in a spectacular finale.
It sounds very much like the parade will have some kind of mini show-like final float which could be great, and something different to what we have seen in the last few years.
Main Street, USA Celebrates
Excitement is in the air, as one of the most famous streets in the world celebrates our 20th Anniversary, and welcomes you to this unique celebration of magic, lights and colors (back to the American spelling are we?) with even more twinkles and memorable glowings-on (could that be goings on or an actual play on words alluding to something light based?) than ever before.
More intrigue and possibly a celebration on Main Street, USA which isn't part of another show? It would be great for Main Street to get something of it's own as it's on of the most beautiful areas of the park and to be able to join in some kind of entertainment actually on the street would be great.
Meet Mickey Mouse
Everybody's favourite mouse is taking time out and welcomes you to meet him backstage in the rehearsal room of the theatre in Fantasyland. On your way to the sage door, enjoy a tour of the ornate music hall and laugh along with some classic short films featuring Mickey and his friends. Once backstage, you'll be invited to join Mickey for a special audience with the star himself ho will share some of his favourite props and costumes and pose for a special photo souvenir with you and your family.
This sounds like a nice variation to the standard meet and greet with the added bonus of an interesting and possibly mobile queuing time.
What Disneyland Paris have planned for the 20th Anniversary so far sounds very good indeed and maybe the most progressive changes of any of the anniversary celebrations we've experienced. I'll be excitedly waiting for any more details that get released and one thing I have noticed…..no Duffy!