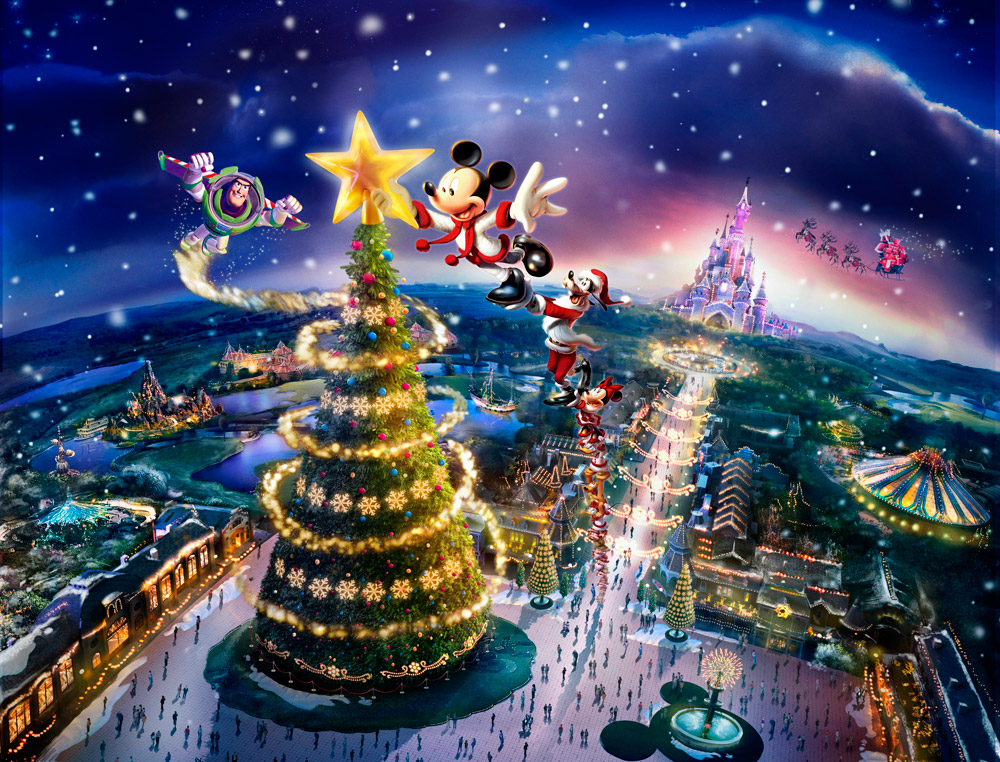 Christmas is coming to Disneyland Paris with amazing artwork
Halloween is 4 days away, and what comes next at Disneyland Paris is the ever so magical Christmas season. I've been lucky enough experience this three times; once in 2002, once on my honeymoon in 2003 and again in 2005 when we were actually in Disneyland Paris on Christmas Eve, Christmas Day and Boxing Day. Disneyland Paris is a great time to be at any time of year but during the Christmas season it's even more amazing, with decorations and festive spirit in abundance.
If there's one thing that is equal to the Christmas season, it's the artwork that Disneyland Paris produce to promote it, and I was lucky enough to be sent this year's masterpiece by a very nice lady @DisneylandParis, and here it is (click to enlarge).
I defy anyone to not feel even a little bit of the Christmas spirit when looking at that picture – someone, or some people, in the Disneyland Paris graphics team are worth their weight in gold. In case you cant see, the tower of characters, from top to bottom, goes like this: Mickey Mouse (think you probably got that one), Goofy, Minnie Mouse, Donald Duck, Pluto, Daisy Duck and then the Seven Dwarves, with Dopey at the top.
The attention to detail never ceases to amaze me, and I've zoomed in on this particular part where you can see the lights that have been added to Big Thunder Mountain and the Molly Brown (or Mark Twain) riverboat. I swear, if they sold this artwork as a poster in the park, not only would I have it on my wall, but I'm sure thousands of other visitors would too. But posters is another topic for another time, and that's as much of a tease as I'm willing to give right now!
The Disney season starts on November 7th. It's been 5 years since we've been to Disneyland Paris at Christmas and unfortunately we're not going this year as my wife has just started a new job. Next year however, Christmas and the Magical Moments Festival may be a combination too tempting to resist.
Max from Designing Disney is visiting in December so if you have any Christmas tips for him then be sure to visit his website and let him know, and read the great articles at the same time.