Disneyland Paris Pins For July 2017 – Animals, Cars, Droids & Fireworks!
So it's been a while, but welcome back to the monthly pin articles – let's hope it's a good one, and Disneyland Paris have some fab new pins coming out this month.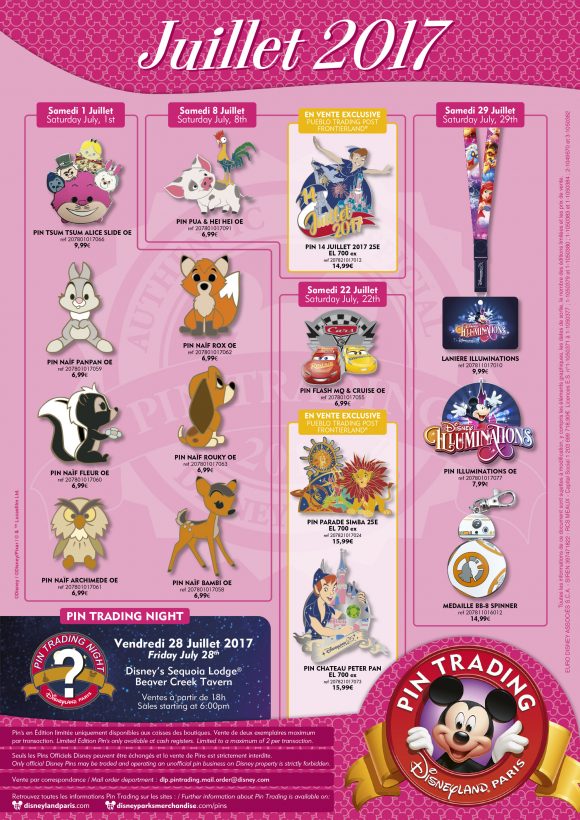 Thanks to me being a few days behind the high resolution poster is already available, so we can jump straight into extreme close ups and detail examination!
Disneyland Paris Pins For July 1st 2017
It's not often I get to talk about pins actually being released today in Disneyland Paris, but that's exactly what is happening with this selection of cute animal pins that go on sale today, Saturday July 1st! I don't have much more than cute animal pins to say, because that's what they are, no more, no less. I am intrigued by the Alice in Wonderland Tsum Tsum pin as it has the word slide under it, which makes me think there could be some movement, but for the life of me I can't work out where. That or slide means something entirely different in French?
Disneyland Paris Pins For July 8th 2017
Slim pickings for next weekend, but though they are small in number, that's 2 fine looking pins. Being a huge fan of Moana and especially HeiHei, that first pin is pretty cool. I'd make it even better by getting rid of Pua and just having it all about the mad chicken, like the film. The 14th July pin wisely doesn't go on sale on July 14th, but that won't make this cool blue tinged Peter Pan pin any less of a super fast sellout. Want it? Be at the Pueblo Trading Post VERY early on Saturday 8th July!
Disneyland Paris Pins For July 22nd 2017

Having been off the radar for the last few months due to a job change and general busy times, I have missed the last few pin announcements, so I'd hazard a guess that both of those limited edition pins are part of ongoing series, and both are really nice. I like the blue costume Peter Pan that we also saw in an earlier on, and that float pin is a lovely design. But like the 14th July pin, those will both sell out at Pueblo Trading Post very quickly. My son will like the Car 3 pin and all I have heard of the new film is that some say the new Cruise character is the best yet – so good choice having him on this pin.
Disneyland Paris Pins For July 29th 2017

As one of the people who actually likes Illuminations, I also like this pin. Plus, I think it is the first time I've seen the Illuminations logo, which I also like. While I am dishing out likes, that BB-8 pin says it spins – what, like in the actual Force Awakens film? That would be awesome, and if that is the case I'll be buying that along with the Illuminations pin. 😀 Plus it looks like it can be attached to a keyring – a multifaceted pin! I arrive in Disneyland Paris two days after these are released. So that  means there should be plenty left for me. If that Illuminations lanyard has Star Wars on it somewhere, along with the Pirates of the Caribbean I can see, then it may well be the first new lanyard I've bought in years.
Disneyland Paris Pin Trading Night – July 28th 2017
A good mix of pins being released in Disneyland Paris during July, and while there are a few that I would love but haven't got a hope in getting, it's always nice knowing that there are new pins being released just before your next trip that can go straight on the shopping list. So that's Illuminations pin and lanyard, BB-8 pin and maybe the Alice in Wonderland pin, depending on what the slide refers to. Of course, as I will be leaving on Friday 4th August, they will naturally release an awesome pin on Saturday 5th!