Disneyland Paris Adding Surprise Rare Characters…Every Tuesday!
There were some murmurings yesterday that something character related was happening today, and before I get in to what happened, I'd just like to once again express my desire for Disneyland Paris themselves to break any and all news, and it not come by the way of Chinese whispers between Cast Members and friends.
And after I wrote that previous statement, an email plopped into my inbox from Disneyland Paris. Still, would rather we got an announcement before, not after the event. Here's the official line:
Today, you might have noticed a special pre-parade in Disneyland Park featuring Nick and Judy from Zootopia and four special dancers. This event, which ran from Town Square to Fantasyland, will be back every Tuesday with new rare characters each time! The characters won't be shared ahead of time, to keep the surprise from our guests. "Tuesday is a Guest Star Day" will pay tribute to the segment with the same name that was shared on the Mickey Mouse Club, when Mouseketeers welcomed a special guest for an exclusive on-stage performance each Tuesday of the first two seasons !
Back on topic and what happened today was that Nick Wilde and Judy Hopps from Zootpia (or Zootrpolis in some countries like the UK) appeared in Disneyland Paris, out in Disneyland Park for the first time since the Grand Celebration, as they became the first of what is rumoured to be a special Tuesday event that will happen pre-parade. The following photo and video are from the ever present and on the ball ED92: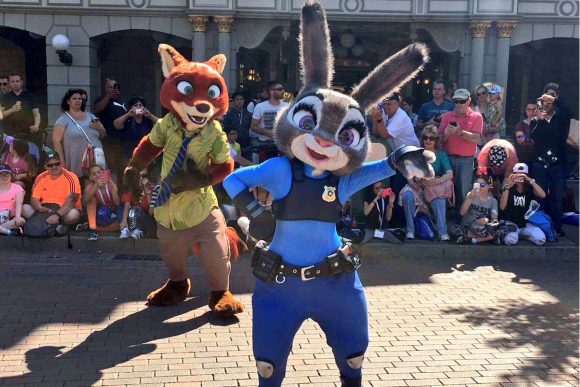 Characters such as Oswald and those from The Aristocats, Hercules and UP have been mentioned as possibilities, but it remains a case of wait and see as to what unfolds. Whilst many have been asking for more characters, and we'd all like to see them present in Disneyland Paris every day, this is a start, and a great one at that. Will they become more than just a pre parade treat and evolve into meet and greet characters in the future? Who knows, but I'm sure that's a question on the mind of many a Disneyland Paris guest.
It's quite bizarre that they have suddenly started this, and that it's just on a Tuesday, but from a business stance that's probably the day of lowest attendance, with long weekend guests having gone home on a Monday. I like the surprise element and I hope they stick to this – it will encourage people to visit as often as possible rather than just picking a specific Tuesday in the future. As for the inevitable moans about it only being on a Tuesday – you'd better include a Tuesday on your next trip 😉 I'll be there on a Tuesday in August and having this added extra is something to look forward to, and incredibly well timed given that I am about to book a table at Captain Jack's for that very evening. Now I know to book later rather than early evening I had planned.
It'll be interesting to see if any more such surprises start to appear in Disneyland Paris, as the buyout by The Walt Disney Company nears finalisation and theoretically, a lot more opportunities can be capitalised on. I think we are some way off a new attraction that some might think will happen as soon as the Walt Disney Company are in charge, but adding characters, and in such a fun way, is more of what I expected to happen at this point, and can only add to the guest experience in a positive way.