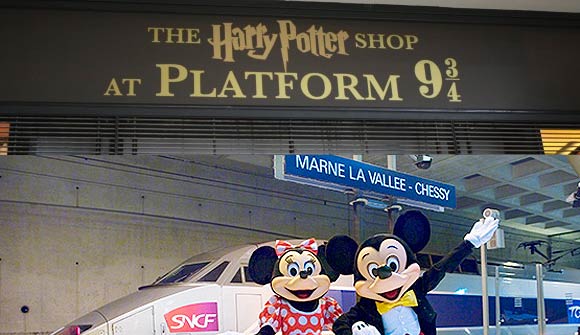 From Harry Potter to Disneyland Paris in under 3 hours
Some articles take weeks of research and have word counts into the thousands, at the other end of the spectrum there are those that are merely elongated thoughts that have popped into my head and I feel the need to share with the world. At London King's Cross Station you have for a few years been able to visit Platform 9 3/4, the mythical platform that allows wannabe wizards and witches to board the Hogwarts Express to, well I'm sure you can work out the destination from the name of the train. There is also a shop that sells Harry Potter merchandise, a shop that just recently doubled in size.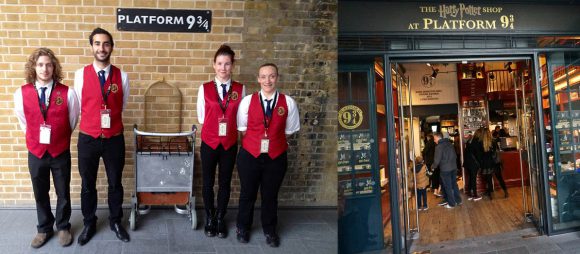 If you fancy joining the queue you can even have your photo taken with a trolley that is halfway through the wall to Platform 9 3/4, and much like a Disneyland Paris attraction your photo can be bought from inside the aforementioned shop, should you make use of the official photographer. I think it's a while until there will be a PhotoPass available, given that there is only one opportunity for photos at the moment, but at least there's always a photographer present…
A short walk out of the station, around the corner and over the road and you find yourself in St Pancras Station, not to be confused with the neighbouring King's Cross St Pancras which is the underground station. You got all that? It is in St Pancras where you will find the Eurostar terminal, with trains departing for Marne-la-Vallée – Chessy – that's the station at Disneyland Paris in case you were getting even more confused with all these station names. The direct train will take you just 2 hours and 40 minutes – going out of London, through Kent, under the English Channel, popping up in France where it picks up speed and zooms past Space Mountain to stop just a short walk from Disneyland Park, Disney Village, Walt Disney Studios and 6 on site hotels – the 7th, Davy Crockett Ranch, requires more of a trek.
If I were to take a train from London King's Cross to Newcastle (that's up in the North of England for those unfamiliar with the geography of this small island) it would take me anywhere from 3 to 4 hours. So that means I can leave an island, go under a sea, enter another country and get off the train just a hop skip and jump from magical Disney lands and experiences, in less time than it takes me to go to Newcastle. No offence to Newcastle, I'm sure it's lovely, but I know which trip I'd rather take.
I realise not everyone lives as close to London as I do, so for some this fairytale story doesn't quite ring true, but for those of us that do, the Channel Tunnel has made it so very easy to visit our favoruite place. In less than 3 hours I can go from the magic of Harry Potter to the magic of Disneyland Paris, and that's maybe the most magical part of all of this.