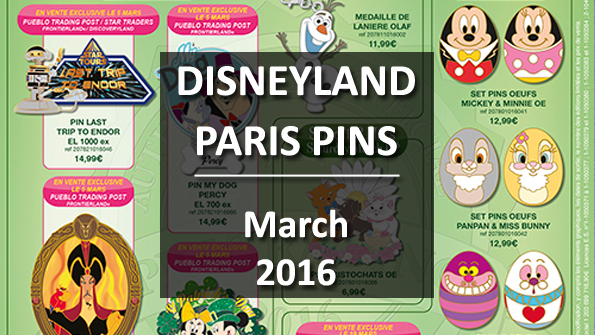 Disneyland Paris Pins for March 2016: It's all about Star Wars Endor, with Spring and Olaf!
I'm not sure I've ever wanted a pin as much as one of the ones you can see on this poster for the March 2016 Disneyland Paris pin releases. I'll let you guess which one.
I want the Last Trip to Endor pin, I want the Last Trip to Endor pin, I want the Last Trip to Endor pin, I want the Last Trip to Endor pin, I want… Okay, I think you get the point. I love Star Wars, I love Star Tours and I love that pin, especially as I will be in Disneyland Paris for the Last Tour to Endor. Only problem is that it is limited to just 1,000 pieces and goes on sale next Saturday 5th March, 10 days before I arrive in Disneyland Paris! So, if anyone is or will be out there and can grab me one – I will reward you with money, badges, drinks if you are there when I am, and my eternal gratitude!
And breathe. Away from Star Tours, we have some very cool looking Easter Egg pins, similar to the surprise Easter Eggs that appeared in Disneyland Park a couple of weeks ago, released on March 19th. I'm a huge fan of seeing pins tying in with things actually going in the park, like attractions, season and in this case decorations. The only negative is that the designs on the pins are different to the designs on the eggs in the Park, which is a bit disappointing – continuity is everything.
Of the 4 other exclusive pins sold at Pueblo Trading Post, it's only really the St Patrick's Day pin that interests me, given that for the first time ever I'll actually be in Disneyland Paris on March 17th. Much like the Star Tours pin, let's just hope there are some left, given it's released on March 5th and limited in numbers. Part of me wishes they released them on the day of special events, but if they don't sell out on the day they are yesterday's news, so I understand the advance sales. I just hope I can get my hands on them! The Mary Poppins pin released the 2 weeks later is sure to be popular, given how synonymous she is with Spring in Disneyland Paris, and everyone loves penguins.
The Olaf pin is very generic looking, but is that a charm link attached? So you can have this pin around your neck on a necklace, or on a charm bracelet? Let's hope the pin back doesn't come off or you could risk some skin lacerations! Away from pin attacks, there's an Aristocats Spring themed pin released as the sole pin release on March 12th, and much like Mary Poppins, has become a staple of Spring in Disneyland Paris. There is also a limited edition Alice in Wonderland pin released on March 19th, which ties in with the ever increasing Alice theme of this Spring season and looks really rather nice.
An interesting selection of pins this month, with one must have and one would like to have, for me. And if it wasn't clear from what I saying earlier, I want the Last Trip to Endor pin!