Disneyland Paris Rumour: Puppet show coming to the Lucky Nugget Saloon
I must admit, I completely missed the initial rumour tweet from @DisneylandBerry back in December, where he posted In 2016, the Lucky Nugget Saloon could host a brand new permanent show, so this tweet from earlier today came as a complete surprise to me.

It's great news though, as any kind of entertainment is a welcome addition, and in a restaurant is always a bonus. I've never even entered, let alone eaten in the Lucky Nugget Saloon, so I can't vouch for it in any way shape or form. Looking at the menu on DLP Guide it looks moderately priced with a small selection of meat and fish dishes. At one point it has hosted live music and a can-can show, on the stage where I presume the puppet show will take place.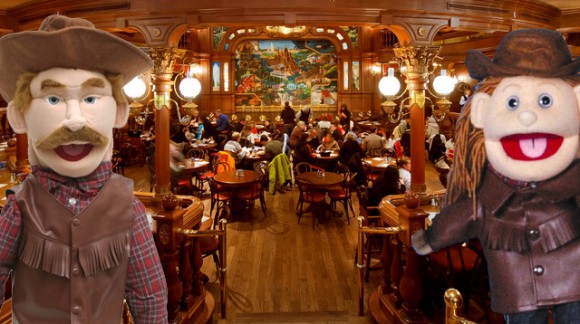 It'll be interesting to see what kind of puppet show it will be, and whether the puppets will be big like the ones in we see currently in Disney Junior Live on Stage. If the stage is big enough for a can-can show then I think it can easily host some decent sized puppets. Then comes the question of theme, and whether they will use Disney characters. I'd prefer instead for them to use the western theme of Frontierland and I'd be really impressed if they go one step further and give us a puppet show that tells the story of Thunder Mesa, in which the restaurant is located.
The only time I've seen a show at dinner in Disneyland Paris is back in the old Rock 'n Roll America restaurant which used to be in the building where King Ludwig's Castle can now be found in Disney Village. We only have to wait until May to find out, but this is one I'll definitely be keeping my eye on. Will it make me eat in a restaurant that I've never done before? Absolutely, the addition of the show is a stroke of genius, and let's hope we see more additions of this ilk in the future.