Will Mickey and the Magician See Me Break A Disneyland Paris Tradition?
For years when visiting Disneyland Paris it's been instinctual behaviour for us to head straight to Disneyland Park and before my son was born, our first destination was always Pirates of the Caribbean. In fact, for his first two trips it was also Pirates first, but then on his last trip, he was tall enough to ride Star Tours, so years of tradition got thrown out of the window as we headed for an attempted flight to Endor as our first port of call.
Something even more drastic might be happening in August, as we could well be heading to the gate on the left when we arrive, and for the first time in 20+ visits for myself, Walt Disney Studios could be the first Park we visit. There are a lot of great attractions in Walt Disney Studios, such as Ratatouille, CineMagique, Tower of Terror and Armage and Stitch Live!, but it lacks atmosphere, and that's something I want to feel in my first few moments of every trip to Disneyland Paris. I get that on Main Street, U.S.A in Disneyland Park, but unfortunately not in Front Lot and even less so once through Studio 1 and into the Production Courtyard area of Walt Disney Studios.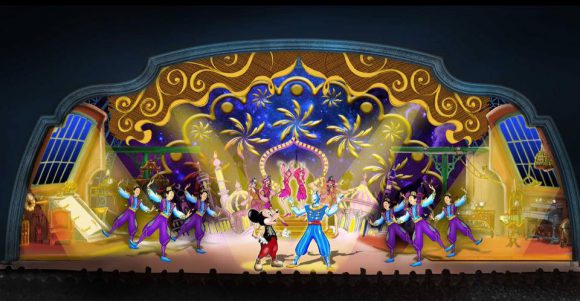 However, the brand new Mickey and the Magician show debuted this past weekend in the Animagique Theater, and whilst I am avoiding spoilers, I have seen it described as the best show Disneyland Paris have ever created, by many different people who quite often don't agree on everything Disneyland Paris do. On Mickey and the Magician, there seems to be universal agreement – it's absolutely incredible. With that in mind I think even my beloved Pirates of the Caribbean will have to take a back seat as I'm sure I won't able to resist the lure of this show from the moment I set foot on the resort.
It's usual for the second day of our trip to be our Walt Disney Studios day, but how can I be expected to sleep that first night in the knowledge that such a great slice of entertainment is just a short walk away and I didn't go straight there to experience it? The answer is not very well, and therefore traditions will be broken and off to see Mickey and the Magician at the first opportunity we will go. I'm anticipating it being hugely popular and so our very first activity in Disneyland Paris may well be an hour long queue, which in itself will also be quite a change from previous trips.
This has all the makings of a very different family trip to Disneyland Paris since our last one on 2013, what with this latest first park revelation, and combined with the fact we have meals planned for all 5 days and intentions to queue for as many characters as possible. Still, it's nice that after 15 years of visiting we can still make every trip to Disneyland Paris unique.