Disneyland Paris Pins for August 2012 – Pins for the Girls & Vicious Pumpkins
I'm a bit slow posting my thoughts on this month's pins, but then I have been away, so I think I can be forgiven. If I thought last month's pins were a bit feminine then the releases for August have taken that theme and run with it.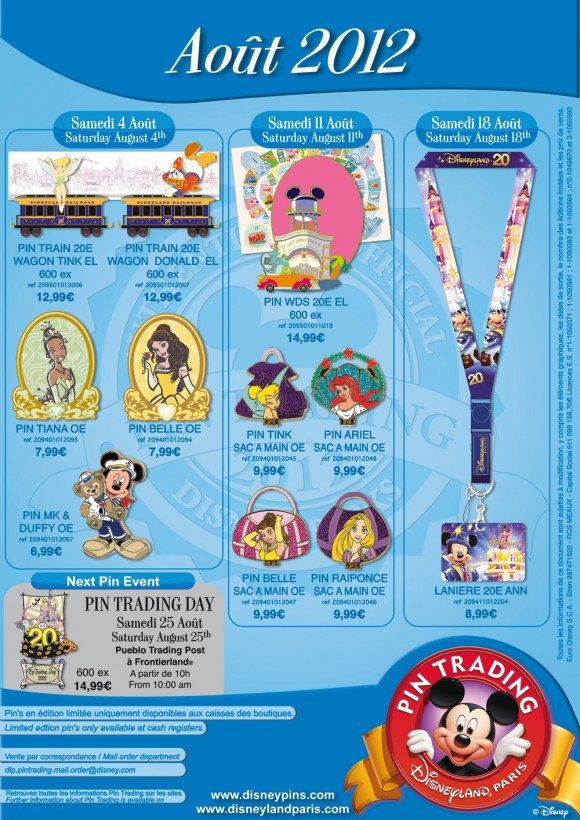 The two train pins continue that series of 12,99€ limited edition releases, and I actually like the Donald Duck one. I like the fact that he's not just sitting on top, but he's hanging on in true Donald high jinx fashion. As for the backing card, I got this message from Chris Cooper: The backing card for the train pins comes with the first pin (Mickey on train) is a beautiful card ideal for mounting into a frame. I got it from world of Disney store this week and I think will eventually have 12 pins to fill it.. So yes, you can get a backing card and frame them, which makes the whole series that much more attractive to me.
Aside from the pin game Walt Disney Studios pin, which I like, the others are really not for me. There's another 4 handbag pins and 2 unimaginative princess pins. Add in the Duffy pin and there's not much for a collector such as myself. That is, until we get to the great Pin Trading Day pin which comes out on August 25th, the day of the pin trading event at the Pueblo Trading Post in Frontierland. That shop is definitely worth a look, specially if you like pins. The pin itself is an early Halloween pin with some pretty vicious looking pumpkins – a nice contrast to the flowers and handbags elsewhere! It also features Lock, Shock and Barrel from Nightmare Before Christmas, characters you don't often see on pins. I absolutely adore this pin and can look past all the others and proclaim August to be a good month for pins based solely on this one.
The 20th Anniversary lanyard is just the standard themeing for the Disneyland Paris 20th Anniversary, but then I like that imagery so I'm fine with that. I wonder if we'll see Vinylmation release posters in the future, like we do for pins. Maybe they already exist?