Halloween Night in Disneyland Paris Photos
Happy November, or pinch punch first of the month, or however you celebrate the start of a new month – salutations to you all. Today is the 3rd day that we bring you some amazing photos from inside Disneyland Paris and once again they are from our friend Bert Snyers who has uploaded many great Disneyland Paris to his Flickr photo stream here. A big thank you to Bert for allowing us to use his photos on this website – I think you'l all agree that they are fantastic and need to be seen by as many people as possible.
There has been some talk of Halloween not being so great at Disneyland Paris this year, but the photos I am about to post and the ones I posted previously seem to refute that sentiment as it would seem that Halloween has been as spectacular as ever in 2011. Yes, the Pumpkinmen and Halloweenland have gone, but it's in place are some of what look like the most lavish and sensational shows that have ever been put on at Disneyland Paris. It seems that Disneylandland Paris are steering away from OTT decorations and concentrating more on classy theming and big shows, and if this new direction for the resort continues then I think the 20th Anniversary celebrations will be something very special indeed.
Right, on with the photos from a very special Halloween night in Disneyland Paris.
This looks like a Chinese lantern style light shade, and one which I'd very like on my street near my house – pity they are only for inside Disney parks. This is more evidence that they are moving away from characters like Stitch, who have featured heavily in recent Halloween celebrations, and more towards the classic characters like Mickey Mouse, who has been the main and in some places only character to be featured this Halloween.
This is one of the most beautiful photos I have ever seen taken inside Disneyland Paris. Bert posted a similar photo from his phone on twitter last night that I was marvelling at, but this one, taken with his camera, is even better. It shows off just how amazing the new Halloween decorations can look, and that maybe moving away from the like of the Pumpkinmen was the right decision. That image alone makes me want to be in Disneyland Paris for Halloween next year.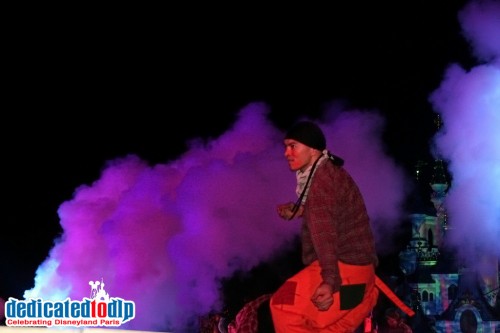 There look to have been a couple of shows last night, and this first one featured lots of dancers. Using my minimal knowledge of dance, mainly picked up from watching the odd episode of So You can Think You Can Dance, I'd say it was a street dance performance. Maybe someone can look at Bert's photos and confirm or deny my guess.
You can't have Halloween without Sorcerer Mickey, and here he is. That brings on to this next photo…
I adore The Sorcerer's Apprentice from Fantasia
and this combination of characters and laser show is just absolutely stunning. I can only begin to imagine how amazing it would have been to witness that live, and with the music as well.
The first couple of Halloween, with Jack looking even more charismatic than usual.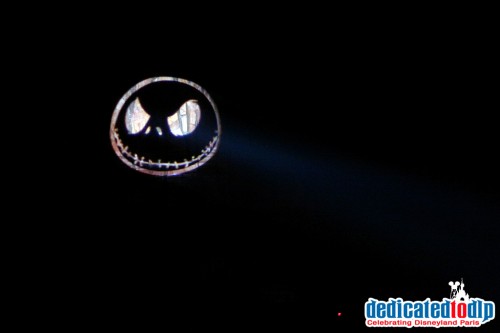 I'm guessing this laser projection is onto the Castle, and how wonderful it looks. It's akin to the Batman logo that is sent into the sky to call on the Caped Crusader at times of need, and if ever anyone is needed for Halloween, it's Jack!
UPDATE: The Jack Skellington projection was actually on the side of Big Thunder Mountain – wow!
My hat goes off to Bert for taking this photo – every one of those fire balls in shot and not one of them blurred.
We end with the Halloween fireworks and what looks to have been an incredible Halloween night in Disneyland Paris. I defy anyone to look at these photos and not think Disneyland Paris is the place to be for Halloween, and it'll take a lot for me to resist the temptation to book next year – but why struggle. See you there?