Disneyland Paris News: runDisney Half Marathon Weekend – September 2016
It was over 2 years ago that I got a sniff of runDisney coming to Disneyland Paris and assumed back then that it may come to the resort in 2014. Well it was true that plans had probably started to take place, but as we've learned in the last few months, it's 2016 that will see the inaugural event come to Europe. The exact date for what is called the Disneyland Paris Half Marathon Weekend, is September 23rd-25th. In the last few days both runDisney and Disneyland Paris have been promoting the weekend, starting with this email from Disneyland Paris which I received yesterday:
Not a huge amount of information, but the bit I do find interesting is So start training for this magical course, through Disneyland Paris and the French countryside! This implies the course will take you off the resort, which I guess would make sense, because to cover the 13+ miles of a half marathon, that would be a few circuits of the parks and hotels if you were to stay on site!
Fast forward to today and runDisney have been active on their Facebook page, posting a video a few hours ago which you can watch right now:
[fb_pe url="https://www.facebook.com/RunDisney/videos/vb.139057592786878/1175170199175607/"]
It shows what I presume is the French part of Epcot, where we see a table set for two, and then at the end a save the date card is placed on the table, which you can also see below: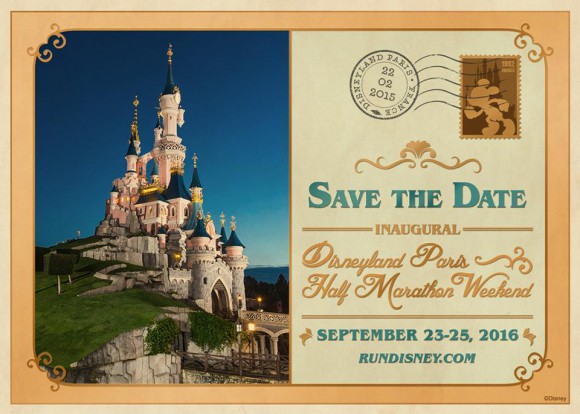 Last but not least, is the official event on the runDisney Facebook page, which you can mark as attending here.
So the question now is will I be participating? Well I'm not much of a runner, I much prefer to exercise on two wheels than on my two feet, but the event would be a lot of fun to do with a bunch of people. There is also the chance there will be other run events other than just the half marathon, and I'm thinking a 5km run would be more my level. I suggested on the Dedicated to DLP Facebook page that we could form Team Dedicated to DLP and all do it together, raising money for charity. Would be a great opportunity for a meet up and doing something worthwhile is a bonus too.
I'd have to stay on site, as I'm not sure after doing the run I'll be able to walk further than to the buses to take me back to one of the resort hotels. If it is just a half marathon then I'd better get training, as 13.1 miles sure seems like a long way! So, who's joining me?