What If…One of the Lands in Disneyland Paris Had to Close – Which Would You Choose?
It's a strange question I realise, but I wondered, with all the refurbishments going on at the moment and those planned (see here), if they had ever had so much being worked on in one land that closing it had been considered. I'm thinking no is the answer to that, but it did get me thinking, if it did happen, which land would you be least upset with them closing, and why?
This is of course massively subjective for each individual but I'm going to have a go at explaining why each land is essential, for me, and then make a decision of which one should close at the end. Then it's your turn to choose. For now I will concentrate on just Disneyland Park, maybe at a later date I'll do the same for Walt Disney Studios.
Main Street, U.S.A.
There are no attractions on Main Street, let's close that one down – easy, job done. Err, no. Main Street, U.S.A. is the most beautifully designed and constructed area of the whole resort, with homages to many points in history, within both the Disney universe and the outside world. Walk through the turnstiles, under the railway station and you are in Town Square, with the gorgeous bandstand and if you're lucky, vintage vehicles driving by. To the left you can go down Liberty Arcade and to the right Discovery Arcade, features worth ruling out Main Street on their own. Keep walking straight down and you'll be treated to an array of shops and eateries, with character meet and greets along the way.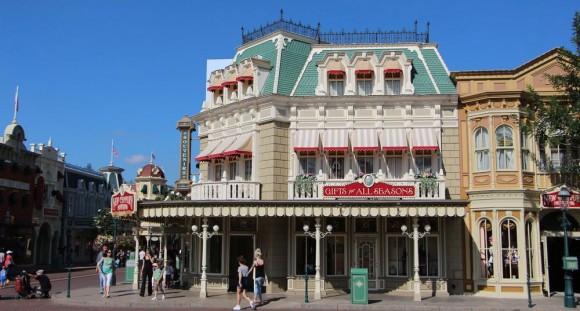 With the Central Plaza at the other end it also hosts the lion's share of the parade and cavalcade routes. Speaking of entertainment, with no Main Street, U.S.A. there's no Christmas tree and therefore no Magical Christmas Wishes. Swing Into Spring also takes place predominantly on Main Street, so that's a lot of entertainment you either lose, or have to relocate to less suitable homes. There's also the matter of it being the entrance is, so without it you're not getting in!
Frontierland
Frontierland doesn't have that many attractions, in fact you can count them on one hand and still have fingers left: Phantom Manor, Big Thunder Mountain, Thunder Mesa Riverboat Landing, Legends of the Wild West and Rustler Roundup Shootin' Gallery. Okay, so I don't have any fingers left, but there are probably some who have never looked around Fort Comstock and wouldn't count the rifle range as a fully fledged attraction. At Christmas there is Santa's Village, though much reduced these days, and The Chaparral Theater will be made use of once more in Summer with a Frozen sing-a-long. If it still hosted the Tarzan show that would be 2 must do attractions for me, 3 for others.
On the face it Frontierland seems like a prime candidate to be shut down, except Phantom Manor is a must do attraction for me, and for many Big Thunder Mountain is one too. There will be those for whom the thought of visiting Disneyland Paris and not riding either is a big faux pas. The Thunder Mesa area is beautifully landscaped, especially in the sun and at night, and a is a great location for the Jack Skellington meet and greet during Halloween and Christmas. For pin traders having no Pueblo Trading Post could cause a few problems too. It also has some pretty swanky western gear in Bonanza Outfitters, including some expensive, but great looking cowboy boots. Extra points will always be earned for shops that have merchandise not available elsewhere in the resort.
Adventureland
Under no circumstances can a visit to Disneyland Paris be undertaken without riding Pirates of the Caribbean. Think that's hyperbole written for effect? Think again, I've changed the dates of my holiday in the past when I found out Pirates was closed for my intended dates, paying more for the rescheduled trip. It is the epitome of a Disney Park attraction for me, though I did declare back in December on riding Ratatouille for the first time that it may have competition – subsequent rides will be needed. Add in La Cabane des Robinson and Aladdin's Enchanted Passage, as well as Skull Rock, and you have a handful of great attractions which bring with them a lot of variety and beautiful settings.
I'm not a thrill rider myself, but there is also Indiana Jones and the Temple of Peril, if you can find it. In Blue Lagoon it has the best themed restaurant in Disneyland Paris with a truly unique atmosphere, which just happens to be situated in the same building as Pirates of the Caribbean so you can see the boats go by as you dine. Did I already mention how incredibly awesome Pirates of the Caribbean is? Okay, just checking, because it really is that good. Walk through Adventureland in the day and you feel like an explorer in another world, do the same at night and it gets even better, especially during a thunderstorm in dark warm summer evenings.
Fantasyland
You might be forgiven for thinking that Sleeping Beauty Castle is part of Main Street, U.S.A., being that it lies at the end of it, but it is in fact located in Fantasyland. That alone would make Fantasyland safe you'd think, and factor in more attractions than any other land and it's pretty much a no brainer. Fantasyland is also home to more classic Disney properties than any other part of Disneyland Paris, with the likes of Pinocchio, Peter Pan, Sleeping Beauty, Snow White, Alice in Wonderland and Dumbo, to name but a few.

While some may lament the day they first heard the song from it's a small world, on this website it's celebrated as the masterpiece it is, both visually and audibly. Due for a big refurbishment in July, it's one of the only attractions that gets a full Christmas makeover. This is also a land of multiple character opportunities, with Meet Mickey, Princess Pavilion and the Auberge de Cendrillon giving unique chances for Mickey Mouse and Princess interaction. With all that going on it's a contender for best land, so let's just think again to the Castle, and mention that without it there would be no Disney Dreams! and leave it there.
Discoveryland
As much as I think Buzz Lightyear Laser Blast belongs in Walt Disney Studios, it is so much fun, and one of the only interactive attractions in Disneyland Paris. It's also nice to have something with competition, and in the past it has given rise to the T-Shirt challenge, where the winner gets a new T-Shirt in Constellations. Keeping on shops, Star Traders is home to oodles of Star Wars merchandise, some of which is exclusive to the one shop on the resort. So why is there a shop selling Star Wars souvenirs? Because Discoveryland is home to the amazing Star Tours, which has lots of nostalgia value in its classic form, but will be even better when it gets upgraded to Star Tours II in 2017. For Star Wars fans like myself, just seeing a life size X-Wing is thrilling enough.
As previously mentioned, I am not one for the big thrill rides, but Space Mountain is a big favourite for many, and at night it looks absolutely stunning, as does most of Discoveryland. Apparently Autopia is great fun for children, and probably the first opportunity to drive a car, but I'll put my hand up say it's just as much for adults, especially in the rain. Orbitron like Space Mountain looks gorgeous at night, and is far higher than you expect once you get up there. In Videopolis you have the biggest restaurant in Disneyland Paris, and a great place to have a rest, grab some food, and watch some Disney cartoons. They sometimes have Mickey Mouse conducted orchestras and in the past there have been big production shows. I'm also a big fan of the very under appreciated Adventures of Nautilus, both inside and out.
The Verdict
I will admit, I thought the decision was going to be an easy one, and it was going to be Discoveryland, but then I have to re-assess Frontierland and Phantom Manor, and as much as I said it was must do, is it at the expense of Buzz Lightyear, Star Tours, Nautilus and Orbitron? It's between those two, because Main Street, U.S.A., Adverureland and Fantasyland are safe. If the Castle wasn't in Fantasyland but was part of Main Street, U.S.A. like I was discussing earlier, then Fantasyland would be at risk. The big problem with Frontierland is that I don't do anything aside from Phantom Manor, and as much as I love it, can I close down a whole other land because of it?
As much as a surprise as it may come to you, it does to me also, when I declare that in my scenario, Frontierland will be closing. The lifelong Star Wars fan in me can't close off the only Star Wars part of Disneyland Paris, and due to the number of attractions and eateries I use there, Discoveryland is safe. So, over to you – which land do you close, and why?