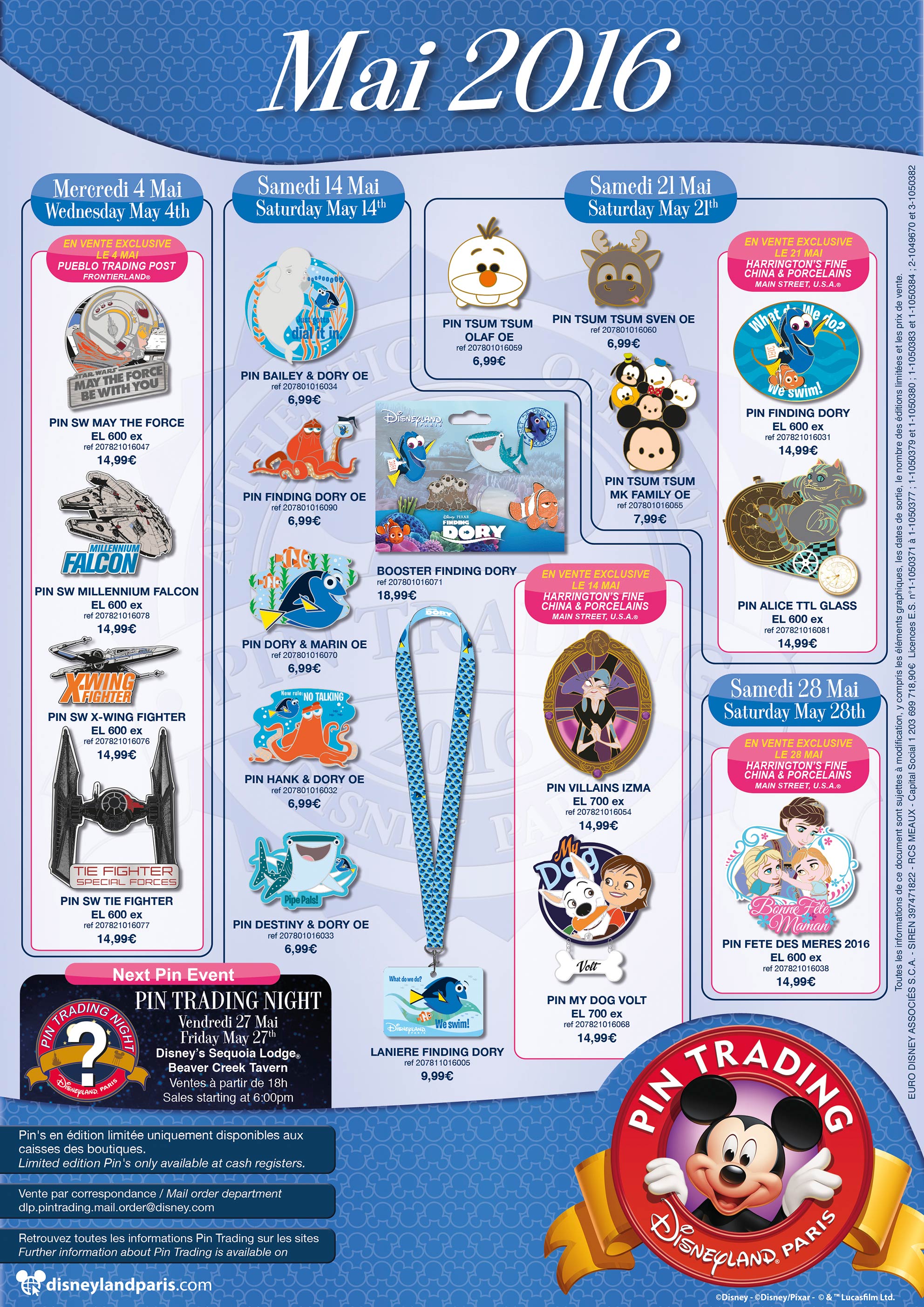 Disneyland Paris Pins for May 2016: Star Wars, Chesh, Fish and other animals!
Just a few hours ago I was looking at the pins I have bought over the last couple of years that haven't made their way into my pin bag, and now the May releases for Disneyland Paris are out and I want more to leave in piles around the house.
Star Wars Pins
Let's cut to the chase, I want all 4 of the Star Wars pins, released on May 4th, Star Wars Day of course. I particularly like the X-Wing Pilot pin, and at just 600 pieces each it's very unlikely that these ever see the inside of my house!
Finding Dory Pins
With the film coming out soon these make sense – almost annoying that we get timely character pins to go with film releases, but not the actual characters in the Parks to meet. Including the booster set that's 9 Finding Dory pins being released in Disneyland Paris on Saturday 14th, though the Bruce pins are so similar that's only really 8 different designs. The fishy lanyard is, errr, fishy! Hang on, make that 10 Finding Dory pins – there's a limited edition one released on May 21st, though aside from its limited edition status, I think it's a weaker pin design than the general release Finding Dory pins.
A Frozen May of Pins
With Olaf and Sven Tsum pins on the 21st May and a limited edition Frozen pin released on 28th May, they are definitely sewing the seeds for the return of Frozen Summer Fun and the Frozen sing-along in June. The Tsum pins don't do a lot for me, but I like the Frozen group pin. Last May Frozen Summer Fun gave me Frozen Fever and it's still going strong!
Chesh, Bolt and Izma
We had another Dog pin last month so this must be an ongoing series – why else would anyone do anything with Bolt in 2016? It's a decent enough film, but it's hardly relevant 8 years on. The Cheshire Cat limited pin released on May 21st is an incredible looking piece of memorabilia and if I managed to snag this for my son I'd reinforce my position as best Dad ever 😉 Izma is from The Emperor's New Groove, a film I've not seen – I know, terrible form isn't it? Cool looking pin though and I know from Twitter she's a popular character.
The next pin trading night is on May 27th at The Sequoia Lodge and for once, isn't sold out at the time of printing the poster. But moving on, this is fantastic set of pin releases for Disneyland Paris this coming month. Not only are there lots, but many of them are really great, and I'd love to see the Star Wars, group Frozen and Chesh pins in mine and my son's collections.