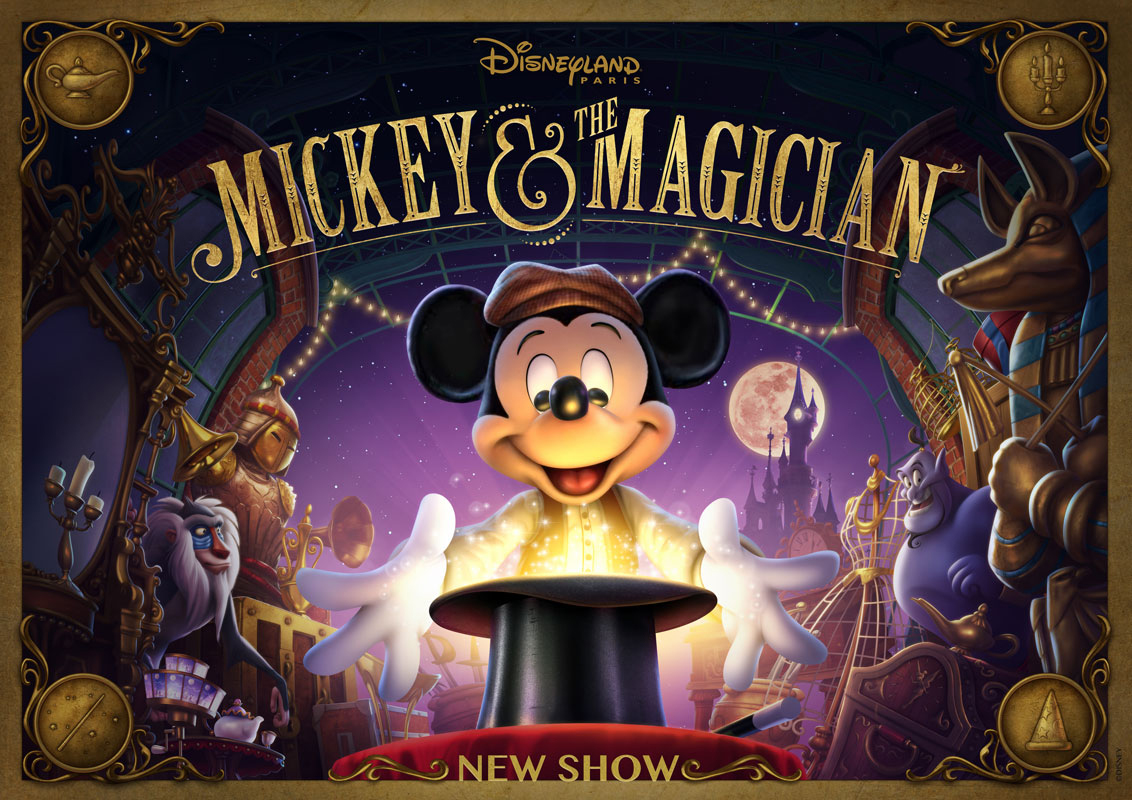 Disneyland Paris Mickey and the Magician Press Release – More Information Revealed
Earlier this morning Disneyland Paris sent out an official press release about the new Mickey and the Magician show, and at this point Twitter exploded with tweets of the press release and about it. I immediately closed Twitter down, and decided I'd read it in my own time and form my own opinions. As great as social media is for relaying news and networking, it can be a bit overwhelming and can influence your opinion before you've even fully made it, if you let it. So, let's get onto that press release, and the accompanying artwork that came with it.
New: "Mickey and the Magician" at Walt Disney Studios® Park:
An incredible show with amazing illusions.

From 2 July 2016

Entertainment just keeps on creating new surprises at Disneyland Paris®. This summer, the public will be able to enjoy "Mickey and the Magician" for the first time. This show, specially created for Walt Disney Studios® Park, will star the mouse who started it all.

Mickey is poised to become the hero of a brand new story. Far from his recent roles of master of ceremonies, this new show will take him back to where Disney magic all began. He is embarking on a unique experience where magic fuels dreams. Mickey will learn valuable lessons from iconic Disney Magicians leading him to his dream of becoming a Magician. But these lessons are full of surprises, because, although enthusiastic by nature, Mickey is terribly clumsy.

A new adventure for Mickey
Go back in time to Paris at the turn of the 19th century… and enter a great Magician's atelier, where the assistant is no other than a certain Mickey Mouse! Night has fallen. Tinker Bell has spread a little stardust. When he is given the task of cleaning up the atelier before sunrise, the young apprentice gets distracted! Nothing turns out as expected. Mickey finds himself accidentally transported to the most magical Disney film worlds. He becomes the hero in this incredible show where illusion is key and the audience find themselves plunged into a world of magic and delight.

A magical story
To illustrate this return to where the magic all began, the creators of "Mickey and the Magician" draw inspiration from the great illusionist Georges Méliès and the famous magician Robert-Houdin. This is not a traditional magic show. The illusions will form the basis of this brand new story. Disneyland Paris has called on the acclaimed magician Paul Kieve to create these illusions. "It's hard to think of the word 'Disney' without also thinking of the word 'Magic'. I became fascinated with magic when I was 10 years old and was always inventing ideas in my head. One of the
great things about working on 'Mickey and the Magician' is that I can bring some of these ideas into reality!" said Paul Kieve.

"When I was 10 years old I was taken to Disneyland in California. Magic of course became my life, so to have the opportunity to bring wonderful magic into a permanent live show in Disneyland Paris, surrounded by these classic Disney characters is a dream come true for me. I'm excited that thousands and thousands of kids of all ages will be introduced not only to live magic, but to high quality live theatre by watching Mickey and the Magician. I hope it will be an experience they will never forget."

Stars from Cinderella, Beauty and the Beast, The Lion King, Aladdin and Frozen all lend a hand
Every object has a story and the Magician's secret attic is cluttered with amazing artefacts, curious props, and mysterious objects: a hat, a candlestick, a zoetrope, a lamp and a crystal ball among other things. Distracted from his task, Mickey stirs the magic within each object. He then embarks upon an extraordinary journey strewn with breath-taking illusions magical moments, and crosses paths with iconic Disney magicians.

The Fairy Godmother from Cinderella unveils her famous spell, Bibbidi Bobbidi Boo. Rafiki, the mandrill and great mystic from The Lion King will remind him of the meaning of "The Circle of Life". The Genie from Aladdin performs an eccentric number for him to the tune of the famous song "Friend Like Me". Lumière, the French candlestick from Beauty and the Beast has a surprise in store for him with his new enchanted version of "Be Our Guest". Finally, Elsa, from Frozen, will show him how to…"Let It Go"!

He will learn from each in turn as they share amazing magical moments with him, to help him discover the true meaning of the word "magic".

The magic of the music
The unforgettable songs that helped to make each of these major films such a success have been specially reorchestrated. "Mickey and the Magician" promises the audience great music featuring completely unexpected sounds. For example, "Be Our Guest", the star song from Beauty and the Beast, will feature the sounds of the circus; while "Friend Like Me", sung by the Genie from Aladdin, takes on a Broadway style, integrating tricks and tap dancing. The show also features a brand new song.

A new daily show at the Walt Disney Studios® Park
"Mickey and the Magician" will make its debut on 2 July 2016 and will run until 8 January 2017. There will be several Franco-English shows per day at Animagique® Theater, Toon Studio®, Walt Disney Studios® Park.

"Mickey and the Magician" sees Mickey take on a different role and gives the audience another opportunity to see the stars of Cinderella, Beauty and the Beast, The Lion King, Aladdin and even Frozen come to life on stage. A funny, musical, mischievous and moving show… full of illusions! Bibbidi Bobbidi Boo!
First of all, just take a moment to sit back and study that artwork – glorious isn't it? I wouldn't take any notice of the Castle in the background, much like the artwork that was produced for The Forest of Enchantment with the Castle, I'm sure it's just a little reminder to everyone that 'hey, this great show is in Disneyland Paris, the one with the beautiful pink Castle'. I could be wrong though, so remind of that last sentence if a castle does indeed appear in the show.
So what do we learn from this press release then?
Characters
Mickey Mouse
Tinker Bell (Peter Pan)
The Fairy Godmother (Cinderella)
Rafiki (The Lion King)
The Genie (Aladdin)
Lumière (Beauty and the Beast)
Elsa (Frozen)
These are he characters we definitely know will be in the show, and an eclectic collection they are, all brought together by magic, as you'd expect from a show with the title Mickey and the Magician. These characters will no doubt play feature roles, but I do wonder if we'll see any other characters in the background, in less prominent roles. The Forest of Enchantment has a similar number of characters, but there are also the characters created especially for the show and the dancers and acrobats that perform with them. Animagique itself had more characters than we have listed here for Mickey and the Magician, but without actually seeing the shows it's hard to say if it even needs any more.
What I like about this selection of characters, is that aside from Elsa and Mickey, these are all the characters who play the supporting role, though a case could be made for Genie stealing the show from Aladdin. With The Lion King we usually get Simba, but instead we have Rafiki. Likewise with Beauty and The Beast, we'd expect to see Belle or Beast, but we get the equally as loveable Lumière. The bond of magic means we are getting a cast like none we have seen before.
Songs
Bibbidi Bobbidi Boo (Cinderella)
The Circle of Life (The Lion King)
Friend Like Me (Aladdin)
Be Our Guest (Beauty and the Beast)
Let It Go (Frozen)
While some of these songs we may think we've heard many times before, and in shows in Disneyland Paris too, the press release tells us that these are versions created specifically for Mickey and the Magician, of the like we've not heard before. A circus influenced Be Our Guest sounds very intriguing, and the promise of a brand new song is always exciting, and very welcome.
Magic
A quick Google of Paul Kieve tells us that he's a very accomplished magician, who has worked as a consultant on many stage shows, films and TV shows, from Harry Potter and the Prisoner of Azkaban to Batman Live, as well as a whole host of Disney productions. What we are going to see with Mickey and the Magician is a show like none other in the history of Disneyland Paris, and that on paper at least, looks set to wow audiences of all ages. Aninagique was magical in its own right, with the black light technology, but its successor could be set take things to a whole new level.
Story
Going back to Paris at the turn of the 19th century sounds like a superb idea to me, and gives Disneyland Paris the opportunity to create some fantastic looking sets and costumes, and maybe the music, at least some of it, will reflect this era too. It does sound like there is a touch of The Sorcerer's Apprentice from Fantasia to it, but as my favourite piece of Disney animation ever, that can never be a bad thing. There are also shades of Animagique in that Mickey looks to be the one constant throughout, joining each segment together to form the fabric of one complete story.
Verdict
On paper, or on screen as it were. Mickey and the Magician looks to be the most ambitious piece of entertainment since Dreams! was introduced to Disneyland Paris in 2012, but one that will ultimately pay off and the give guests a truly magical (pardon the pun) and unique experience. The press release does make mention of Mickey and the Magician running until January 8th 2017, but much like Dreams! and it's many running until dates, I fully expect this to be extended. It wouldn't surprise me if this is a marketing ploy to get people there from July, and not have them thinking they will just see it when they plan to come once the 25th Anniversary celebrations have kicked off later in 2017. Intriguing that they refer to the theatre as the Animagique Theater, but really, what else would people know it by? So again, no conspiracy theories that need investigating there.
With The Forest of Enchantment and Frozen Sing-along over in Chaparral Theater, Dreams! and parades running daily, CineMagique being as magical ever and 4 lots of seasonal entertainment, the addition of Mickey and the Magician sees Disneyland Paris embarking on a new golden age for entertainment in the resort. I very much look forward to seeing this new show, and will of course stay spoiler free once any footage starts to leak out.