The Tarzan Encounter is coming back – best Disneyland Paris show ever?
I'm sure you've heard by now that The Tarzan Encounter is coming back again in 2012 and will be part of the Disneyland Paris 20th Anniversary celebrations, showing in The Chaparral Theater from June through to September. At first I thought it was going to be shown from April but that's when the cast are needed from, but obviously they will be rehearsing for a good few weeks before they open in June. My planned trip was in May so I was at first disappointed, then delighted, and then disappointed again. Now it doesn't matter as I had to cancel the trip due to unexpectedly needing to buy a new car. Hopefully it will be back in 2013 and I can see it then. I've not seen it since July 2006 and I'm getting serious withdrawal symptoms!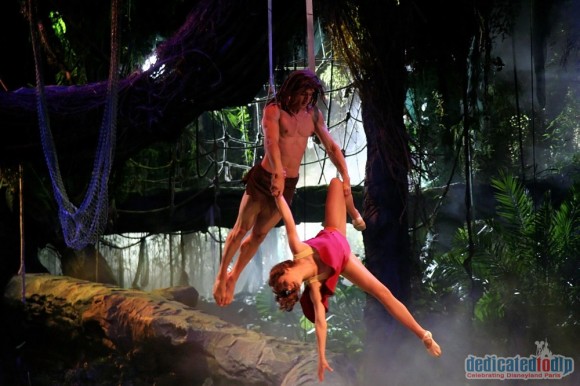 When I went to Disneyland Paris for the first time in 2002 I'd never seen the Tarzan film, well, not the Disney version anyway. I'd spent many a day in the school holidays watching the black and white Johnny Weissmuller Tarzan films, but there was no Terk in those. To say I was blown away with The Tarzan Encounter would be an understatement and so powerful is the emotional effect the show has on me that sometimes I get choked up just thinking about. The Tarzan Encounter really is that good, and in my mind it is without doubt the greatest show that has even been put on at Disneyland Paris.
It's just the most wonderful combination of daring acrobatics, moving soundtrack, fantastic acting, brilliant story and just the right amount of humour. I find it incredibly moving when Tarzan puts his and Jane's hands together and that one monkey acrobat (you know the one) never fails to make me laugh. The set is stunning and the show fills The Chaparral Theater with 25 minutes of pure joy. I've never understood why The Tarzan Encounter doesn't run for longer – for me it's one of the best things in Disneyland Paris, second only to Pirates of the Caribbean, and the gap bwteen the two is only very minimal.
On returning from that first trip to Disneyland Paris in July 2002 I bought the animated film made by Disney, and to this day it's still my favourite Disney animated film.
If you can't get to Disneyland Paris to see The Tarzan Encounter then take a look at the fantastic photos which were taken by the newest member of Team Dedicated to DLP, Bert Snyers. Also, lucky for us Ogan from Disney Magique has uploaded the whole show from July 2011 in glorious HD. Sit back and enjoy.
httpvh://www.youtube.com/watch?v=FwskqpwmVcE&hd=1
Do you agree that The Tarzan Encounter is the best show that has ever been put on at Disneyland Paris, and if not, which one is better?