20 Questions with a Disneyland Paris Fan – Nikki van Zoom
1. When did you first visit Disneyland Paris?
May 1992, a month after the opening of the resort. I was 2,5 years old and went with my dad. We stayed at the Davy Crockett Ranch.
2. How many times have you been in total?
My total is currently on 55 Disney trips. Next month will be number 56, to celebrate St. Patrick's Day.
3. What's your first memory of Disneyland Paris?
Staying at the Disneyland Hotel, in 1993. I was 3 years old and I remember sleeping on the sofa that had round ends. And I got to dance with Mickey Mouse, that was the moment I started to believe in magic.
4. What's your favourite attraction and why?
I have a couple (like Pirates of the Caribbean, Peter Pan's Flight, Rock 'n Roller Coaster), but Phantom Manor is definitely my favorite at the Disneyland Park. The theming, the music… I'm one of those people who gets completely excited when I'm in the ride and I hear "Playful spooks have interrupted our tour"
5. Where do you stay when you visit Disneyland Paris?
Ever since I got my first Annual Passport (nearly six years ago) I always stay off-site. We try different hotels every time. But before my first AP I always stayed at one of the Disney hotels. The one I've been most to is Davy Crockett Ranch with 12 times Next month I will be going to Hotel Santa Fé though.
6. Where's your favourite place to eat?
I have a couple of favourite restaurants. Hunter's Grill at Hotel Sequoia Lodge is definitely one of them. The food is amazing and the entire atmosphere of the hotel is lovely. Other favourites include Annette's Diner, Rainforest Café, Planet Hollywood and Hakuna Matata.
7. What you do first when you get to Disneyland Paris?
Cry. When we drive up to the car park and I see the Disneyland Hotel dooming up I start tearing up. Once I scan my AP and hear the well-known "Welcome", walk underneath the Main Street Railroad Station and see Town Square with the Sleeping Beauty Castle in the distance, I start sobbing like a 5 year old. Once I get my emotions under control I usually do a walk around the park first, to enjoy the atmosphere and take some photos.
8. Pins, Vinylmations or neither?
I only own one Vinylmation (Duffy) and a couple of Duffy pins. So I would say neither.
9. Do you want to see the Captain Jack Sparrow brought to the Disneyland Paris Pirates of the Caribbean like they have in Walt Disney World and Disneyland?
To be honest, no. I absolutely love the Pirates of the Caribbean films, but I feel he would be a little misplaced. Seeing a Captain Jack Sparrow animatronic would only modernize it, but authenticity of the ride is what makes it so great.
10. Is there anything in Disneyland Paris you have never done that still would like to do?
Yes, a character brunch at Inventions is definitely on my bucket list. Hopefully I can do that in October. Meeting Shellie May is also on the list, but that's a long shot.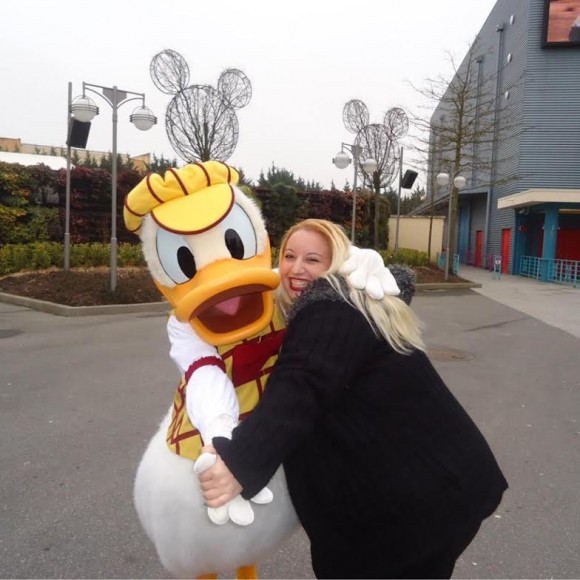 11. Before you go do you plan yours days or just see what happens when you are there?
I used to plan everything, but lately I'm more of enjoying the atmosphere rather than doing rides. Now I just plan my restaurants, and let the rest of the trip just happen. To most magical moments are the most spontaneous ones.
12. What piece of music or song do you most associate with Disneyland Paris and why?
I definitely associate any Christmas song with Disneyland Paris. Christmas and Disneyland Paris go hand in hand for me.
13. If you had to make someone a fan of Disneyland Paris by showing them 5 attractions/buildings/shows – what would they be?
Sleeping Beauty Castle, Pirates of the Caribbean, Big Thunder Mountain, Disney Dreams! and just Main Street, U.S.A.
14. If you could add one new attraction to Disneyland Paris what would it be and where would you put it?
I would rather add a new show instead of a new attraction. We have so many great attractions but a lack of shows. And even though it's an oldie, I would let Tarzan, the encounter return.
15. If you could spend one night anywhere in Disneyland Paris, except the hotels, where would it be?
Sleeping Beauty Castle. Overlooking the entire park at night.
16. Are you planning to visit Disneyland Paris when Ratatouille: the Ride opens?
Not this summer, I wish I could be there for the opening. I will be in Spain for 6 months for work. But I'll definitely visit in October for Halloween, and Ratatouille will be the first things I do!
17. If you could be a Cast Member for a day in Disneyland Paris, where would you work?
Guest Flow, that's my dream. I'm actually aiming for somewhere next year to make my dream come true.
18. Is there anything you dislike about Disneyland Paris or would change?
As I said earlier, the lack of shows. Even one stageshow is enough. It could be an oldie. At least that's something.
19. What's your single greatest memory of Disneyland Paris?
I have so many, but the one that comes to mind now is one from last summer. I went to Disneyland Paris for 5 days, and on my last day I stood in front of the Castle watching Disney Dreams! It was at the end of the show and Come Dream A Dream had just finished. I heard the sentence "Remember to always let your dreams carry you away" and I completely broke down in tears. I had heard that sentence so many times before, but it was not until that exact moment that I started to realize more than ever that it is my absolute dream to become a Disneyland Paris Cast Member.
20. In no more than 20 words I love Disneyland Paris because…
…it's the only place where I can be truly myself, where I feel completely comfortable in my own skin. It's my love, my home. Always and forever.
You can chat to Nikki on Twitter: @DLRPWonders.
Want to be featured in 20 Questions with a Disneyland Paris Fan? Just email the answers to the questions, which can be found here, to dlp@dedicatedtodlp.com and let everyone know what you love about Disneyland Paris and why it's the happiest place on Earth.