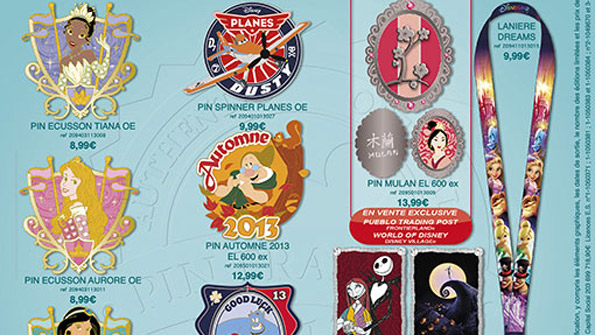 Disneyland Paris Pins for September 2013 – Guess what? More Princesses, plus Jack, Sally, Planes, Duffy & Dreams!
Just two days away from September, a month that always make me think Summer is coming to an end, and we have the brand new pin releases coming to Disneyland Paris.
I'm going to ignore all the Princess pins, as you'll know by now that they hold zero interest for me. However, I will say that the Mulan locket pin is probably the nicest in that series so far. While we are on pins I usually ignore, joining 3 Princess pins being released on Saturday 7th September is a Duffy pin I actually quite like! Don't get me wrong, I wouldn't buy it, but it's far better than the usual Duffy pins and in a different stratosphere to the horrific Monsters University Sulley outfit pin from June. I actually think old Duffy looks quite dapper in his Halloween outfit.
The following Saturday, September 14th, sees the first Planes pin for Disneyland Paris and it's a spinner pin, hence the higher price of €9,99. I've not seen Planes yet so I can't comment on whether Dusty is the right character to feature on a spinner pin – presumably they've done their research and he goes into a spin in the film, right? Doc is featured in the Autumn pin which carries on the series which saw Sleepy featured in the Summer pin released in June also. There's also the 3rd in the Good Luck / Bad Luck series, showing the good luck side of a rotating pin featuring Aladdin and Genie.
For me it's not until September 28th until we get to the good stuff for this coming month's pin releases in Disneyland Paris. I like all 3 of the Nightmare Before Christmas pins, especially the enamel Jack 20 Years pin, which at just 600 pieces I'd think will sell out very quickly, especially so close to the Halloween season. I think the Dreams! lanyard is pretty nice too, and at €9,99 I always think these are quite reasonably priced.
There's also a pin trading event on Friday September 27th in the Hotel New York Grand Ballroom, which is a very nice venue indeed. I will attend one of these pin trading events, one day.
Not a bad selection of pins this month – nothing awful and even a Duffy pin I quite like. The Nightmare Before Christmas pins are the stand out releases for sure, but I'm surprised there aren't more Halloween pins – they are obviously waiting until the first release day in October, which is the 5th, the first day of the Halloween season in Disneyland Paris.