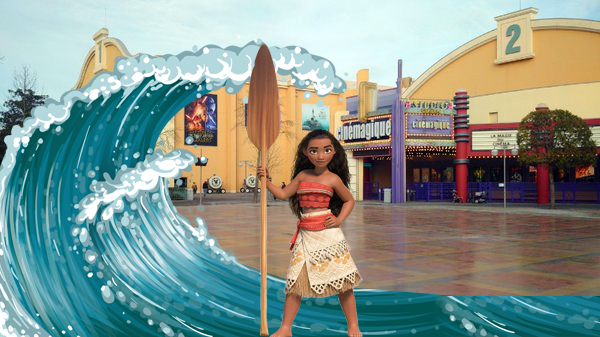 The Character of Moana is Coming to Disneyland Paris for Christmas 2016 – Could We See More New Characters Too?
Disneyland Paris sent out a release this morning announcing that the titular character from the upcoming Moana (Vaiana in France) film will be coming to Disneyland Paris for part of Disney's Enchanted Christmas season 2016. After months and years of guests complaining, rightly so, that Disneyland Paris never gets new characters, the resort will have Moana in time for the film's release on November 30th. Here is the official statement from Disneyland Paris – for mentions of Vaiana I have replaced with Moana (Vaiana):
Disneyland® Paris will surf the Moana (Vaiana) wave this Christmas!

The good news just keeps on coming!

Following the unveiling of superb images from Disney's new Christmas film Moana (Vaiana) last week, Disneyland® Paris has now revealed that the character of Moana (Vaiana) will arrive at Disneyland Paris in November as part of the Disney's Enchanted Christmas season!

Moana (Vaiana) is an adventurous, tenacious and compassionate 16-year-old. She sets out across the ocean on a daring mission to save her people and discovers the one thing she's always sought: her own identity. Directed by Ron Clements and John Musker (The Little Mermaid, Aladdin, The Princess and the Frog), Moana (Vaiana) from Walt Disney Animation Studios sails into French cinemas on 30 November 2016.

About the film

Moana (Vaiana), the new feature film from Walt Disney Animation Studios, tells the exciting story of an adventurous teenager who sails out on a daring mission to fulfil the ancient quest of her ancestors and save her people. During her journey across the vast ocean, Moana (Vaiana) (voice of Auli'i Cravalho) meets demi-god Maui (voice of Dwayne Johnson). Together, they will complete a voyage packed with action and encounters and facing impossible odds… By fulfilling the ancient quest of her ancestors, Moana (Vaiana) will discover the one thing she's always sought: her own identity.

Moana (Vaiana) is directed by Ron Clements and John Musker, who made their writing and directing debuts in 1986 with the feature film The Great Mouse Detective. They then wrote and directed Disney classics such as the underwater adventure The Little Mermaid in 1989, the hilarious Aladdin in 1992, the epics Hercules in 1997 and Treasure Planet in 2002, and The Princess and the Frog in 2009.
Where Will Moana Go?
This is absolutely fantastic news, and a long time since Disneyland Paris had a brand new character, and in the case even before the film is released if Moana arrives at the start of the Christmas season. Where she will be is the next question, and Walt Disney Studios comes to mind, given that they greatly need anything that will create a buzz and get people actually wanted to spend time there, aside from just walking between big attractions such as Crush's Coaster, Ratatouille and Tower of Terror. Walt Disney Studios doesn't usually get a lot for Christmas, but I think Moana will be there during the Christmas season, rather than being a Christmas character. She could always wear a Santa hat – worked for the Incredibles on segways, didn't it?
If Moana is to be located in Disneyland Park then I'm at a bit of a loss as to where she would be, given her Pacific Ocean adventures. In Disneyland Park she wouldn't fit in thematically anywhere, and a makeshift set would look out of place in the surroundings. Over in Walt Disney Studios they at least have room to build a decent looking set, maybe where they removed the Place des Stars stage. Where ever she does end up, it's a great move and one that will prove to be very popular indeed.
No Meet and Greet?
Of course there may not be a meet and greet location at all – maybe Moana will just be a part of the parade, like Anna and Elsa were for the Christmas 2013 Christmas season. They didn't become meet and greet characters until a year later, and then went back to being non meetable characters when that season was over. It would seem a bit of a wasted opportunity and heightening of expectations to announce Moana coming in this way and then not have her out to meet guests. I guess we'll have to wait and see what part she will play, but many fingers will be crossed for a meet and greet location.
More Characters On The Way
In the past few years films such as Big Hero 6, Wreck It Ralph, Inside Out and Zooptopia have spawned hugely popular characters who have been seen in other Disney parks around the world, but not in Disneyland Paris. It took a few years for Disneyland Paris to get Merida from Brave and she has only recently come to the resort in spite of the film being released in 2012. Anna and Elsa had a very brief period of meeting people in the Princess Pavilion for Christmas 2014, but have not been meetable characters since. So for all the great things Disneyland Paris can boast, up to date characters has not been one of them, for quite some time.
With Moana, might we be seeing a change, and can we expect to see more new characters on the way? The DVD release of Zootopia is imminent, and a Disney animated film second only to Frozen at the box office (third if you include Disney Pixar's Toy Story 3), they would still be a popular attraction should they comes to Disneyland Paris. Likewise Baymax from Big Hero 6 is still one of the most mentioned characters when asking people who they'd like to see added. With films such as Cars 3, Toy Story 4 and Gigantic coming out in cinemas in the next year or so, is it time we Disneyland fans can start to expect more new characters, or is this a one off?
In the short term having Moana added as a character to Disneyland Paris for Christmas 2016 is a great move, let's hope this is a change in the way things are done and this is just the start for new characters in Disneyland Paris.