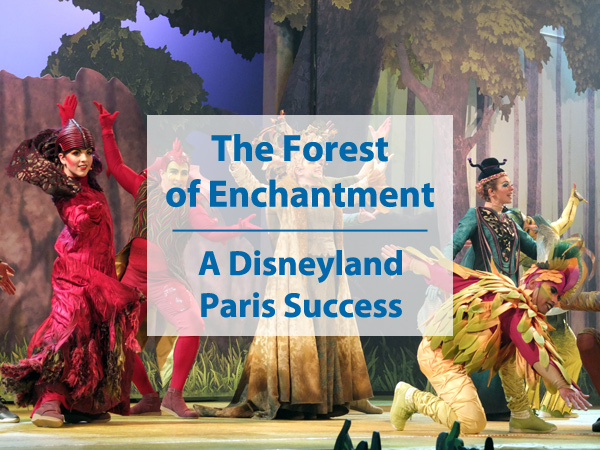 The Forest of Enchantment – A Disneyland Paris Success Story
Today is the 10th May, which means it was just 2 days ago that The Forest of Enchantment had its last showing at The Chaparral Theater in Disneyland Paris. This is a show that we first got wind of back in August last year, and with very little information I speculated that maybe it would be an updated Frozen show, but that was debunked a month later when we found out they were auditioning for the parts of Pocahontas, Rapunzel, Flynn Rider with Merida and Tarzan being mentioned 2 weeks later.
Late in 2015 we got told the name, The Forest of Enchantment, and with the accompanying visual, confirmation that Baloo and King Louie would also star. We then discovered there would be characters representing four of the elements of nature: Waterlilo (water), Ragina (fire), Lezardo (earth), Lucile (wind). Characters that seemed odd to us at the time, but are so well know and loved by us now. Come early February and soft openings led to video footage appearing online, which I successfully avoided until I saw the show myself in March.
Though it had a few detractors at the start, apart from a very small minority, The Forest of Enchantment is now a much loved show, and is arguably rated as one of the very best in Disneyland Paris history. But just what is it that makes this show that many saw as a temporary stop-gap until the return of the Frozen sing-along, so great?
Characters
It may not have the largest selection of characters from Disney films compared to other show, but the 8 characters that do appear are all very popular, and there is something for all tastes. While Pocahontas may not be my favourite, she is loved by many, and in fact in The Forest of Enchantment I found myself drawn to her much than in the film, the same can be said for Merida too. Having universally adored characters such as Baloo and Rapunzel spreads the net of appeal far wider, and having Tazran back in The Chaparral Theater placates guests like myself who still have a place in their heart for The Tarzan Encounter that ended some years ago.
However it's not just those well know characters that make this show so great, and some might say that it's the new characters, unique to The Forest of Enchantment, that are the breakout stars. Not only do they sing a lot of the songs, but they are the glue that holds this whole presentation together, and without them it would be fragmented unconnected scenes from a random selection of films. The characteristics and expressions they display give them a personality that means them not being familiar to people does not hamper their connection with the audience. On my 3rd viewing I actually found myself looking at them more so than I did the main characters during the film inspired scenes, at times.
Music
Much like the characters involved, the songs from the films are all well known and for the most part beloved, with maybe the exception of maybe Touch The Sky, but ever since its inclusion in Disney Dreams!, it's a song Disneyland Paris guests are becoming more familiar with. I'd hazard a guess, that as great as songs like I See The Light from Tangled are, it's actually the original song possibly called Believe, that people come away signing. Once again, Disneyland Paris music supremo Vasile Sirli, in collaboration with Gordon and Lisa Goodwin have hit a massive home run with this song, which is just begging for an official release, preferably a CD single like we got in the good old days.
Set and Costumes
I don't think anyone had high hopes for the set, knowing it would be built on top of the existing Frozen sing-along set – what could they really do? On entering The Chaparral Theater for the first time to see The Forest of Enchantment I was mildly impressed, but not blown away with the foresty scene before me. However, when the mobile set pieces come into play, especially the lights and boat during the Tangled scene and the huge Kerchak head during the Tarzan scene, that's when you realise what a great job they have done and the whole is greater than the sum of its parts.
While the scenery and props all around look great, the costumes are of an equally high quality and really help to enhance and portray the characters of the new ones introduced for The Forest of Enchantment. Lezardo and Ragina look fantastic with their striking red outfits, with the latter embodying the fire she represents perfectly. The greens and blues of Waterlilo and Lucile work so well for the water and wind, with accompanying cast playing the part of frog like creatures, grass dwellers and all kinds of magical beings. Every single performer, now matter how big their part, has a costume that defines their character and helps to engage with the audience.
Movement
The whole show is constantly in motion, from the fluid dancing and acrobatics at the start, to the subtle billowing of the smoke whilst Rapunzel and Flynn Rider are singing. Be it Tarzan amazing us with jaw dropping skill at the top of a ceiling hung rope or Waterlilo and Baloo dancing together, there is always something going on visually to compliment the soundtrack. We have characters coming into the crowds of guests where they do interact, and Merida using every inch of the stage to show off her archery skills. There is a Cirque du Soleil atmosphere which gives guests a different experience every time they watch.
Performers
None of this would matter if the performers themselves weren't up to scratch but they are all superb, and it's those performers themselves that bring the magic to these characters and are absolutely perfect in their roles. It's so nice to have a full show of live singing again, and at such a high level too. These are West End / Broadway quality performers and it shows.
Everything brought together gives over 20 minutes of top class entertainment that few were expecting but almost all are celebrating. With all the characters on stage at the end, and confetti coming down from the skies, it's a festival atmosphere with much huge doses of emotion and happy people all around.
There are rumours that The Forest of Enchantment could come back this October and other rumours say it will be back next February. Nothing has come from Disneyland Paris themselves so we'll just have to wait and see, but what maybe started off as a fun little show has become a huge favourite of guests. The Forest of Enchantment absolutely must return, and let's keep it for a nice long run, evolving and growing over time.