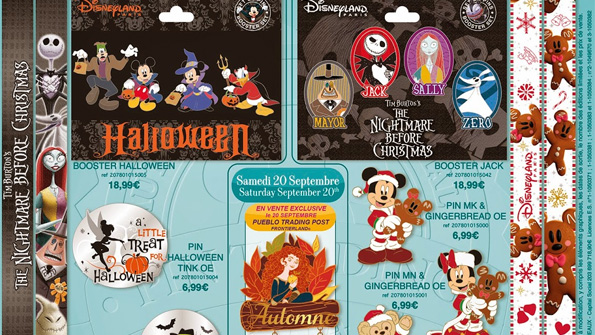 Disneyland Paris Pins for September 2014 – Halloween, Christmas, Autumn & Nightmare Before Christmas
The Disneyland Paris pin release poster for September 2014 is out relatively early, and with Christmas pins included, along with the rain outside, it's clear that summer is coming to an end.
Disneyland Paris Halloween 2014 Pins
Four of the most iconic Disney cartoon characters in Halloween costumes and spooky poses, on special themed backing card. What's not to love? Booster sets are some of the best value pins you'll get outside of the sales in Disneyland Paris, and while most are usually trading fodder, these are good enough to be keepers, Goofy and Donald in particular.
The Tinker Bell 'a little treat for Halloween' is a spectacular pin. It's pretty simple, but the colours and layout are just perfect – this is a pin I have to have in my collection. The Perry one looks nice, but I'm still yet to see even one minute of the show he comes from.
Disneyland Paris Autumn 2014 Pin
The first limited edition pin of the month, and with her red hair, Merida from Brave fits in perfectly with the autumnal colours. Always loving a dangly bit, and at just 600 pieces you may have to hot foot it over to the Pueblo Trading Post on Saturday September 20th to grab one.
Nightmare Before Christmas Disneyland Paris Pins
They could have gone either way with Nightmare Before Christmas (NBC) pins, as they can cover Halloween and Christmas. They've not really gone either way, as these pins are quite generic, but as with previous pins I've discussed, the design and layout is very nice. There are so many NBC fans that I'm sure these will sell well, and have the advantage of being relevant through two successive Disneyland Paris seasons.
The aforementioned booster set is available from September 27th, but you can get a NBC lanyard as early as September 6th, when the other Halloween pins go on sale.
Disneyland Paris Christmas 2014 Pins
With Mickey and Minnie holding gingerbread men and a 3rd pin featuring Duffy, these very early Christmas pins fall in the cute category, which don't really appeal to me, but will have a bucket load of fans and potential buyers I'm sure. The accompanying gingerbread men lanyard fits in perfectly, but I've never seen a plastic ticket holder sold separately, as is here for €5,99.
Disneyland Paris Pin Trading Day
For starters this event isn't sold out at the time the poster has been created which is always nice. The design of this little announcement is really good, just like the pins. I do wonder if there had been a new design direction in the pin department, because things do seem to be improving. The pin trading event is located very aptly at the Pueblo Trading Post, on Saturday 27th September. Try trading your newly bought Christmas Duffy pin for a rare limited edition pin – I dare you!
I was right in saying there would be no attraction pins after having three released last month, but what we have got for September is a pretty good array of pins. The Tinker Bell and Halloween booster set in particular are must haves for me.