Disneyland Paris Bonfire Spectacular 2011 Photos
How lucky are we to have Bert Snyers in Disneyland Paris and poviding us with these stunning photos to use? Very lucky is the right answer. This next set of photos were taken last last at the Bonfire Spectacular over Lake Disney. It looks like Mickey Mouse was present and the master of ceremonies, and in his Sorcerer Mickey guise, who better? I've been lucky enough to see Fireworks over Lake Disney once before and it is absolutely spectacular, as the name would suggest.
Due to the residential areas near Disneyland Paris, fireworks are only used a few times a year, so if you ever get the chance to be in there when they do have a firework show then be sure not to miss it. Aside from their rarity, they go all out and put on a spectacular show. I don't think anything will ever beat watching Wishes in Disneyland Park on a late summer evening, but these photos indicate that this was as good as fireworks can be without a Disney Castle as a backdrop.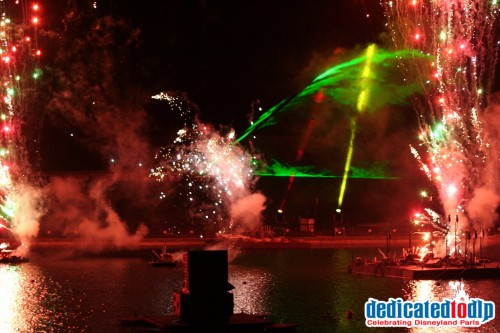 We love to feature photos from inside Disneyland Paris so if you have any you are proud of and would like to see them published here, then send them over to us at dlp@dedicatedtodlp.com and we'll show the world your awesome photos. Please be assured that your photos will never be used anything other than this website and you will be fully credited in what ever way you want.