Guest Post: Katie's Disneyland Paris Trip Report
Hello! I'm Katie, the Katie part of Katie and Jen's Disney film podcast (The KJDPod) available on iTunes, Soundcloud and Stitcher. We take a different film each episodes and share facts and opinions, most recently we covered Up, Pinocchio and look out for Beauty and the Beast very soon. You can find us at KJDPod.com.
Here is my Disneyland Paris report from Sept 11th to 15th. I went with my partner Mike, my best friend Liz her partner Scott and (they will be referred to L,S and M respectively)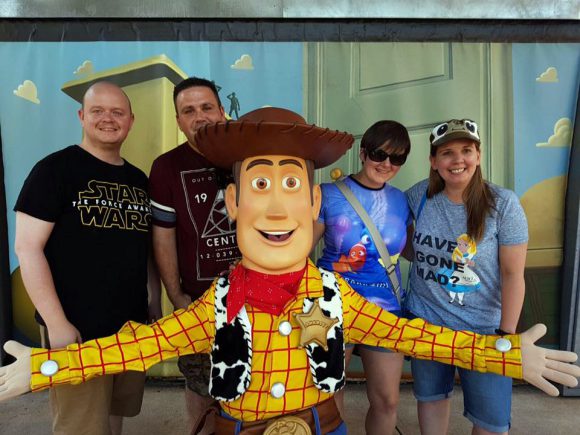 We took the Eurostar were booked Into the Cheyenne. Excitingly M and I had a refurbished room and I was able to experience a Texas room and I say I can't speak for the little beds but the double was comfy. The room was clean. The boot lamp survived and the Toy Story theming is not overbearing. The plug sockets are no longer death traps. Also there's more, there's a UK plug socket and two USB ports for charging phones etc. Air con and Wi-Fi as well. Wonderful.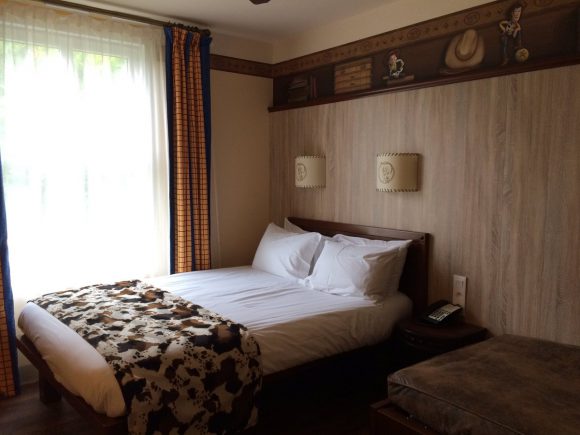 Inside the Cheyenne there is a security man who had a scanning paddle. It's a little annoying going into breakfast and get scanned especially as the main scans take place on entering the park and entering the Disney village. Be warned bra straps can set the beeper off! It beeped on my shoulder and I was confused. The man put it behind my other shoulder and it beeped in the same place. I wasn't embarrassed but others could be!
Check in was easy and off we went to the park.
The refurbed areas and rides are amazing. The paint just pops especially in the sunshine. Peter Pan looks spectacular after it had a polish. The Peter shadow might have got people talking but the Tinkerbell is better!
It's a small world has had a refurb but there's still dolls out, and sadly one of the initial dolls. In fact the first one you see looks like an ice skater that's given up.
The weather was amazing. It was so hot. This was my 13th trip and I had never been when it was this hot. We had to swap the hot chocolates for slushies and dole whips. I bought a Crush cap which I wore the entire time. Once on its a small world a cast member asked if we wanted the front or back?
Me: front please
Her: can you drive a boat?
Me: I think so
Her: you have a turtle on your head I trust you.
As our boat was preparing to leave I caught her eye and mimed driving a boat. She shook her head and mimed rowing! I shook my head and exclaimed 'row? No!' And she laughed at me! Awesome. I love cast members who are willing to have a laugh.
Our first ride is always Pirates, we like to see our friend who works on the ride too. On our way there disaster struck! The 'secret way' our pet name for the covered pathways to get from Casey's to Pirates was closed off! So we had to take the normal routes! The swinging pirate has also left. I'm used to seeing him not moving, but he wasn't there at all! I love pirates, I lost count how many times we rode it. It's just such a great ride.
On our second day we saw Mickey and the Magician and without any spoilers it was AMAZING. I thought I was going to miss Animagique and while that will always have a special place in my heart this blew me away. I'm a big theatre fan and they really used lots of staging tricks beautifully. I nearly cried twice, but without spoilers I can't tell you at which bits! We also watched the parade that day and as the others all had better cameras than me I decided to dub myself chief waver knowing that often the characters are looking for faces rather than phones. I waved to everyone and got some great responses but my favourite was Tinkerbell. I always forget she is on the back of the parade and so I was excited to see her. She looked at me and read my T-shirt (it had princess' listed on it that day) she used a finger to show she was scrolling down it and then pouted because she wasn't on it. I apologised and she gave me a massive smile and blew me a kiss. I blew her one back and she caught it. Disney magic right there. I was never a big Tink fan, that day I went and bought a mug with her on it!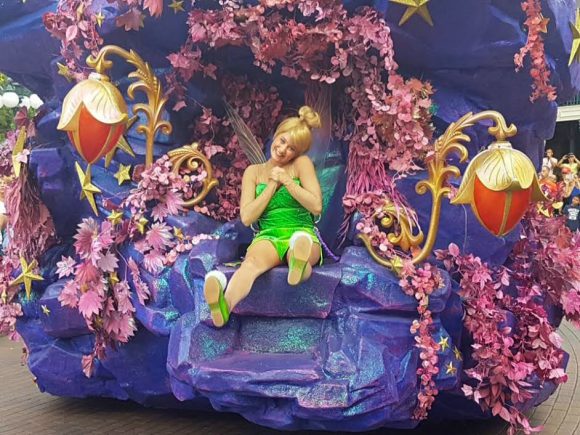 We had a breakfast at Café Mickey on the fourth day. It was so busy (I think it must have been included in a package as there were a lot of vouchers flying about). In the 10 years I've been going to Disneyland Paris I've been sad to see what I consider a decline at Café Mickey. The menu, in my opinion does not seem to be as varied as it used to be and the characters seem limited. I can understand why the changes have been made. We only went there this trip to get a few character photos, especially as L and I have been many times but have hardly any photos of the two of us together!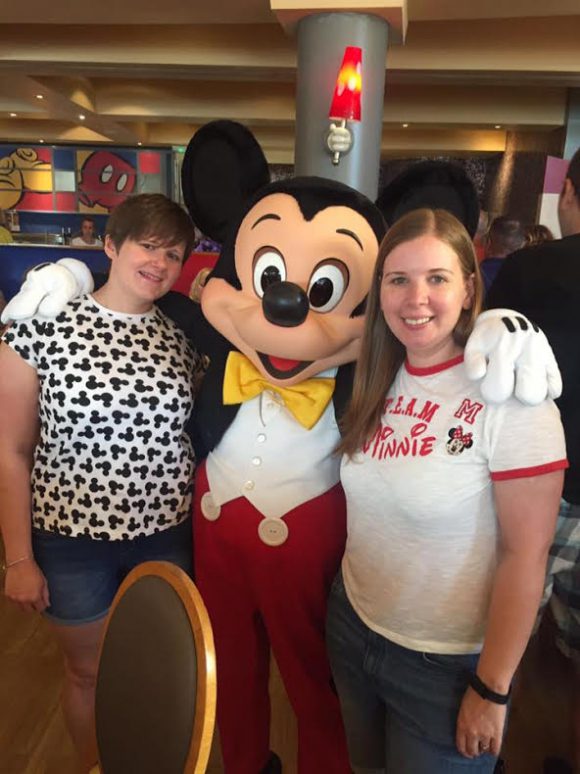 Café Mickey aside we had amazing meals, I'd never eaten at Fuento del Oro or Au Chateau de la Marionette before but they were both fantastic. At Fuento M had fajitas and I had the vegetable roll things and onion rings, delicious and that Marionette M had the chicken and I had the hot dog. As a group we ate at Blue Lagoon, I had the prawns, the chicken and the AMAZING coconut mousse. Two of them had the flambe and it was really cool to have a flaming pudding at the table! Bistrot Chez Remy I had salad, cod and a huge chocolate mousse. We had fantastic waiters at both places. And on our last day we had a traditional (for us) last day buffet at Plaza Gardens who have upped their pudding game since last time we went!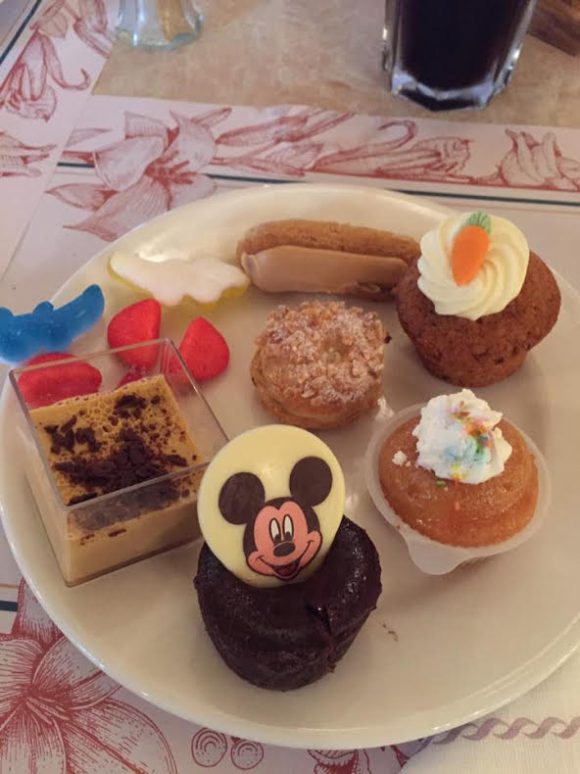 We stayed to watch the fireworks which were glorious though I chose the wrong place to stand and the sound wasn't great, it was sort of double, but it didn't seem to bother anyone else so that was good.
M and I didn't spend a lot of time in the Studios, aside from Mickey and the Magician, Cinemagique, Slinky Dog, The Studio tour (M hadn't seen it before) and Ratatouille there's not much else there for us (except Stitch Live which we didn't manage to get to this time!) M doesn't like big rides, and while I will ride Crush's Coaster, Tower of Terror and RC Racer I didn't mind missing them out! When we were on Ratatouille we always used the single rider and didn't have to wait very long at all. In fact about 15 minutes was the longest we waited for anything. The park seemed busy but the rides weren't. We did queue to meet Woody and that was an amazing character meet. He was making fun of how my hair is long and M doesn't have much hair and that S had spiky hair. We had a group photo and couple photos and the cast member was wonderful.
We didn't go to the frozen sing along, we didn't fancy it and I could provide a Frozen one woman show at the drop of a hat (though no one ever asks me to!) we did see Elsa and Anna pass through main street which was nice.
The Swiss Family Treehouse looks amazing. I hadn't been up it for many years. But it's so clean and shiny and great to explore.
And I had a dole whip! Well a pineapple float! I enjoyed it so much I got another the next day and M who doesn't like pineapple tried mine and immediately bought one!
Finally, one evening we were back at the Cheyenne and outside the saloon when Chip and Dale dressed as Native Americans came running round outside. The children who were around were delighted (and the adults). It's such a great idea at the end of the day to have characters outside for kids to play with and the adults can sit and watch! A completely wonderful Disney trip and I have withdrawal symptoms that will last until next time!