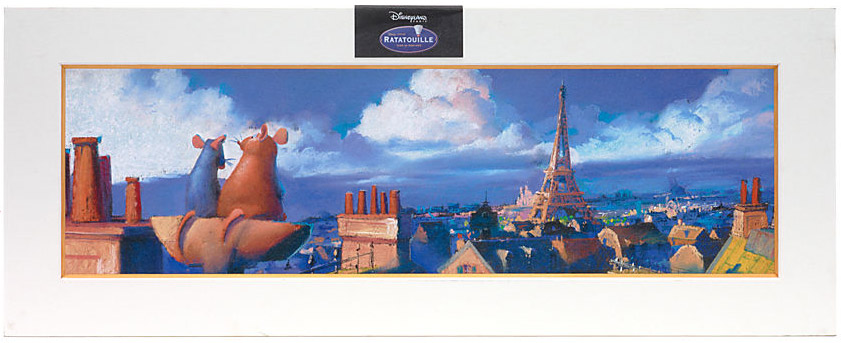 Disneyland Paris Merchandise: Ratatouille Limited Edition Print Available on Disney Store Website
If there is one series of Disneyland Paris merchandise that has stood out over the past few years, it's the reproductions of the murals in the World of Disney Store, which I believe there are six of. Co-host of the podcast Mark bought all of them, and they look mighty fine on his wall. Now a new print of a similar size has been made available on the Disney Store Website
, to celebrate the opening of Ratatouille: The Adventure and the Place de Rémy area.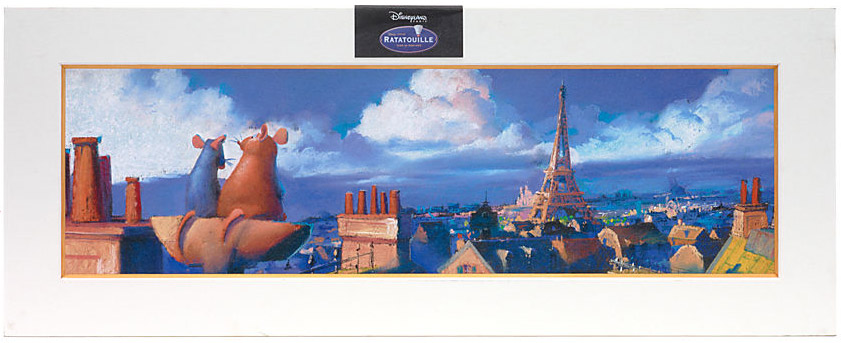 I know it's not obviously a print that represents Disneyland Paris, which has been a complaint of mine for past items, but not only is it beautifully painted, but Rémy and Emile could easily be sitting atop one of the buildings in La Place de Rémy looking at the Eiffel Tower. It also comes with a really nice certificate of authenticity. Fresco is a particular technique of painting murals onto freshly laid plaster, in case you wanted to know. It's limited to 500 pieces, sold in Disneyland Paris and on Disney Store websites
across Europe, I'm assuming.
The mural prints I mentioned earlier were €70 in Disneyland Paris, so at £70 from the Disney Store, that's not too bad, especially when you get free shipping on any orders over £50. If you like this it's a good opportunity to grab some more bits of Disneyland Paris Merchandise
and take advantage of not paying any extra for shipping.
I do like that since they started to list Disneyland Paris merchandise on the Disney Store website that we are seeing more and more added every month. I especially like that the attraction series of pins
are on there. One thing I would like to see added is the Disneyland Paris calendar, which I'm sure they'd sell by the truck load should they list it.