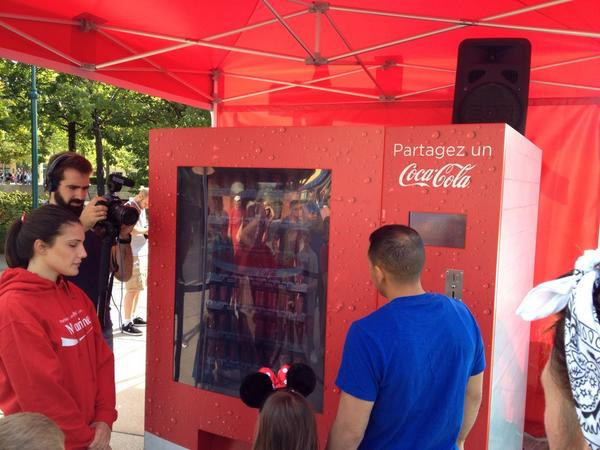 Disneyland Paris News: Coke Can With Your Name On In Disney Village, For Free
Thanks to Liesbeth over at @MyDreamVoyages for not only tweeting about this, but also kindly allowing me use her photo. Liesbeth used to be Cast member in Disneyland Paris and is a keen pin trader, so follow her for lots of pin information and Disneyland Paris adventures. Back to Disney Village, and next to Panoramagique there is, or at least there was at the weekend, a machine that allows you to get a Coke can with your name on it.
They are mini cans, but they are free, yes absolutely free! You don't have a list to choose from, you can actually type in your name. So at last, even if you have the most obscure name, you can have your name on the side of a Coke can. I say this, but I have no idea how long it will be there, or even if it still is! I wonder how many will have Mickey, Minnie, Anna, Elsa or something else very Disney on their can instead of their own name?
httpvh://www.youtube.com/watch?v=w0_EfjRs99A
You can see from Liesbeth's video, that not only are there some funky graphics while your can is being printed, but it does it very quickly. So if it is still there, make sure you get yours, take a photo of it and show me!
Coka Cola have a long history of involvement with Disney Parks and it was three years ago that I wrote an article about the Coca-Cola Partnership in Disneyland Paris, which included that I'd read Disneyland Paris don't pay a penny, or Euro, for the Coke sold in the resort. As I said then it works, and three years on I still drink Coke Zero, partly because I like it and partly because it's my Disneyland Paris drink.