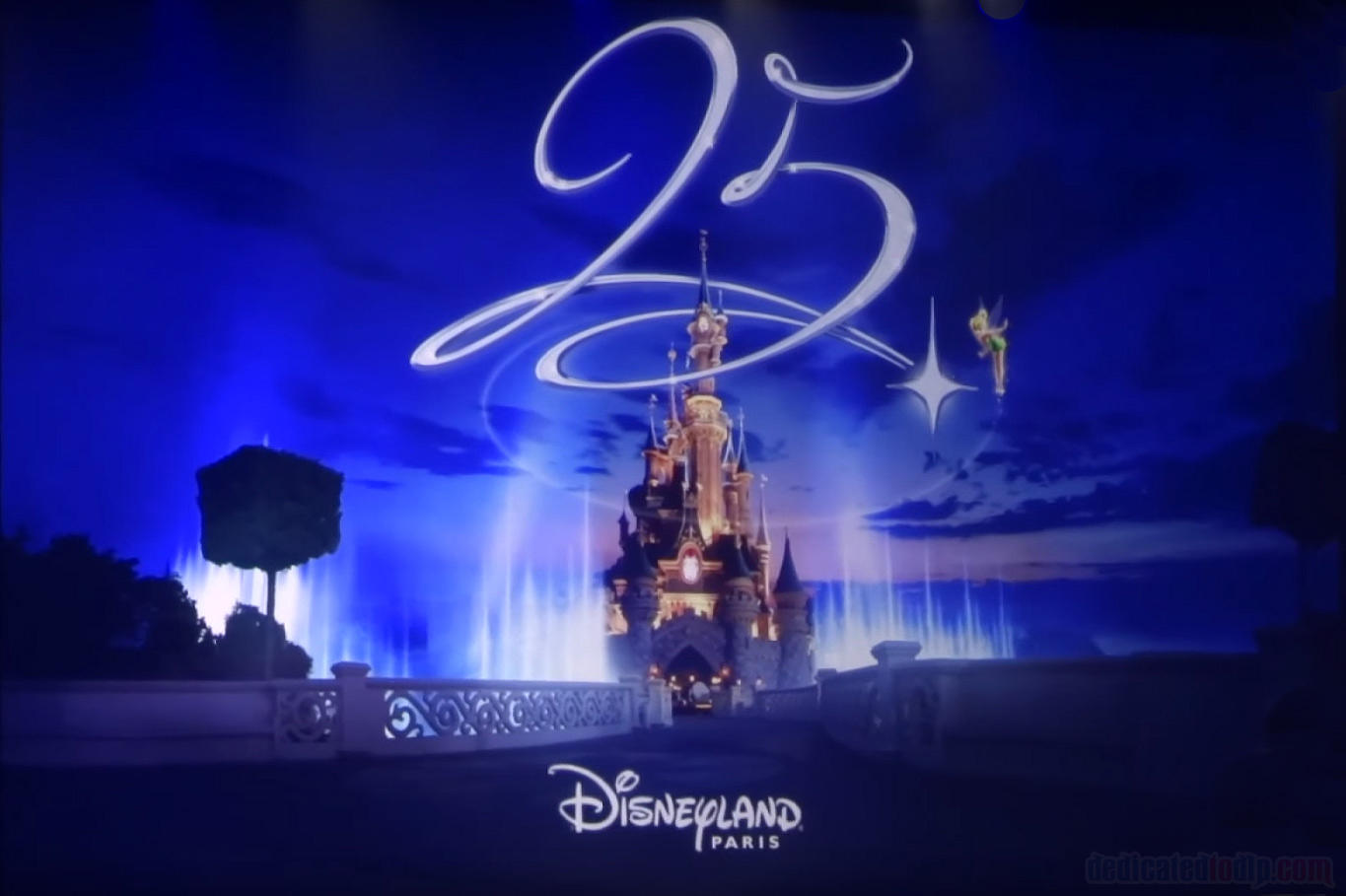 New Disneyland Paris 25th Anniversary Rumours Discussed
My good friends over at ED92 have today published an article of what we maybe can expect for the Disneyland Paris 25th Anniversary in 2017. Remember, these are just rumours and none of this has been confirmed by Disneyland Paris. While I have no doubt that ED92 has some great sources, we must at this point treat these as rumours, and not confirmed pieces of news. With permission, I am quoting extracts from the article, but for the full article please go over to ED92.
Decorations
The 25th will be draped in blue and white, reminiscent of the Resort's 15th Anniversary…From Main Street Station to Central Plaza, in Town Square and on Main Street…at night that the true nature of the decorations will be revealed, as Tinkerbell seems quite set on sprinkling a bit of Pixie Dust to make everything …sparkle with light.
This is great news as the 15th Anniversary decorations were fantastic, with the gold and blue colours complimenting the Castle superbly. We had Lumiere as the host and the 15 emblem on the Castle, floats and all the branding and merchandise was very classy and fitting of a landmark occasion. The banners on Main Street also glistened with tiny lights as Disneyland Park descended into darkness, so anything reminiscent of the 15th Anniversary for the 25th Anniversary gets a mark of approval from me.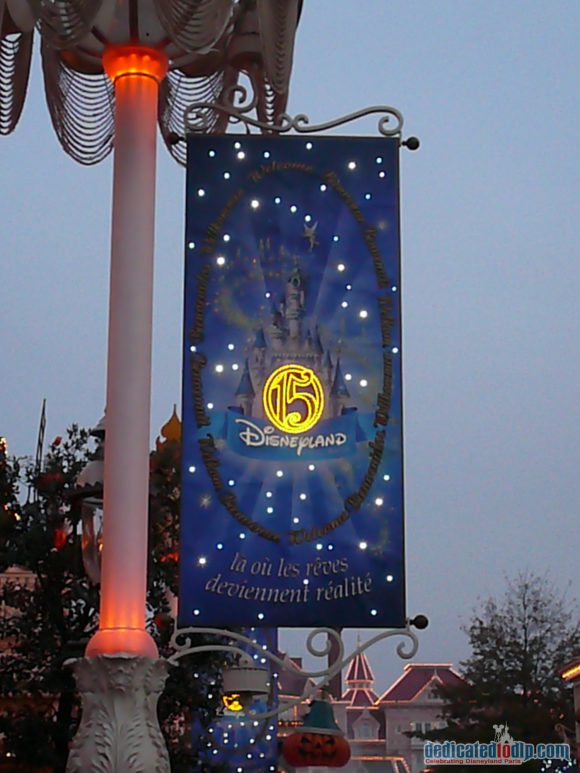 Parade
Inspired by the Happiness is Here Parade (Tokyo Disneyland) and Festival of Fantasy (Magic Kingdom), its 8 large floats mean just as many unforgettable memories…If you enjoy the art direction for the upcoming show Mickey and the Magician…steampunk touches…the show will start with a large articulated 'telescope' float…From Peter Pan to Finding Dory, Toy Story, The Lion King and Frozen…a certain Dragon that has been delighting the Magic Kingdom guests is expected to be built for the new Parade.
This is one rumour that has been doing the rounds for quite some time, but this is the first time we've seen any kind of detail mentioned. Looking at the two parades mentioned, Happiness is Here Parade looks more fun (and fancy free), whilst the Festival of Fantasy Parade has some of the most amazingly designed and elaborate floats I ave ever seen, and if we get anything like that in Disneyland Paris then the new parade alone will be a game changer for us fans. I'm liking the mention of Steampunk as that's something I love and wish we had more of in Disneyland Paris – I'm looking at you Discoveryland. Stitch riding a Steampunk inspired seahorse bicycle from the Happiness is Here Parade may be one of the greatest things I have seen. This screenshot is from HannaaMontan.
The float themes don't sound too different to the ones we already have with Disney's Magic on Parade, so maybe the characters, props and scenery will be re purposed on these new floats, or maybe they just think these are still the films we want to see represented. That dragon though, if that is the one wowing people in Walt Disney World, then I couldn't be more excited. The look, the movement, the fire – yes please, give me that dragon in Disneyland Paris and I'll be a happy man. Screenshots from The Dis.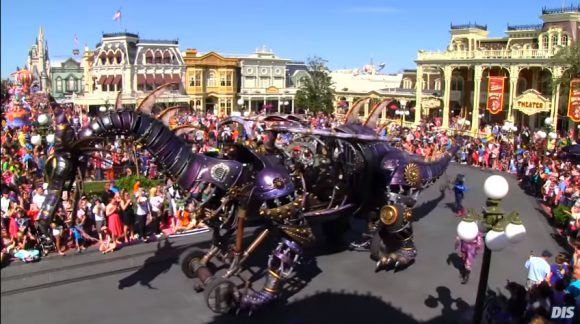 Forest of Enchantment
Returning in 2017…This time it should be running until the end of summer… set tweaked to give the show more depth and allow for better viewing points.
Again, this has been rumoured already and will be almost universally welcomed. My thoughts on Forest of Enchantment can be read here and here – enjoy.
Castle Stage – A New Show
It will honor the Disney Princesses in an impressive "royal" setting, and will be taking advantage of the experience gained last year at Halloween and Christmas.
Anything on the Castle Stage is a positive – with the backdrop of Sleeping Beauty Castle, it's the most gorgeous setting for a show anywhere in the world. Though I never saw Christmas Wishes myself last year, I did watch a video and reviewed it here. For those that can't be bothered to click though, it was great little show that made good use of the stage. More recently I did see the Welcome To Spring show on the Castle Stage as part of Swing into Spring which I also really enjoyed. It does seem Disneyland Paris have once again realised that using that Castle Stage adds a lot to the guest experience and bolsters the entertainment offering considerably.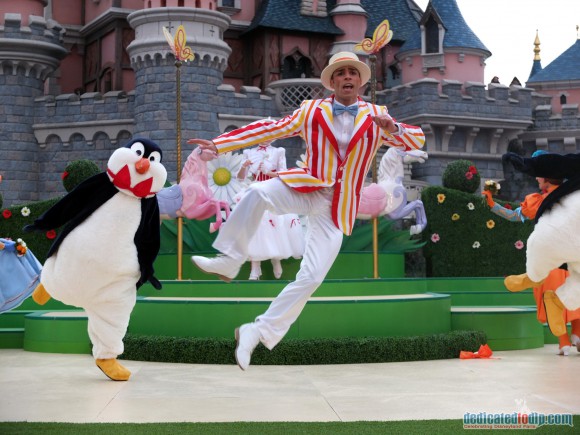 Central Plaza – Happy Birthday Disneyland Paris
With the help of around 20 Disney Characters (with some of them new to Disneyland Paris), the heart of Disneyland Park will be truly energized several times a day in a big party reminiscent of the Move it! Shake it! Celebrate it! Street Party (Magic Kingdom) and Goofy's Garden Party (Disneyland Park).
On the back of the news from earlier today of Moana coming to Disneyland Paris, the most exciting thing I take away from this is new characters. What new characters is up to you and I to speculate on until get some kind of official news from Disneyland Paris, but looking at this video of the Move it! Shake it! Celebrate it! Street Party and knowing what Goofy's Garden Party is like, the emphasis will very much be on fun, and maybe Moana herself will stick around to part of this rumoured addition to the 25th Anniversary celebrations?
New characters as a part of this new Central Plaza happening will be great, but will any of them have meet and greets too? Let's hope so, and while I'm making requests, please don't bring back the Central Plaza Stage. One would think looking at the two pieces of inspiration that have been referenced that it won't, but please Disneyland Paris, don't even be tempted.
Disney Dreams! – 25 Years of Dreams
Starting completely from scratch, to take us on a journey through new dreams, with new effects…it's Mickey who 'wishes upon a star' and embarks on an adventure through the biggest Disney Studios productions…hope you are already a fan of Ignite the Dream! (Shanghai Disneyland), because Disney Dreams! '25' will be its 'successor', with a number of similar scenes such as the explosive Pirates of the Caribbean sequence or the tumultuous Star Wars battle.
If you have been listening to the podcast, and you should, you'll have heard me theorise on several occasions that the 25th Anniversary will bring a new version of Dreams! to Disneyland Paris, and if this rumour comes to fruition, I'll be proven right. I've also expressed my desire to see Star Wars in Dreams!, but add in Pirates of the Caribbean and it will be all my dreams come true – pun very much intended.
httpvh://www.youtube.com/watch?v=6lVwVBM083c
Disney Dreams! put Disneyland Paris at the forefront of Disney Parks entertainment when it debuted for the 20th Anniversary in 2012, and these changes sound like they could be taking it to the next level, including some of the very biggest, most popular and most relevant film franchises of the last 20 years and the next 20 to come.
Main Street Station- Kiss Goodnight
Mickey will wave at his guests one last time, to wish them a safe journey home and a good night full of magical dreams.
Unless I'm completely bonkers, this used to happen in Disneyland Paris some time ago – anyone care to confirm or deny? Whether it's new or old, I can't think of a better way to end the day in Disneyland Park, and coming directly after Dreams! emotions will be running high with this double dose of late evening magic. I daresay a few tears will be shed as guests walk away from Main Street Station. Perfect.
My Verdict
Some of this wasn't new to me, or you most probably, but all in all I am over the moon and while these are just rumours, they have actually exceeded my expectations for the 25th Anniversary in Disneyland Paris. There have been murmurings of budget cuts and toned down celebrations, and if this still holds true than I can't even begin to imagine to what they had planned initially. Add in Star Tours: The Adventure Continues and an overhauled Pirates of the Caribbean, possibly with characters such as Captain Jack, and the 25th Anniversary in Disneyland Paris is looking pretty fantastic. Thanks once again to ED92, after reading, digesting and discussing all this, I am very excited at the prospect of celebrating 25 years in Disneyland Paris.