The Two Big Reasons Why Space Mountain in Disneyland Paris Shouldn't Have A Star Wars Theme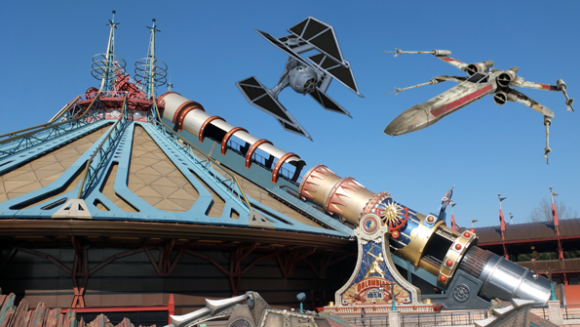 I got on holiday for a few days and everything goes crazy – the UK referendum votes in favour of leaving the EU and the English football team loses in the second round of Euro 2016 to rank outsiders Iceland. They say things come in threes, and to add to the dystopian few days we have had rumours started to spread that Space Mountain: Mission 2 would become a Star Wars themed attraction for Mission 3 in 2017. This rumour seems to come out of nowhere and could just be someone adding 2 and 2 to get something a long from 4, based on the Hyperspace Mountain developments in the US. It sounds almost implausible, and it is for following 2 reasons I believe it shouldn't happen.
1. Theme Conflict
Space Mountain has a design inspired by Jules Verne's classic 1865 novel From the Earth to the Moon, and is a masterpiece of Victorian steampunk construction. Star Wars, as much as I love it, is not fitting with that theme, countess pieces of fan fiction aside. One could make the argument that nothing would need to change from the outside, and that Space Mountain and Nautilus could sit side by side in perfect harmony as they always have. But you can't have an exterior that has no relevance to the ride contained inside, and there is no way they would have a Star Wars ride and not plaster branding all over the outside to let people know.
2. I Won't Ride It
I am an ardent thrill avoider and that will never change. Big Thunder Mountain and Tower of Terror, one time each, are the extent of my thrill ride adventures – that's enough for me thanks. So if they do change Space Mountain into a Star Wars themed ride then I wouldn't be able to ride it, and as a huge Star Wars films that's not really fair, is it? So I'm too old to experience Jedi Transiting Academy and too much of a chicken to ride Space Mountain: Mission Star Wars – I really need to find a way to love the classic Disney animated features more – Fantasyland is my future.
Could It happen?
Ever since Mission 2 was introduced, fans have been crying out for the original De la Terre à la Lune (From the Earth to the Moon) to return, and this rumour would take Space Mountain even further away from that, irreversibly so, maybe. While rumours have been running rife years now that a Star Wars mini land will encapsulate Star Tours and what is currently Discoveryland Theatre and Pizza Planet, to move further into Discoveryland and take over more attractions would destroy the essence of that area. I'm a huge Star Wars fan but I want more of the Jules Verne world in Discoveryland, not less. How long would it be until Orbitron became a Tie Fighters and X-Wings ride, and Autopia a Speeder Bike chase?
How marketable is Jules Verne in today's world, to the potential audience for Disneyland Paris, especially when you put it side by side with the pop culture juggernaut that is Star Wars? Putting personal preferences aside, you know the answer to that. When I first heard this rumour and when I first started to write this article I thought it was ludicrous – the work of an over-active mind belonging to a fan with a very long wish list of things they'd like to see in Disneyland Paris. Now I'm not so sure – could Disneyland Paris be on the verge of turning one it's five lands in Disneyland Park into Star Wars Land and could a whole Star Wars Land be exactly what the resort needs and what I'd want too?