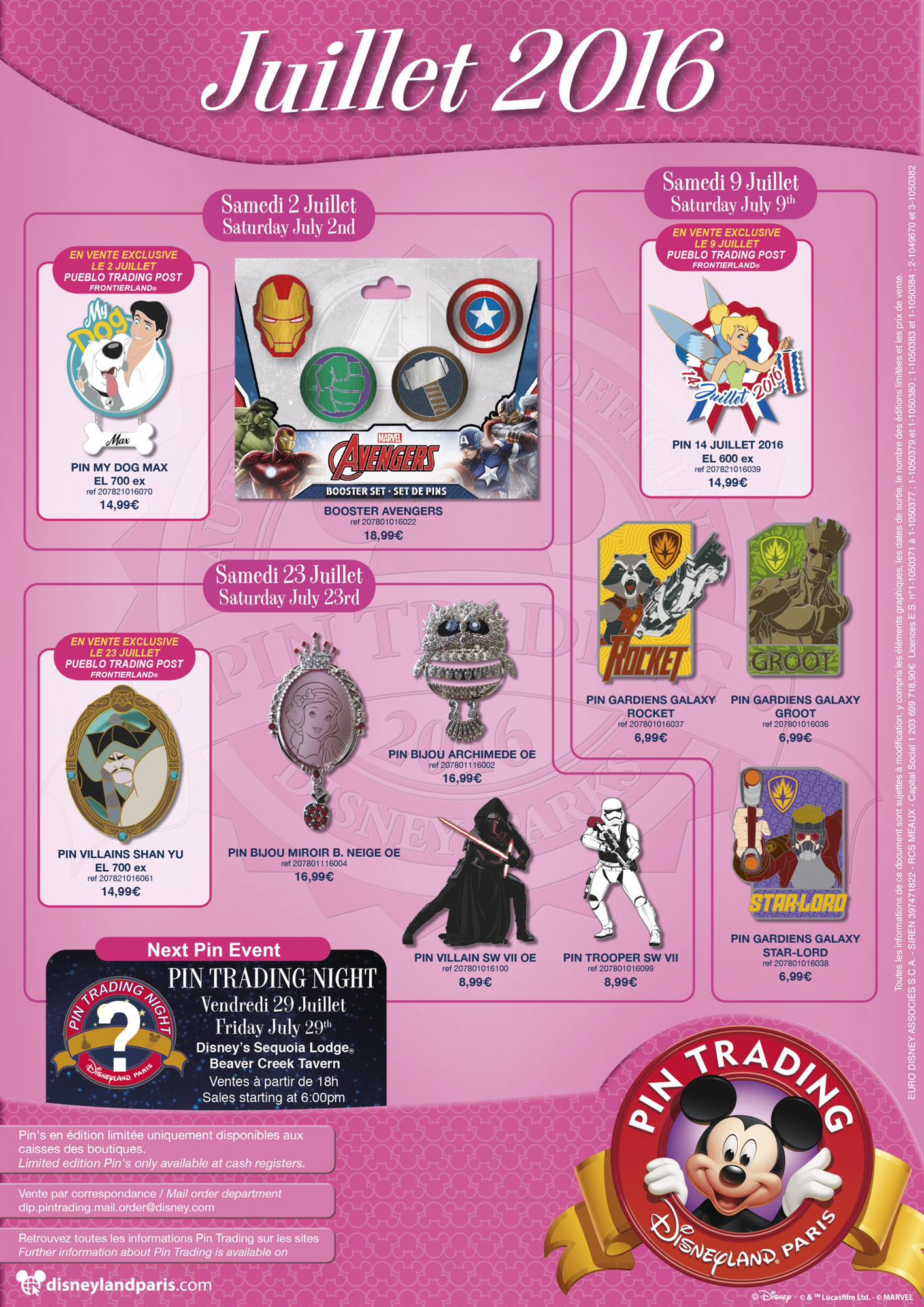 Disneyland Paris Pins For July 2016: Marvel, More Marvel and Some Disney Too!
In one respect it feels like June has flown by, but it also feels like ages ago that I talked about the June pins. Long or short, the month has gone, and so we now have news of the July pins in Disneyland Paris.
Though you can click on the above pin poster to enlarge it, or make it smaller depending on what device you are using to view this article, I have decided to shake things up and look at each set of releases by date, and with that a close up of those specific pins – let's look at the detail.
Disneyland Paris Pin Releases – 2nd July 2016
I'll hold my hands up and admit that I had to ask my wife who the characters in the My Dog pin are, and it's apparently Max (who I figured from the pin itself) and Eric from The Little Mermaid, in the continuation of this canine series. The Marvel set I like, because rather than just going for standard publicity images that we've seen a million times, we have these icon pins instead, representing the 4 biggest name members of the Avengers. Being a big Iron Man for years the Iron Man mask pin alone is very appealing to me. For a booster set this is pretty great.
Disneyland Paris Pin Releases – 9th July 2016
That July 14th pin is tailor made for Mark who co-hosts the podcast with me – who is the biggest Tink fan I have ever met. With the French flag having the same colours as the US flag, at first glance this almost looks like a 4th July pin rather than a 14th July one. Being both a great looking pin, and a limited edition release, I can imagine this being one of the quicker sellers in Disneyland Paris this year. If there any left on July 15th I'd be surprised.
The Guardians of the Galaxy pins are pretty decent, though not as striking as the aforementioned Avengers set. I wonder why July is seeing this influx of Marvel pins in Disneyland Paris – the Civil War DVD is out in a couple of months, but neither sets of Marvel pins bear that branding. I'm not complaining though, I'm a big Marvel fan, so long may it continue.
Disneyland Paris Pin Releases – 23rd July 2016
First Marvel and now Star Wars – you are spoiling me with these pin releases in July Disneyland Paris, thank you! I have one complaint about the Kylo Ren pin – he's labelled as Villain. He's not just some generic bad guy, it's Kylo Ren, the main bad guy in The Force Awakens and the subsequent films to follow. At least label him by his actual, and very widely known name. Even the Trooper has more identity than just Villain! That little moan aside, nice to see some more Star Wars pins and as someone going in August, I'd like to see this series continue with Rey and BB-8 at the start of August if you please.
The Archimedes (The Sword in the Stone) and Snow White pins are very fancy indeed – not to my taste, but I'm well served with all the previous pins I've discussed. Bijou is defined as a small, exquisitely wrought trinket which described these pins perfectly and I'd be surprised if this isn't an ongoing series. Shan Yu from Mulan features in the limited edition Villains Series pin, a character you rarely see immortalised in enamel and will be welcomed by many.
The next trading night is July 29th (my birthday) in the Beaver Creek Tavern at Disney's Sequoia Lodge. If the pins on offer there are anything like the recent Mickey and the Magician pins (Google them) then anyone who attends is in for a treat. All in all I am very impressed with the pins being released in Disneyland Paris for July 20016. I'd be very shocked if I don't come away with at least the Avengers booster set when I visit in August and probably quite a few more.