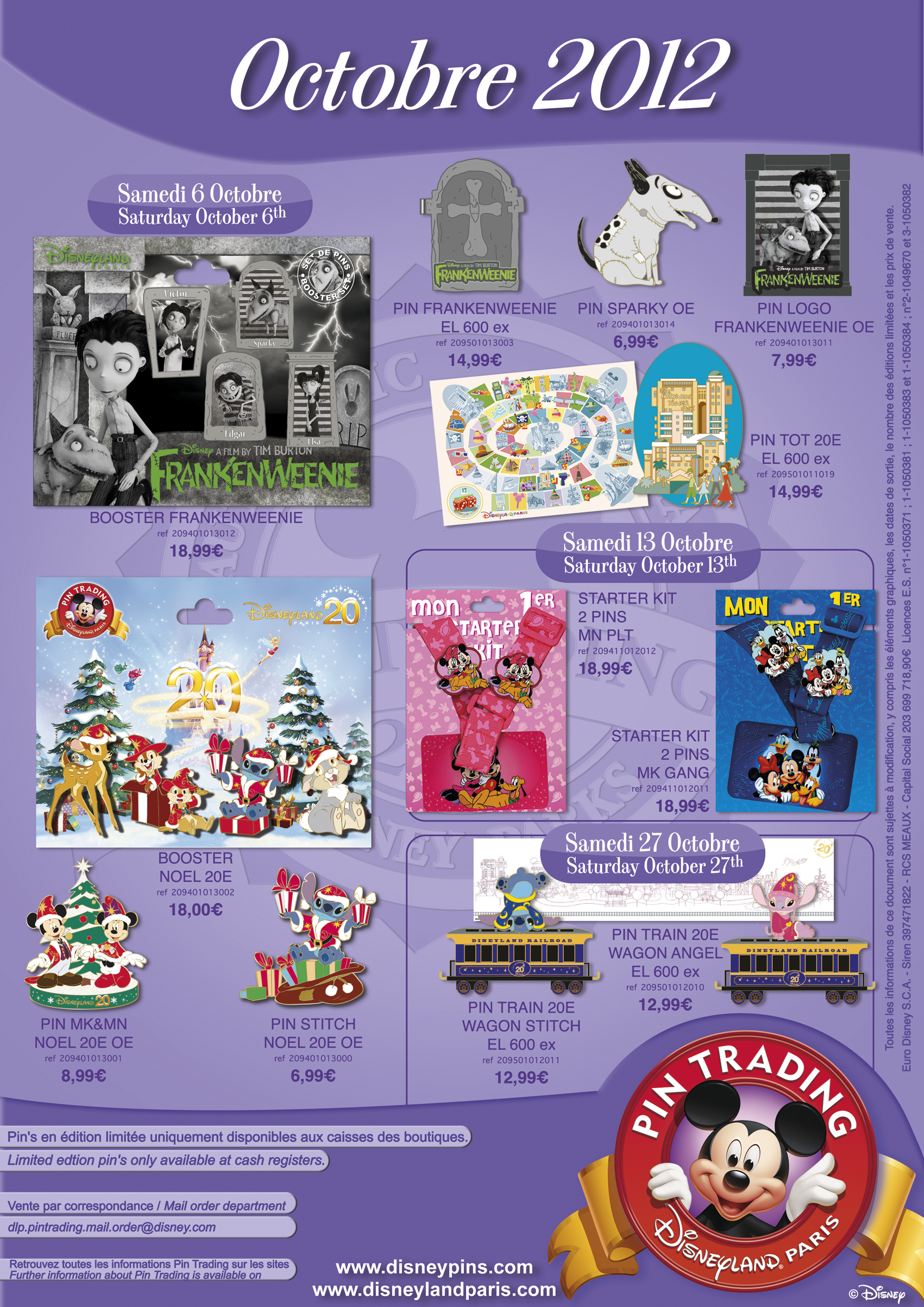 Disneyland Paris Pins for October 2012 – Say Hello to Frankenweenie!
Frankenweenie is the upcoming Tim Burton film which is an extended version of a short film he made in 1984. Now I remember seeing the 1984 version in the cinema, but I don't remember seeing Baby: Secret of the Lost Legend which was the only film it was shown before, according to Wiki! Anyway, back to pins, and as you can see Frankenweenie plays a big part in the pin releases in Disneyland Paris for October:
I pretty much always like the booster sets as they represent great value and are on nice backing cards, rather than generic Disneyland Paris black plastic backers. You'll notice that the main image of Victor and his dog Sparky on the booster set backing card is the same image they have used for a separate pin. No harm done there it's a good image, why not use it? If you like Frankenweenie then I'd say all 7 pins are worth getting – they look good and it's nice to get some grayscale pins as a contrast to the bright colours featured on most Disney pins. With Halloween and the film release these are sure to be popular, but only the gravestone pin is limited edition so they should be readily available.
Just one pin added to the pin game this month, and that one being Tower of Terror. I get that they have to keep to the style of the set but Tower of Terror doesn't really work against a bright blue sky and a happy family walking in front. At least that was my initial impression. Then I looked closer and saw that the Hollywood Tower Hotel shows no signs of degradation so I think this an image of the hotel before it became the house of horror that we see in Disney Studios these days. With that in mind I like it, but not at 14,99€!
The Christmas booster pack is cute, not for me but I can see it's appeal to others. Bit cheeky that the same pin of Stitch is used in the booster pack and as a standalone pin, albeit he is sitting on more presents and a sack in the single release pin. Not even I like Stitch pins enough to want both! The Mickey & Minnie Christmas pin sees them in their typical 20th Anniversary poses, but in front of a Christmas tree – that works for me, and probably the pin I'd want most from the selection of Christmas pins coming to Disneyland Paris in October.
The starter pin lanyard sets don't do a great deal for me but being labelled My 1st Starter Kit it doesn't seemed they are aimed at me anyway. The one good thing about these kind of kits is having the duplicate pins included – that way it encourages pin trading, which seems to be on the decline if my visit to Disneyland Paris in May is anything to go by.
The pin releases for October are finished off with Stitch and Angel 20th Anniversary train carriage pins, for those that are still collecting this set. I still think this set will contain 20 pins, time will tell.
Overall it's an ok set of releases this month – I'm a bit disappointed that there aren't any more proper Halloween pins coming out, on top of the 7 that were released last month. The Frankenweenie pins are the stand outs for me, and I'm not too bothered about the rest, though saying that, I know I'd probably end up parting with 8,99€ for the Mickey & Minnie Christmas pin if I were in the park and saw it. So, which ones do you like and more importantly, which ones will you be getting?