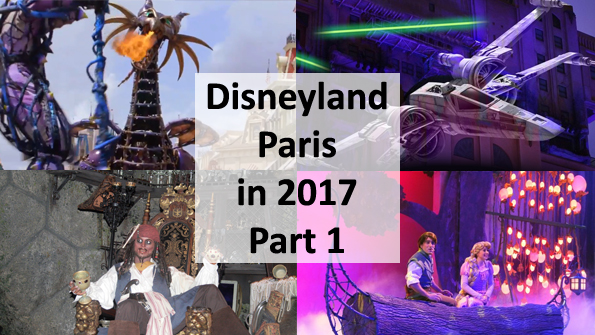 Looking Ahead: Top 10 Disneyland Paris for 2017- Part 1
With Christmas all but over, it's time to look forward to the year ahead. That in mind, here is my traditional article looking at what the next 12 months in Disneyland Paris has in store and what I most look forward to.
Disneyland Paris in 2017 – Star Wars Season of the Force
Starting in mid January, Walt Disney Studios will be transformed into the place where Star Wars Lives, with a new show, character parade and meets, and most anticipated, the Star Wars: A Galactic Celebration nighttime projection show on Tower of Terror. There are quite a few images and videos being shared on social media of the testing of the nighttime show, however, I'd strongly suggest you don't look at them if you are going anytime soon. Don't spoil it for yourself – save the excitement for when you are there. I'm not even going to this years Star Wars Season of the Force and I'm not going to look at any video footage.
So that's a whole bunch of exciting sounding Star Wars happenings, in the second Park which for years we have all been saying needs some life and attention. How can that not be a huge win? Well, apart from the extremely cold weather, which may not bother many of you as much as it does I, it looks pretty much perfect. Also worth noting that all but the nighttime show will remain until the end of September, so if Star Wars fun in warmer weather is for you, then you are in luck.
With the incredible Rogue One: A Star Wars Story still in cinemas now, Star Wars Rebels going from strength to strength each season and Star Wars Episode 8 coming at the end of 2018, it's refreshing to see Disneyland Paris at last capitalising on the most popular and enduring franchise in cinematic history.
Disneyland Paris in 2017 – Star Tours: The Adventures Continue
One small part of me is sad that we will no longer have the only original Star Tours in Disneyland Paris, the one I said goodbye to back in March, but the rest of me is thrilled that we'll finally be catching up to the rest of the Disney Parks around the world. Not only will we get a brand new 3D system, but the ride choices will be random, with several places during the experience where you can go to one of a few different locations. So whilst it's always fun for me as a Star Wars fan to ride the original, squeezing the arm rest and pew pewing as I go, to have a different ride almost every time is going to bring whole new worlds of galactic fun.
Of course there is more than just the ride as we have a brand new Star Wars shop coming AND a new permanent Star Wars character location where Star Traders, the old Star Wars shop, used to be. It's almost the beginnings of the Star Wars Land that has often been rumored for that area. I can imagine that when I get back to Disneyland Paris I'll be spending more time than I ever have in Discoveryland. certainly more than I usually do with my in and out visits to Buzz Lightyear Laser Blast and Nautilus. I can foresee spending a whole day just riding the new Star Tours continuously to experience as many variations as possible. Sounds like day full of WIN to me. Let's not forget that Space Mountain is also transforming into Star Wars Hyperspace Mountain at some point next year, but as someone that'll never ride it I'll be relying on all of you to tell me how that goes.
Disneyland Paris in 2017 – 25th Anniversary
It almost feels inadequate to include all this as one choice, but I will. To start with we have a brand new parade, or at least we think we do. The official brochure says that to be the case, but so far we only know of maybe 3 new floats. One can assume that at the very least we'll have these 3 replacing old floats and a new song, and at most all floats will be replaced or completely refurbished into the new theme, with a new song. Let's be honest, the fire breathing dragon alone is enough to get us very excited. I still want the rest of the parade to be new too, but that dragon will eclipse all, especially at nightfall.
The other big addition of the 25th Anniversary is the Illuminations nighttime show, or Disney Dreams! 2.0 as some might see it. Gone is a lot of the animation and in its place we have live action Star Wars, Beauty and the Beast and Pirates of the Caribbean. That's 3 huge boxes ticked in this household, and for me personally, 2 of my absolute favourites – it's up to you to work out which ones. To see the mighty Star Wars on the almost as equally mighty Sleeping Beauty Castle is wish list material for me, and it's coming true. I like Disney Dreams! but I've watched it many times over the last 5 years. It's time for a change and this looks like the perfect way to go, especially when you consider that Frozen and Little Mermaid will be included, so not not all animation has been shown the door.
If that wasn't enough, there's a brand new Castle Stage show with Princesses, a second show which we know very little about and Mickey Mouse himself waving to guests as they leave Disneyland Park at night. I do worry about the jams that will cause though, but he was there in the past with no big problems, so here's hoping that's still the case with much increased attendance numbers. There are bound to be new character costumes and maybe new characters themselves. All in, the 25th Anniversary in Disneyland Paris is looking to be arguably the biggest celebration to date, and so it should be.
Disneyland Paris in 2017 – Pirates of the Caribbean
This one is a double edged sword, as much like Star Tours I like that we have the last version of Pirates of the Caribbean without characters, in fact more so than Star Tours I'm quite resistant to and nervous about this change. We think the likes of Captain Jack Sparrow animatronics will be added, as they have been in the States, and I can see that with the films being most people's introduction to the Pirates franchise, that it makes sense. But I'm still very anxious that these will become the focal point of the ride and not the organic story that has been told with the unnamed character scenes we've had for the past 25 years.
The other side of that sword is telling me there are several parts of Pirates of the Caribbean that no longer work, and in the case of the dueling pirates, leave a big unused part of of the ride that needs to be replaced. It seems only logical that any new additions be from current properties and not reproductions of what are in effect decades old ideas. As much as it pains me to admit it, I get that guests, new and young ones especially, will expect to see stars of the films represented in the attraction, one that they wouldn't know pre-dates said films. I'd change the dueling pirates scene into one of a similar ilk, but one that works and features Jack v Will, or Jack v Barbosa.
Thanks in most part to my son, I rode Pirates of the Caribbean 7 times during our Christmas trip, and it's quite sad to think the 7th ride was the last I'll ever experience in its original form. But even with aforementioned reservations, it is quite exciting to see what they will do and of course adding new characters is only one part. A big refurbishment of the whole attraction will mean that when it re-opens it'll look amazing, and be in a reliable working state, something we've not had for a while. As well as the ride, the Blue Lagoon will also be closed for the early January to summer refurbishment period, though nothing has been said about any work being done to that. Let's face it, as the best restaurant in Disneyland Paris, it's pretty perfect as it is.
Disneyland Paris in 2017 – The Forest of Enchantment
I'll be brutally honest with you, I had something different down to put here, but then two things happened. One, I forgot what it was, and two, I found out that The Forest of Enchantment is set to return to Disneyland Paris for two months in the summer of 2017. This isn't a rumour, this is bona fide fact – it says so in the latest Disneyland Paris brochure! I managed to see The Forest of Enchantment three times during my Spring trip, and though the glow of Mickey and the Magician had me declaring that the best show in August, I've since changed my mind.
The Forest of Enchantment is a fantastic mix of live singing, acrobatics, dancing, characters and changing scenery. There's no doubt that Mickey and the Magician is a fantastic show, with many amazing elements, but for me it doesn't have the charm of The Forest of Enchantment. The Tangled and Tarzan scenes in particular are at the top of the entertainment tree in Disneyland Paris, and to see those making a return is both heart warming and vital in any future plans I may have to visit Disneyland Paris.
Everything I have talked about to up to this point, the Season of the Force nighttime show aside, will be in full flow in the peak summer months, leaving me under illusion as too when the best of the year will be to visit Disneyland Paris in 2017. Whatever your preference, Disneyland Paris fans have a very exciting 12 months ahead og them, with much to look forward to. In part 2 I will highlight the top 5 things that I want to happen in Disneyland Paris in 2017, so keep a look out for that.