Which is your favourite season to visit Disneyland Paris?
No matter when you go to Disneyland Paris some things are guaranteed. You'll be able to see the most beautiful Disney castle in the world, you'll see the world beating Dreams! show and you'll be able to taste the world's greatest Hot Dogs from Casey's Corner. Aside from short refurbishment periods you're also very likely to be able to experience Pirates of the Caribbean, Big Thunder Mountain, Phantom Manor and the other top attractions on offer. However, depending on what time of year you go, you may see the park decorated in a different way and see different shows on offer. So which is the best time to go?
Halloween
I thought I'd start with Halloween as that is what is being celebrated at the moment in Disneyland Paris at the moment. Halloween always brings some amazing additions to the park and this year sees the new ghosts and pumpkinmen which I wrote about here and @InsideDLParis photographed here. On Halloween night, October 31st, it's recently been announced that there will be a special Tiana show on a boat in Frontierland and one last appearance of the Fantillusion Parade with Sally and Jack from A Nightmare Before Christmas. On October 26th and 27th Walt Disney Studios will be host to the aptly named Terrorific Nights, of which we have photos here from when Bert Snyers was there last year. There are also videos of last year's spooky spectacles here.
There's no denying that Disneyland Paris go all out for Halloween and having experienced it in 2006 and 2007 I can tell you that it's great. The park looks fantastic and all the Halloween touches all around make for an incredible atmosphere. The weather can be a bit changeable but if you go early in the Halloween season it can actually be sunny. This is a tough season to beat, but we'll try.
Christmas
As much as I often say that Christmas doesn't appeal to me as much, every time I've been during the Christmas Season (4 times so far) I go through the gates of Disneyland Park and am immediately feeling like a kid at, well, Christmas! Main Street USA always looks amazing with the huge Christmas tree in the Town Square and the decorations down either side of the street. The characters have great festive costumes and you can hear Christmas music. Speaking of which, the Christmas season also means the return of one of my favourite Disneyland Paris songs; Chante c'est Noel.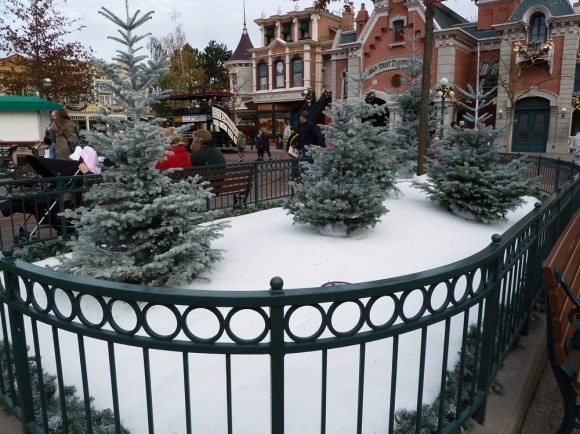 There are Christmas shows, though sadly no Mickey's Winter Wonderland this year, the magical Christmas Tree Lighting Ceremony and last year they even had Santa's Village in Frontierland which featured a fabulous snowy landscape with battling snowmen. The cold is one thing I don't like about the Christmas season in Disneyland Paris as it can get really chilly. But you tend to forget even the most Arctic of conditions when the fake snow falls on Main Street USA at various points during the day. It can get very busy, but as happy as Disneyland Paris is all year round, during the Christmas season it gets even more merry.
Easter
This is the season I know least about, having never been to Disneyland Paris at this time of year. It's also a time of year you don't hear much about, so I can only guess that nothing on the scale of Christmas or Halloween happens. The one thing I have been told is that it gets very busy, as in busier than the height of summer holidays busy. Even when you do an image search for Easter Disneyland Paris not a lot comes up, so I'm going to conclude from that, and my lack of first hand experience, that Easter may come in last. That's possibly unfair so if anyone has visited Disneyland Paris during Easter then please leave a comment and tell us what it was like and what great things go on. After all, this is Disneyland Paris, there must be some good stuff happening.
Summer
Summer is not a season that has extensive theming like Halloween and Christmas, but it does have nice weather, most of the time. Nothing makes Sleeping Beauty's Castle look better than sitting against the backdrop of a clear blue sky. It's an image we've all seen on many book covers, postcards and CDs. Walking around Disneyland Paris in the warmth of the sun is absolutely spectacular. Plus you get longer opening hours, though that is somewhat negated by the brilliant move to have late opening all year round to celebrate the 20th Anniversary.
Although there is a long period of school holidays during summer I've found the crowds more manageable during July and August than visits for Halloween and Christmas, at times. Maybe because there's a longer period for people to visit with children and it's not so concentrated on one or two weeks, it doesn't get uber busy like Boxing Day, for example. I love the warm summer evenings and being able to sit outside at the Red Garter Saloon at Hotel Cheyenne, or strolling round Adventureland in the dark, but still only wearing a t-shirt. Disneyland Paris was made to combat the elements, but it never feels better than at summer.
If I had to make a choice it would be summer or possibly Christmas, and maybe Halloween! But now it's over to you, vote for your favourite season and let's so which readers of Dedicated to DLP like the best.
[polldaddy poll=6630793]