Disneyland Paris Pins January 2017 – Star Wars, Ducks & Rapunzel
A new year, a new month and a new set of pins. Let's see what we get in the way of Disneyland Paris Pins January 2017 and whether it sets the tone for the rest of the year.
Disneyland Paris Pins January 2017 – Star Wars, Ducks & Rapunzel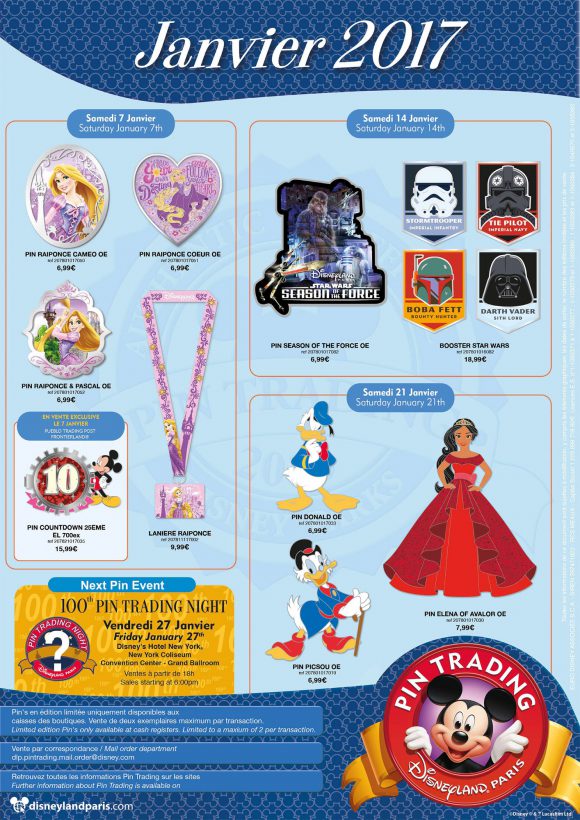 Disneyland Paris Pin Releases – January 7th 2017
Curiously all the pins being released this coming Saturday, bar 1, feature Rapunzel – why could that be? A quick Google tells me that Tangled was released in November 2010 in the United States, December 2010 in France, and January 2011 in the UK. So maybe they are to celebrate the 6th Anniversary of the cinema release right here where I live? I find that very unlikely, but for whatever reason, there are 3 Rapunzel pins and a lanyard going on sale in Disneyland Paris in 2 days. She's popular and these pins will appeal to many, but I still feel like I'm missing some important Rapunzel or Tangled milestone. Can anyone help me out?
Over in the Pueblo Trading Post in Frontierland, they will be selling the latest in the countdown to the Disneyland Paris 25th Anniversary – this one to look back and remember the 10th Anniversary. While this is a nice idea, the pins are all a bit similar, and I'd like to see them have some kind of happening from that year incorporated into the design. This 10th Anniversary pin could have something to commemorate the opening of Walt Disney Studios.
Disneyland Paris Pin Releases – January 14th 2017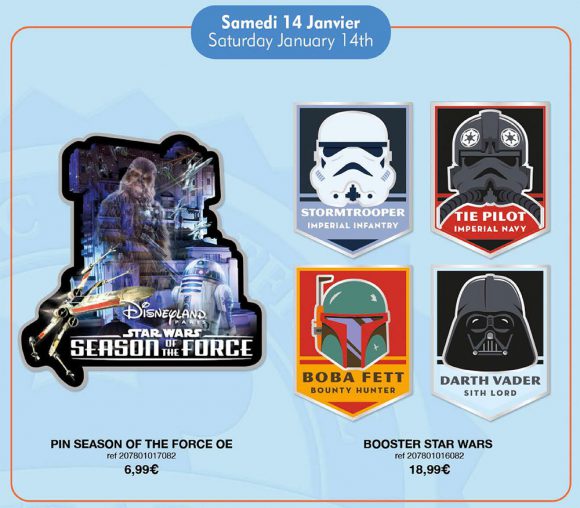 January 14th is the start of the brand new Star Wars Season of the Force in Disneyland Paris, and quite rightly there are 5 Star Wars pins being released that day. The booster set is a thing of beauty, and I'm particularly impressed that they have included a Tie Fighter Pilot, an often overlooked but brilliantly styled character. I'm also both shocked, and again delighted, that the term Imperial Navy has been included. This is not a term often seen used for the Imperial Fleet, but it is 100% correct – 10 points to Disneyland Paris.
The actual Star Wars Season of the Force pin is great looking and showcases the nighttime spectacular: A Galactic Celebration. I do have one small criticism though, as always. Hey, that's why you come here – if it's regurgitated press releases and posters with no opinion you want, there are plenty of other websites you could visit. Back on track… as it's the inaugural Star Wars Season of the Force in Disneyland Paris, I'd like to have seen the year added, just to give it that much more meaning to those who visit and buy the pin. On the plus side, they can sell it next year if they find themselves with a surplus once the season is over.
Disneyland Paris Pin Releases – January 21st 2017
The two pins of Donald Duck and Scrooge McDuck look a little ordinary, but then I'm pretty certain that neither have been released in their standard form for quite a while, so maybe it was about time. They look tiny next to the huge Elena of Avalor pin which is only €1 more. I have no idea who Elena is, maybe a Disney Channel Princess? Regardless, you get a lot of pin per Euro with that one!
Disneyland Paris 100th Pin Trading Night – January 27th 2017
100 pin trading nights/events – that's quite some achievement for Disneyland Paris and I'm left wondering if anyone, guest or Cast Member, has been present at every single one? Taking place in Hotel York's Grand Ballroom, I'd expect something special.
The Disneyland Paris Pins for January 2017 are a pretty decent bunch, with the focus being on the Star Wars pins for me. No new series seem to have materialised yet, but we no doubt have a plethora of Disneyland Paris 25th Anniversary pins on the way.