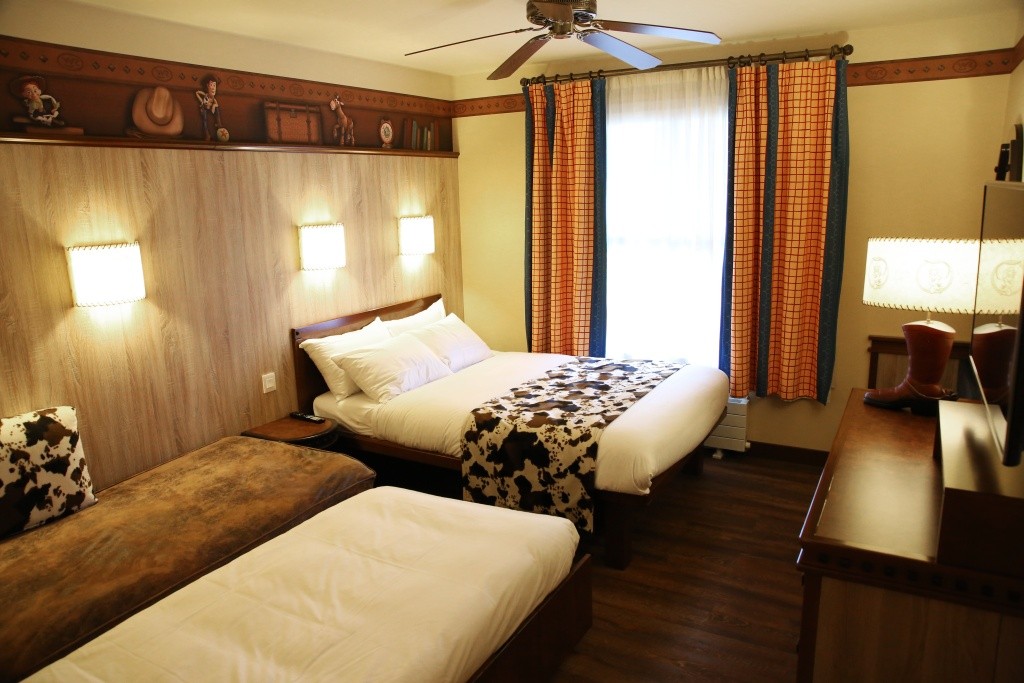 Hotel Cheyenne Refurbishments in Disneyland Paris – Better or Worse?
Disneyland Paris released an article yesterday showcasing the newly refurbished rooms at Hotel Cheyenne, and immediately my heart skipped a beat. You see, ever since I first visited Disneyland Paris in 2002, and stayed in Hotel Cheyenne, it's been my favourite hotel there, or anywhere really. I love that it feels the least like being in a hotel, as the Western town design with the multiple two level buildings creates a very unique atmosphere. Inside the rooms this theme is continued, and knowing they were adding touches of Toy Story, would it ruin my beloved Hotel Cheyenne?
Let's go straight in with an official photo from Disneyland Paris which shows most of the room and the numerous changes.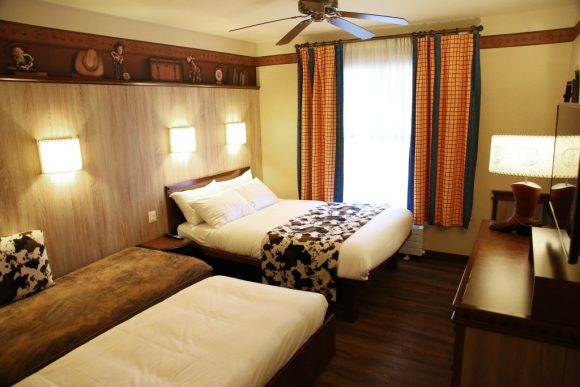 Now let's compare that to a few photos I took a while ago showing the old decor and furniture.
Pretty much everything has changed, from the new bed which is a lot more modern without looking out of place in the Wild West surroundings, to the wooden flooring and wood effect walls, which manage the tricky task of adding class whilst enhancing the theme. The new curtains compliment the colours around them rather then the old red ones, that stood out like a sore thumb and screamed clash. They are inspired by Woody and Jessie's shirts apparently, so they fit in from both a design and thematic viewpoint. The one thing I'm not keen in is the cowhide decor – it's okay in small doses but the big throw on the bed and the cushions are too much for my liking. On the plus side, at least they can be stashed away out of sight.
The second bed is probably the biggest change as we have gone from bunk beds to a trundle bed. This is a single bed that has a second base within it that is pulled out, and another mattress is then put on top to make it suitable for two. Where that mattress is hidden is anyone's guess – maybe under the main bed? I'm not familiar with trundle beds, but from looking at images on Google it would seem the pull out bed is usually attached to the main part, but in some cases does come out completely. If it is attached that means the two people sleeping there are very close together, as opposed to the old bunk beds which allowed two people to sleep apart – useful for at war siblings or teens!
There are some close up photos of the Toy Story details, and one big sigh of relief from myself.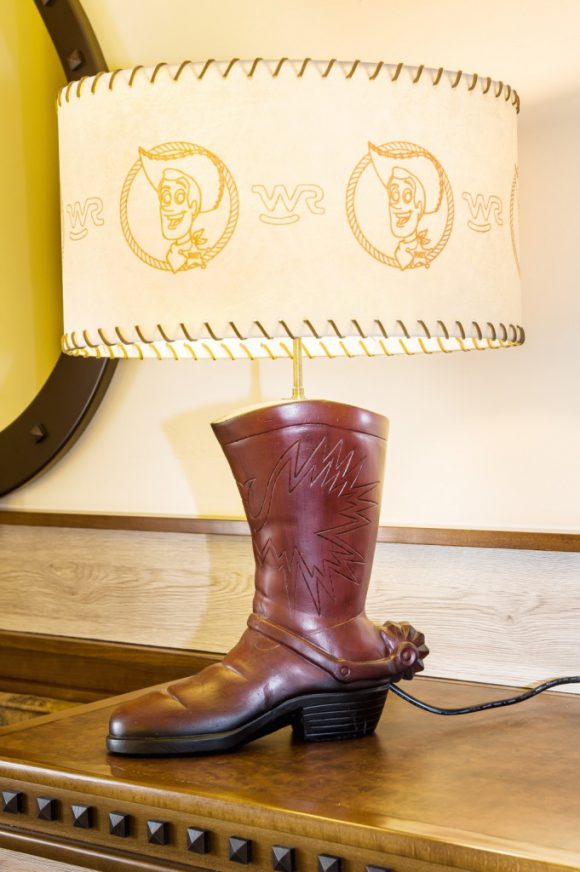 Thank goodness the boot lamp has survived – arguably the most iconic item in the old rooms. It's been updated with a Toy Story lampshade, but I can handle that – it's the boot base that is the important part, and that's untouched. The Toy Story wallpaper border is really nicely done and not too in your face. The muted colours fit in well and I wonder if the WR on this border and on the lampshade stand for Woody's Roundup?
So what do I think of the new rooms, of which 215 have been completed so far? It's like night and day really, and while I spent a decade and a half admiring the rustic charm of the Hotel Cheyenne's interior, this new look takes the hotel to another level entirely. The Toy Story additions are modest and often very subtle – appealing to both fans of the film franchise and those who love the hotel for what it has always stood for. I can't wait to stay at one one of these new rooms, all of which will be completed by sometime in late 2017, with the restaurant getting a refurbishment the following year. Hotel Cheyenne has had a hold on my heart since the beginning, and after these changes it still does, maybe even more so now.