Updates From Disneyland Paris: Ratatouille, Big Thunder Mountain & Adventureland
Nick has just returned from Disneyland Paris and was kind enough to send me some photos of work going on inside the resort. This first one of the Ratatouille construction was actually sent while he was still there a few days ago.
Nick added "The entrance is between Slinky Dog Zigzag Spin and RC Racer, past animatronic Rex (odd hearing him in French) and through the Barrel o' Monkeys". It really is a massive construction site, which it has to be, to hold a huge new ride, restaurant, boutique and queuing areas. The rumour for quite some time now has been that Ratatouille Kitchen Calamity will be a trackless system, but news from the recent shareholders meeting in London is that Philippe Gas (CEO of EuroDisney SAS) would not comment on this, but that the ride would be something completely unique and spectacular.
This next photo shows something being built in Adventureland, facing Colonel Hathi's Pizza Outpost.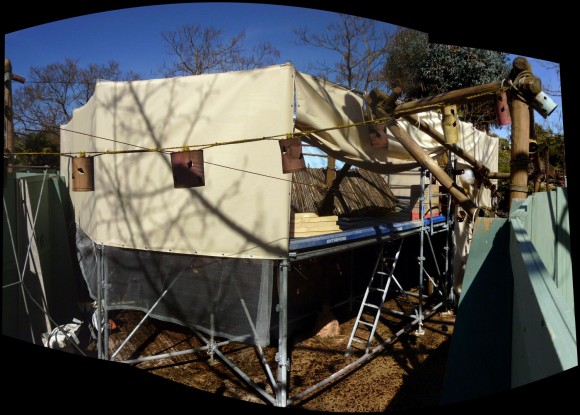 It looks like there's going to be a new outlet in AdventureLand. You can get a good view of it from the top of the Swiss Family Treehouse. My guess is that it's a confectionery stand as it's not that big and directly faces an existing souvenir stall. First of all, well done Nick for visiting the Treehouse, a very underrated attraction in Disneyland Park and a favourite of mine. A snack outlet is a good call, but I also wonder if they are building extra kiosks to sell Light'Ears around the park, which would not only make money, obviously, but act as an extra way to build awareness for Dreams!
These next two show some maintenance work they are doing on and around Big Thunder Mountain in Frontierland.