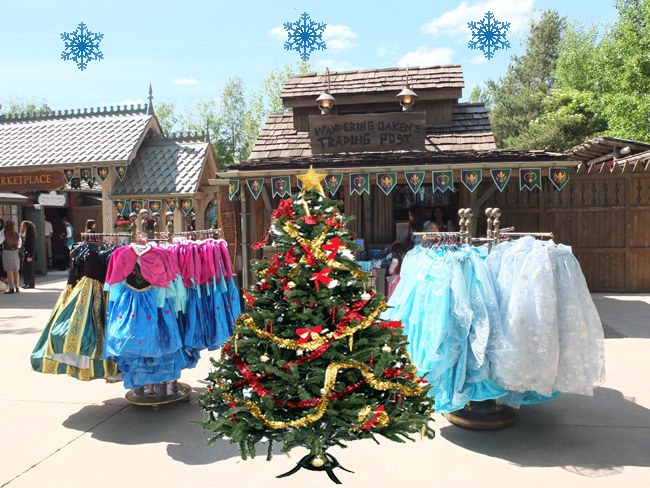 Disneyland Paris Rumour: Santa to Meet Mickey, Mickey to Frontierland – Is Arendelle Staying?
Prolific, that's the word that perfectly describes the amount of information coming from @DisneylandBerry this weekend. Now we have some rather baffling news, though it will make sense if one specific thing is set to happen.
During the Christmas Season, Santa Claus will be at Meet Mickey Mouse in Fantasyland, and Mickey will be in meet'n'greet in Frontierland

— DisneylandBerry (@DisneylandBerry) August 30, 2015
On the surface this seems like a bewildering decision – why would you move Mickey from his own Meet Mickey permanent location and move him elsewhere for the Christmas season? I can only think of one reason, and that's because they are keeping the Arendelle area which is currently located where Santa's chalet is usually situated during Disney's Enchanted Christmas. Santa needs an indoor location where he can sit down, and without his chalet in Frontierland, kicking Mickey out of his Meet Mickey building would seem like the only option.
Meet Mickey is very purposefully and specifically decorated with Mickey in mind though, so it will be a little strange going through that Mickey-centric queuing area, into Mickey's magician changing room, to see Santa. I'm sure a few Christmas decorations and picture replacements will help to make it feel more like Santa's North Pole dwelling.
So what of Mickey, will he be taking over a re-themed Merida meet and greet which is currently in Frontierland or will he be getting a completely new one in the same land? That's one thing we'll have to wait and see, but if the decision has been made to keep Arendelle for Christmas then I for one am very happy. It's a wonderfully themed area, which with some Christmasification will even more magical, as everything does at Christmas. Belle's Christmas Village in Fanntasyland used to be brilliant, Frozen Christmas Arendelle in Frontierland? I'm all for that and with the Frozen Sing-along returning for the Christmas season it makes total sense.
If we are not keeping the Arendelle, then why on earth would you kick Mickey out of his Meet Mickey location and not have Santa where Arendelle currently is? All sounds a bit odd and a lot of work for nothing.
UPDATE: According to those great people at DLRP Express, the Arendelle market area IS due to be there for Christmas. Amazing – now someone get me the number for Eurostar.