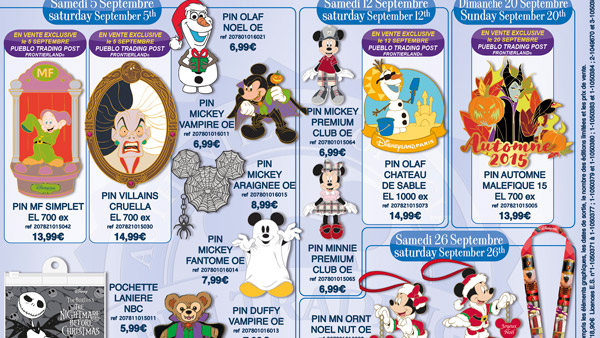 Disneyland Paris Pins for September 2015: Halloween, Christmas, Star Wars, Duffy & Olaf
Being away on holiday I completely missed the summer pin releases in Disneyland Paris, so I'll have to go back and look at those at some point. Until now, let's take a look at what September has to offer.
Disneyland Paris Halloween Pins
At 25 it's a bumper month for pins in Disneyland Paris, and with Halloween just under 2 months away, but with the celebrations starting much sooner, there are understandably a few themed to the spooky season. Straight away I'm drawn to the Minnie and Figaro two pin set, more for Figaro then Minnie, as he rarely features in pins. Minnie flying on a broom stick is pretty swish too, so all in all it's a great little two pack. The spider web not so hidden Mickey is also rather fetching, and a bit different to the norm, but spooky ghost Mickey is a bit unoriginal. Vampire Duffy is interesting – there must still be fans of his in spite of his long absence from Disneyland Paris as a character. Doubling as an Autumn pin, the Maleficent is suitably evil looking, but be ready, this is a Pueblo Trading Post exclusive going on sale on September 20th with only 700 available. There's a Jack Skellington lanyard pouch to finish off the Halloween section.
Disneyland Paris Christmas Pins
Bit early for Christmas isn't it? Who am I trying to kid, everyone knows what a big fan of the festive season I am. There are two pins, featuring Minnie and Mickey, that look to double as Christmas tree ornaments, and each in their hand has their own Christmas tree ornament. It's like one of those pictures where you keep seeing the picture inside itself, a bit! Anyway, nice looking pins that can adorn your tree and then go in your collection. There's a third ornament pin in Duffy, who is holding a candy cane, and at €7,99 these three are pretty reasonably priced. Christmas Characters Nutcracker lanyard for just €9,99? Available on September 26th with the other Christmas pins and looking rather nice, as is the booster set of Nutcracker pins to go with it. Can't wait that long? Then a Christmas Olaf pin is out on September 5th – just 4 days time, and he does look cute in his Christmas hat.
All together now: Tis the season to be jolly…
Disneyland Paris Character Pins
We left Christmas talking about Olaf so let's continue that trend with another Pueblo Trading Post exclusive, and it's Olaf in summer this time, building a sandcastle. This is a September 12th release and has more than Maleficent with 1000 available. Also on the 12th there are very static looking Mickey and Minnie premium club pins, whatever that means. They don't appear to be doing a lot, but they are in different clothing than we usually see them – maybe that's the premium club part!? The My Favouirte series continues with Dopey and along with a Villains series pin of Cruella, both are exclusively available in the Pueblo Trading Post this Saturday, the 5th, Can't say either particularly appeals too me, but I'm sure they will sell out of all 700 pretty quickly.
Enough messing around, there's a booster set of 4 Star Wars pins released this Saturday too and they look really cute, and yes, I want them. Look at the Vader and Yoda in particular, those big green ears! I'm not usually the biggest fan of booster sets as they can be rather generic, but these are superb.
There's a Dreams! pin trading night on September 19th, but you can't go – it's already sold out! A little while away from the pin arena and I'm treated to a bumper month with a whole load I actually want, especially the Star Wars and Christmas ornament pins. September is a good month for pins in Disneyland Paris.