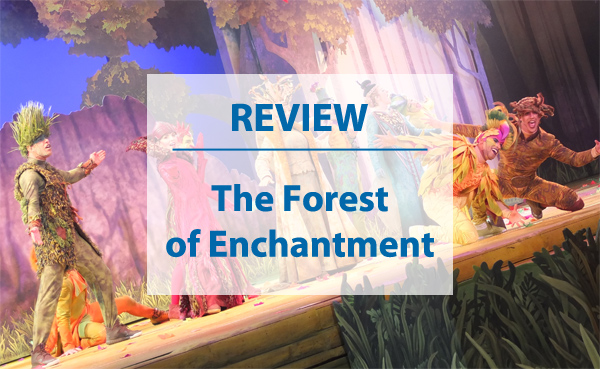 Review of The Forest of Enchantment in Disneyland Paris
When I first visited Disneyland Paris in 2002 The Tarzan Encounter was showing in The Chaparral Theater, a show I saw countless times that also spawned a love for the film that inspired it. In the winter it would be replaced by Mickey's Winter Wonderland for the Christmas season, but in the last few years it was left unused. That was until last May last year when the Frozen Sing-along opened there for the Frozen Summer Fun season and then returned for Christmas. It had only been running for a few months when rumours of a new show coming to The Chaparral Theater started to surface, and by September we had news of the characters involved. Fast forward to February 2016 and The Forest of Enchantment opened, boasting live signing, dancing and a multitude of characters and scenes inspired by some of Disney's most beloved films.
Knowing I was visiting Disneyland Paris less than 6 weeks after its debut, I was determined to go spoiler free. Aside from the odd photo, this is something achieved, which made my March trip even more exciting. Whilst I had avoided seeing too many details I did notice a few negative comments, but I didn't delve too deep in fear of clouding my own judgement. I was somewhat surprised, as in my experience live shows have always been a forte for Disneyland Paris and have been one of the major highlights of the resort.
Last Tuesday I was sat in the middle of the theater, something I had been advised to do, about halfway up the tiered seating. Immediately I was taken aback by the sheer scale of the set, and knowing it was built with the Frozen set somewhere beneath and behind it, you'd never have know. With trees everywhere, it had been transformed from an icy landscape into, well, a forest! The music started and dancers started to appear, floating around around the smoky stage and even out to the floor and up into the seating areas. My first impression was just how great the costumes looked, in a multitude of vibrant colours and woodland inspired styles. Next came the first song, which was sung live by a female singer on a rocky mound in the middle of the stage. This opening song, which without any official title on my radar I will call Believe, or Believe Believe as the song goes. This song is beautiful, both in the way it is sung and the lyrics, which will stay with you with for days and still does almost a week later.
Pocahontas
At this point there were no recognisable characters, but that changed, along with scenery brought out on wheeled structures, as Pocahontas and John Smith came out. Pocahontas herself sung Colours of the Wind – a little faster than we are used to from the film, but fitting with the pace of the show. The whole time she is singing, with John Smith near her, the other dancers are moving bits of scenery around and dancing, as their name would suggest. This gives the feeling of an ever changing and lively environment and is a very clever use of what they have at their disposal. I've never been a big fan of Pocahontas, but seeing the feature song live and with characters that look they walked out of the film, well I'm somewhat of a convert.
The Jungle Book
We move into The Jungle Book, and it's at this point that I notice the screen at the back, which for this scene has a woodland image projected onto it, transforming the stage from the pinks and purples of the previous segment to the familiar greens of the deep forest that is home to Baloo and King Louie. Neither of these characters sing, but a guy who I am told was in Britain's Got Talent does that job, and very well too. Keep an eye on the leaves that at one point cover King Louie, and later on become the body of Kaa the snake. Another example of just how clever and well put together this show is.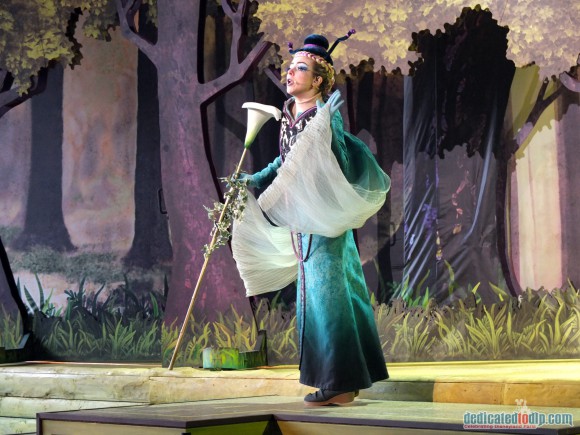 Tarzan
One of the best things about The Tarzan Encounter was the great acrobatics on display, most notably the daredevil rope swinging. Well that is back in The Forest of Enchantment, as Tarzan climbs the rope while Son of Man is bellowed out. He swings, he spins, he poses and he gets approval from everyone I've met so far. He seems to have stolen the hearts from quite a few too.The big head of Kerchak in the middle of the stage looks very imposing, even with it being constructed mainly from over-sized leaves. For me it's great to see and hear anything from Tarzan back on the stage where I first saw him 14 years ago.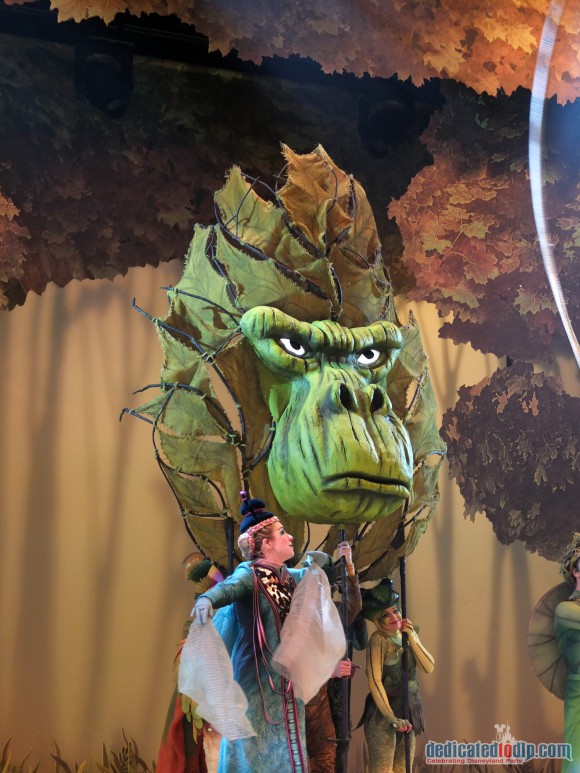 Tangled
Now comes my favourite scene as Rapunzel and Flynn Ryder take to the stage, which is transformed into a romantic setting, complete with deep pink lighting and lanterns on the aforementioned wheeled scenery structures. Both Rapunzel and Flynn are singing their respective parts from the film and it's a stunning, both visually and audibly, reproduction of that iconic scene from the film. They even have a boat, just like in the film, and exit stage right in it to close this part of the show. With the smoke effects returning the whole stage is transformed, to the point that it's hard to recognise it from the scenes that come before and after.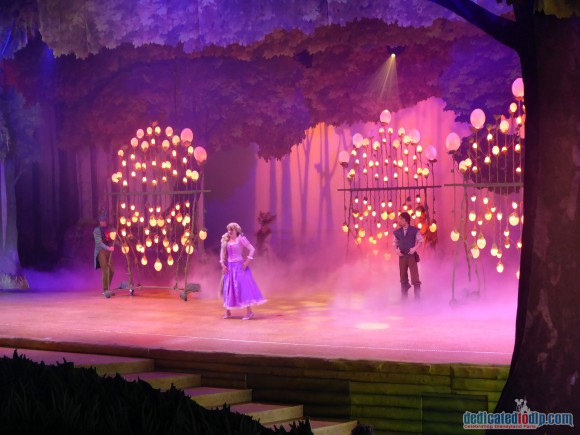 Brave
Merida is the next character to join us, and she does a lot of running about and archery. Brave is a film I have only seen once and it didn't do a great deal for me, but this music is so lively and Touch The Sky is a song that you very quickly find yourself signing along to, even without knowing it beforehand. In spite of not having a great love of her character in the film, as a live character in Disneyland Paris she has always seemed to be one of the best. Maybe it's because she is unlike any of the other Princesses, especially with flowing locks of red hair and her bow always at hand. Because she doesn't sing herself, staying true to the film, there is little else for to do aside from run , pose and fire her bow, but the music carries it along well enough.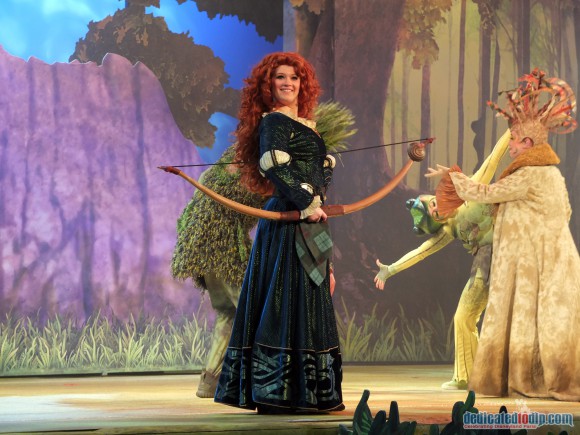 The finale brings out all the singers, dancers and characters – the latter of whom come down from the back of the theater to join everyone on stage. The characters exit stage left and right, leaving the singer who opened the show to bring down the house with a stunning last vocal and applause from the crowd. The show has an incredible feel good factor and I found myself signing and smiling throughout. The combined elements and scene trickery make the production seem a lot bigger than it actually is, and it all flows together seamlessly. The quality of the performers, both in their movement and vocals is of a very high level, and all the different facets give it almost a mini Cirque du Soleil feel.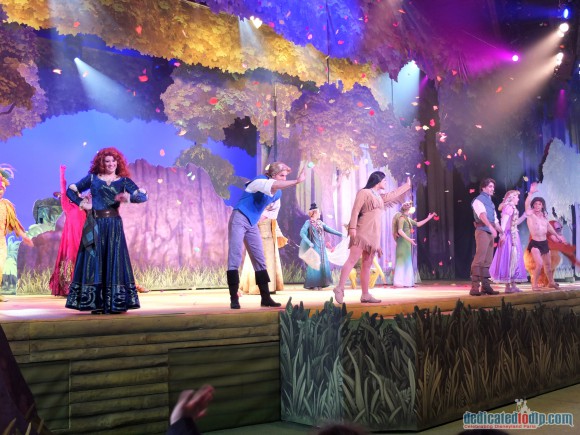 I saw it 3 times in 3 days last week and that was only because we had so much else to do in a limited time. I could quite happily watch The Forest of Enchantment at least twice a day and it's crazy that a show of this quality will only actually run for 3 months, though there are rumours it will return. I do look to see the positive in most things, but I hand on heart can't see where anyone could find negatives with this stunning show. The Forest of Enchantment is a return to the absolute upper echelons of entertainment and everyone involved at Disneyland Paris deserves high praise indeed. It's last day is May 8th, and I urge anyone thinking of going to so as a matter of urgency. Swing into Spring is wonderful in itself, and I'll get to that in future articles, but The Forest of Enchantment is reason enough to visit Disneyland Paris on its own.