Disneyland Paris Restaurant Review: Inventions
It's been over a decade since I last visited Inventions, but the memories of how good it was have remained with me. Last week on our first night, that's exactly where we went, for our 6pm booking at the flasghip restaurant within the Disneyland Hotel. I'm not sure what I was most looking forward to; the amazing array of food that would be on offer, or the fact that characters would come to me. That's right – no queuing involved, they would actually come directly to my table, and bear in mind this was 2 days before my character epiphany.
Inside Inventions
Even before we entered Pinocchio was playing peek a boo with us guests in line waiting, chased down by a Cast Member who was always too slow to get him. This was going to be good. We were led to a table in a big open area, past the food and down some steps. The tables themselves are far enough apart so that guests, Cast Members and characters can walk between them with ease, and the room itself was very light and airy. We didn't unfortunately have a seat overlooking the Park, but we were on a tight schedule given my desire to get back into Disneyland Park for Dreams! and empty Main Street photos, so looking out the window wasn't on my agenda anyway. Not this time.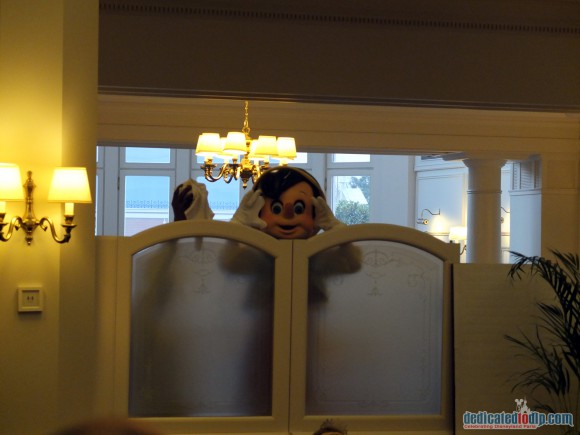 The Food
There were 4 tables of food at this buffet style feast: starters, fish and seafood, mains and desserts. Stupidly I didn't take any photos, which considering the raison d'être of the trip for me was to come back and report on everything, that was a bit daft. Luckily Mark took a few photos of what he chose to eat, and those are the photos you see below. The starters included some delicious smoked salmon, a meat pate concoction that I was unsure about but loved, and a prawn cocktail that I picked up then out back, but on seeing Mark devour immediately regretted. The pickled shallots were the most pickled of pickled things I have ever tasted, almost bordering on spicy, and I can't do anything but give them the highest of recommendations. The sliced chicken, though only looking like standard sliced chicken, was like none other I had tasted before – what do they do to make it taste so good?
The second table, saw me fill my plate entirely with shell on prawns and huge crab claws. That's a plate filled entirely with two of my most favourite foods in the whole world. I love crab meat, but it's the crab claws that are the golden nectar of that particular crustacean, and to have a huge bowl of just those to feast on is culinary nirvana. I almost went up for a second plate full, but decided instead to explore the main course table instead. Pretty sure they are for children, but the chicken nuggets and fish bites were very nice indeed, as was the big hunk of fish I had, but can't recall the name of. I love my vegetables, something you can't find in abundance in Disneyland Paris, but there were lots on offer here in Inventions to my delight, and well cooked and seasoned they were too.
The award for tastiest dish of the evening has to go to the Asparagus Risotto which was heavenly – so full of flavour and creamy in texture. The serving dish on the buffet had a few luscious looking whole Asparagus spears nestled on top, of which 3 came back with me, and just like the risotto itself, they were absolutely delicious. Suitably stuffed I didn't sample the desserts, trying to be good I instead pickied a juicy looking apple. I did try a Glowtini while I was there, and along with the bit I tried later in the evening, which was a different colour, I've come to the conclusion they are not for me. I like the glowing cubes though, and I'm sure that's the main reason people go mad for them.
The Characters
Before I talk about the characters we did meet, I must apologise to Mark and Martin for wanting to leave before we saw them all, including the aforementioned Pinocchio who never made it to out table before we left. The characters we did meet were great fun though, and spent lots of time at our table, taking photos of us individually, as a group and also taking the time time to sign Mark's giant vinylmation and my Swing into Spring place mat, which a Cast Member replaced in record time when she noticed I had an alternative use for my original one, other than having my plate sat on it.
Minnie Mouse was first to visit us, and what a way to start – Disney character royalty! I have no idea what I am finding so funny in the photo where I am on my the floor looking at my phone – probably my inability to get the camera pointing in the right direction. At least it looks like Minnie has a consolatory hand on my shoulder – she's obviously well seasoned in dealing with idiots like me!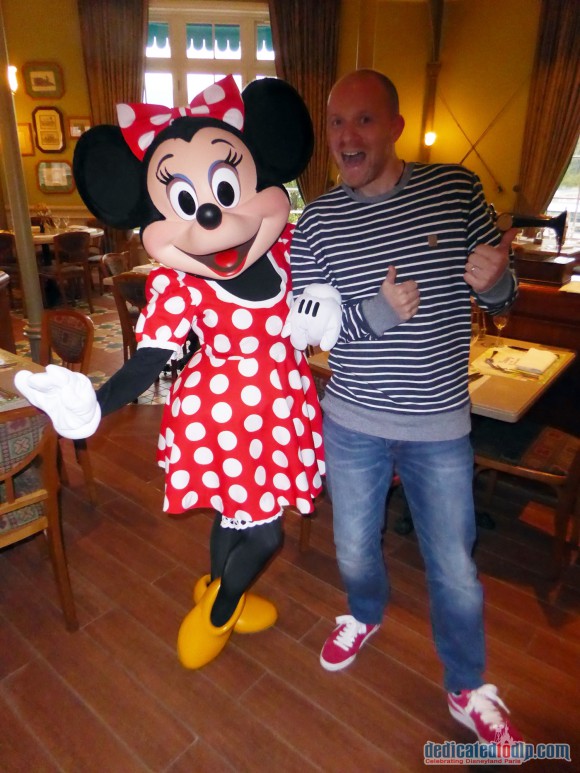 I kept it quite formal with Gepetto – there was a mutual respect thing going on there, I think…I hope. Eeyore was a different matter though, as egged on by my pals I went in for a hug, my second of the day. I'll tell you one thing, that hug with the sad donkey from 100 Acre Wood was the warmest of the trip, and so very cosy too.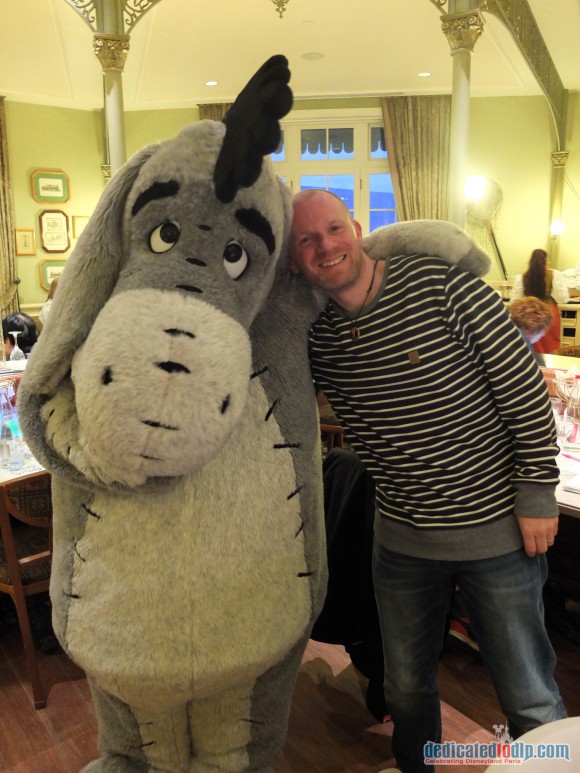 Pluto was awesome, posing for photos, signing my place mat once I'd moved the chair out of his way, and then playing hide and seek with my head! It wasn't just a branding exercise having a photo with a Dedicated to DLP badge in my hand, I gave it to him, for which he was very grateful. I would have given badges to the other characters too, had I thought to do so at the time they visited us.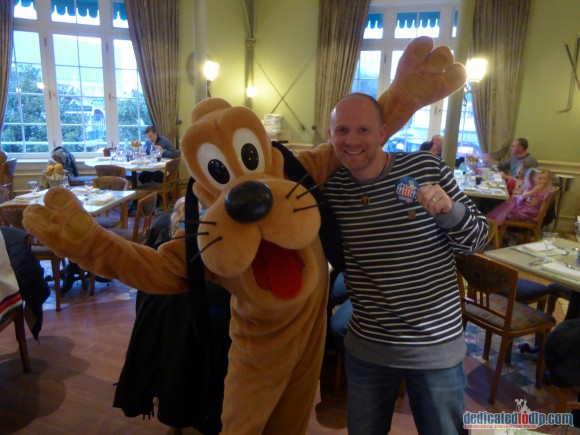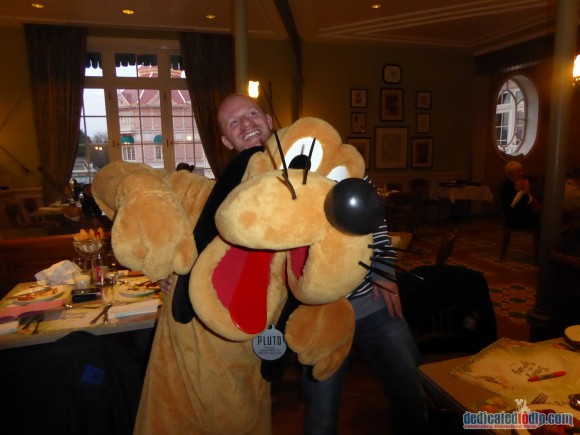 The Verdict
Even with me cutting the evening short, it was a wonderful experience, both for the delicious food and the lengthy character interactions. Even so, we still spent almost 2 hours in there, so I can imagine not rushing the meal would have seen us in there for a good 3 hours, at least. The price for an adult at dinner time is €57, which considering the setting, the range and quality of the food and character meets, I think is somewhat of a bargain. There is no way you'd be able to find anywhere back home to eat like that for the price, let alone in that location and with Disney characters. I've no idea why it took me so many years to go back to Inventions, but it has now become a must do dining experience for all future trips to Disneyland Paris.